Website Planet
had the chance to sit down and chat with Liz Kim, marketing manager of Pandora TV. She will show us how KMPlayer started and how they made it become one of the world's best multimedia players with 800 million downloads in 150 countries.
Let's introduce KMPlayer to our audience. What is it and how does it work?
KMPlayer(Korea Multimedia Player)is a media player application and our goal is to become the global No.1 multimedia player. Currently, we have achieved more than 8 million downloads. Our slogan is 'We Play All' Based on this slogan, our users can play various types of media and enjoy high-quality content even on low-specification devices. Additionally, we support 43 different languages for our global users.
All audio formats plus extensive features:
Sharing via Wi-Fi (wireless file transfer) : Connect your mobile and PC to the same Wi-Fi network, and with a simple click on your device, you can easily transfer files.
MyList : Create and play your own playlist.
Quick Button : Using Quick Button, you can use various functions easily.
Subtitle Setting : Set the subtitle size, color and position.
Timer : Use the timer to end the video when you want.
Equalizer : Enjoy rich audio with equalizer.
Search : Search videos and music what you want.
New Network Play : Network functions such as SMB, FTP, and UPNP have been enhanced.
New Cloud Play : Cloud function has been enhanced.
Zoom & Move : Enjoy the video zoom and pan function.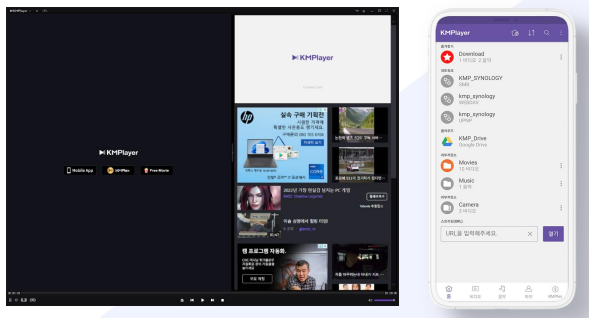 We cater to users who play media, and who face two different types of problems: finding the right codec and a player to play their media files. We provide them with a simple installation process, allowing every user to enjoy high-quality media for free. By solving these issues, we can increase our market share. Some of our customers require us to play specific file formats, so we offer a customized player as part of our paid services. We continuously strive to satisfy both general users and those with special requirements. We are making a profit through paid services and advertisements. Currently, our primary focus is on service expansion and improving our offerings because our main goals are to diversify our user base and expand our market reach.
How does your mission differ from the other companies in your niche?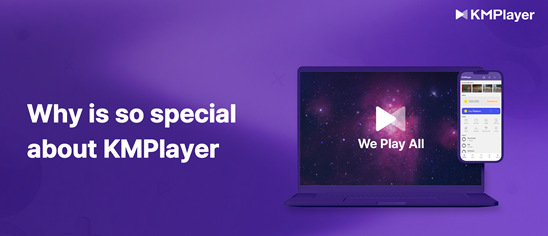 KMPlayer allows users to watch high-quality media on low-specification devices for free, even now. We offer several features to assist customers in various situations, including looping and controlling playback speed for study purposes, and adjusting picture quality for analytical users, among others. These special features are not available in any other applications.
What are the unique selling points of your product compared to your competitors?
The KMPlayer's UI/UX has been designed to be user-friendly, making it easy for any user to navigate and utilize the player. We offer a wide range of useful features, including those found in other paid products, but with KMPlayer, all of these features are completely free. In terms of quality, we automatically adjust to fit any user's device. This ensures that users consistently enjoy high-quality media playback, which is why many users choose and appreciate our product The core value of KMPlayer is our commitment to ensuring customer satisfaction. To achieve this, we provide our player service for free, making it as simple as possible for customers to install and play movies and other media without the need to worry about codecs or any other problems. Because of that, regardless of our success, we are still not satisfied with the current situation; we continue to develop new features and improve our services to enhance customer satisfaction. Furthermore, we are expanding beyond media playback on mobile and PC by creating various ways to play media.
How did it all start, and what are your achievements to this day?
KMPlayer's service was initiated in 2002. Over the 20 years, we have continuously provided our service. According to Android PlayStore records, we have achieved more than 10 million downloads, and iOS AppStore and PC downloads consistently attract users. These achievements serve as the growth engine for Pandora TV Inc. Besides KMPlayer, PandoraTV runs other services such as the independent movie platform 'MovieBlock' and the top cryptocurrency community in Korea, 'Cobak.' Our collaboration with these services allows us to continually expand and enhance our product.
What KMPlayer Customers are Saying
According to their reviews on

Google Play Store

and

Apple App Store

, KMPlayer is a great app that can play anything you want to play, whether it's music or video.

KMPlayer is a multi-platform that supports both PC and Mobile. The excellence of KMPlayer is proven through user reviews and donations through the

BuyMeACoffee

site. Many users review the excellence of KMPlayer.

A user review on Softonic describes KMPlayer as an excellent media player that can play almost all format videos and music. The reviewer also praises its easy-to-use display settings.
A review on MouthShut describes KMPlayer as a popular media playback software for Windows PC with a simple and attractive user interface and easy-to-use functions.
A review on JustUseApp concludes that KMPlayer is a totally legit app based on over 2,733 user reviews analyzed by their NLP machine learning technology.
According to a user review on VideoHelp, KMPlayer provides arguably the best user interface among the software in its class. The interface is clean, simple, and avoids any complex options that might confuse users.
A review on YouTube praises KMPlayer's advanced tools like slideshow creator, availability on Windows and Mac, and the amazing 3D playback feature that lets users get a great experience. The reviewer also notes that users can download extra codecs from the official website and that KMPlayer has built-in remote control functionality.
Overall, KMPlayer has received positive reviews for its versatility, user interface, and advanced features like 3D playback and remote control.