Website Planet
had the chance to sit down and chat with Sunny Saurabh, Co-founder and CEO, Interviewer.AI. Sunny has worked for over a decade in some of the leading Silicon Valley companies, such as Google, MySpace, and LinkedIn. In his experience as a hiring manager and a second-time founder, he has developed a clear understanding of what makes excellent organizations tick, and he is going to show us how he applied this knowledge into Interviewer.AI.
Tell us about the history and founding of Interviewer.AI. What inspired you to create this technology and how has it evolved since its inception?
Working for LinkedIn at their Asia Pacific headquarters in Singapore, hiring was a challenge. You hire locally in key markets like Australia and India, and you have to do that remotely. Some of these roles attracted 100s of applications. It was hard to choose who to invite for an interview. And the broad idea for Interviewer.AI stemmed from that. You had to find a better way to interview candidates. Using chatbots, resume parsers could only solve part of the challenge. Understanding soft skills, interests, and motivations to join the company was important, and that led to the idea behind Interviewer.AI. Over the past few years, when the pandemic changed our worklife, hiring was largely virtual. Our platform evolved to completely automate the top-of-the-funnel job application process for corporates. We also saw Universities automating admission interviews as getting large groups of prospective entrants to Universities became a health hazard.Now most of them do it as it saves time and increases productivity.
What sets Interviewer.AI apart from other hiring solutions on the market? How does your platform offer a bias-free assessment of candidates that other solutions may not?
Interviewer.AI is one of the few platforms out there that combines the application process with the first round of interview. Historically, only a fraction of candidates were invited for interviews. This is changing as with the fast adoption of AI, soft skills in jobs are gaining more importance. Most of the soft skills are assessed during interviews, and what better use of technology than to use AI to interview every single applicant, and build a complete digital profile using resume scoring, workmap (skill) assessment, and async video interview. As far as we can see this method will be the future of hiring and admissions as it makes the process equitable, explainable, and efficient. One of the biggest challenges with screening applicants is it's highly subjective on the interviewer or panel of interviewers. Interviewer.AI brings data and insights into these decisions. Our Whitebox AI algorithm breaks down every score to the very last detail, ensuring every hiring decision is based on real data and not a black box algorithm or conscious and unconscious bias that comes with human interviewers. Existing recruitment and admission screening softwares are at best, better versions of excel files, tracking applicants from one stage to the other. With the record adoption of generative AI tools like chatGPT, both job roles, and softwares screening for them will need to rapidly adapt or risk becoming outdated.
Can you show us how Interviewer.AI works? How do you use data and AI to analyze candidate resumes and pre-screen video interviews?
Interviewer.AI is pretty simple to use.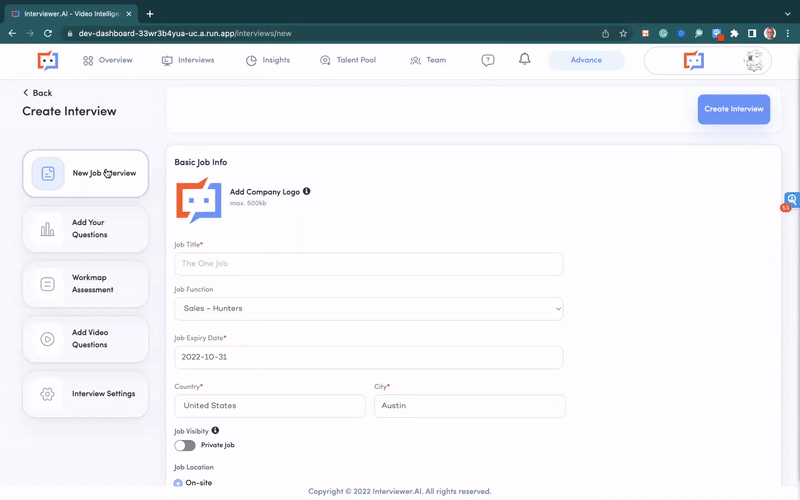 All you need is your company name, logo, and job description for a role you are hiring.
You sign up to a free account, create a job interview, and share it with candidates on LinkedIn or your own website. We can even power up your career page.
You can add your own custom questions or select from a library of questions.
Once candidates start applying with their video responses, they will automatically be stack ranked for you.
You can "shortlist" candidates you think are a good fit and share it with the hiring team to collect their feedback.
This will automate 80% of your hiring process. You can invite the candidates that best fit the requirement for human interviews. This not only saves precious time of your hiring team away from your core job, but ensures faster time to hire because now you have all the information including soft skills to arrive at a hiring decision quickly.
How do you ensure a high level of accuracy and reliability in candidate assessments? What steps do you take to avoid errors or biases in the data?
The problem we are solving is at the top of the funnel where the bulk of the decisions on who to invite for an interview is done on the basis of a simple application process that includes the resume. What today's hiring processes are missing out are crucial soft skills that are required by 2/3rd of all jobs by 2030. We ensure businesses get a complete digital profile of all candidates that include soft skills. To stack all applications, we use Whitebox AI. We have internal parameters and benchmarks to ensure no AI model goes live without testing its accuracy, and our thresholds are very high. We also ensure the data is consistent across different demographics. Advantages of having our company based in Singapore is that it's a multicultural hub, helping us create datasets that have fair representation across different races, age groups, and gender. We are very clear that our approach to AI is gathering relevant data across all applicants. Ultimately the decision is taken by the hiring manager and they are free to interview the nth candidate. The AI doesn't make that decision. In fact, recruiters and hiring managers using Interviewer.AI can change the threshold of any parameter, and the stack rank will change automatically. Here's a quick demo on how it works: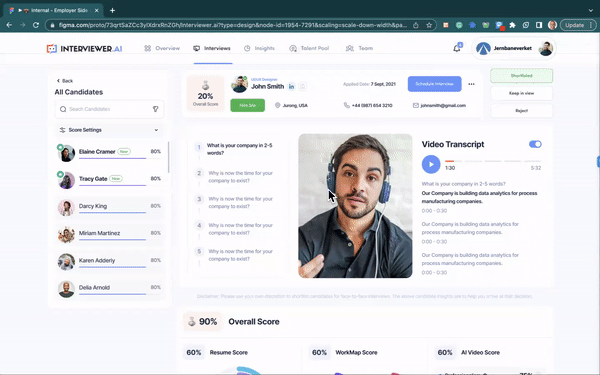 Can you share any success stories of companies that have used Interviewer.AI to streamline their hiring process and find top talent?
We have over 700 customers globally with over 200 customers logging in every single month. Some of our most well known customers include Emaar Group in Dubai (the master developer of the tallest building in the world, Burj Khalifa), AIA Insurance in Indonesia and Vietnam, The Trade Desk for its offices in Asia, Axis Bank, and Mauritius-based Rogers Group. We also work with all the top universities in Singapore like Nanyang Technological University (NTU), and National University of Singapore (NUS), one of the world's top universities in Asia. *
* you will find many more success stories on their websites
How do you address concerns about the potential for AI and automation to replace human jobs in the hiring process?
This is a great question. It reminds me of a quote by Gary Kasparov, Chess Grandmaster, where he says,
"Every technology destroys jobs before creating jobs. When you look at the statistics, only 4 percent of jobs in the US require human creativity. That means 96 percent of jobs, I call them zombie jobs. They're dead,"
Why should human jobs in the hiring process be limited to doing mundane, tedious, and repeatable tasks such as screening resumes, when the same resource can be put to more strategic use such as workforce planning, increase employee satisfaction and productivity, creating learning opportunities, etc. After all, why would you still want to do the dishes, when there is a dishwasher? You can do something so much more satisfying by saving that time. While we talk about AI replacing human jobs, a number of countries across the globe are finding a shortage of talent. This is largely due to an ageing population. Therefore, human jobs should focus on generating higher value. These include jobs that require problem solving, creativity, and analytical thinking. This doesn't underscore the fact that, in the longer term, there will be more jobs created due to AI than job losses.
What are your plans for future development and expansion of Interviewer.AI?
We are building the future of hiring. In the not so distant future, the entire process of writing job descriptions, requesting candidate applications across job boards, LinkedIn, and career pages of companies, and screening them for interview rounds will be history. Instead, we will migrate to a data-driven process of pre-screened and pre-vetted applications ready for interview within hours of having a job requisition. There are a lot of companies trying to innovate in this market, and we would love to play our part in that transformation. Our mission is to revolutionize the hiring process by making hiring equitable, explainable, and efficient, creating an innovative marketplace, where businesses can quickly and efficiently identify and interview top-quality candidates, streamlining the recruitment process and driving success for both employers and job seekers.