Whether you're a passionate startup founder or a seasoned business owner exploring new ventures, selecting the best service provider is a crucial step in laying a solid foundation for your business. With numerous options available, it's essential to carefully consider the unique offerings of each provider.
To help you decide, I'll compare two leading companies: Bizee (formerly Incfile) and Northwest Registered Agent.
By comparing their features, ease of use, pricing, and customer support, I aim to help you make an informed decision that suits your individual needs and business goals. While these companies appear similar, there are several differences between them.
You won't go wrong choosing either of these reputable providers, but in my opinion, Northwest Registered Agent is the better of the two.
Its commitment to privacy, in addition to all the services you might need, really takes it to the next level.
Features
Bizee Has a Lot to Offer, but Northwest Registered Agent's Privacy Features Are Top-Notch
To help you start your Limited Liability Company (LLC),
Bizee and Northwest Registered Agent both offer a comprehensive set of features that includes Registered Agent services, Operating Agreement templates, and same-day filing.
Whether these services are free or paid add-ons will depend on the plan you choose. For instance,
Bizee caught my attention by providing the first year of Registered Agent service included for free with any plan,
which is a fantastic money-saving perk if you're on a tight budget. In comparison, Northwest Registered Agent doesn't offer a free year, but the first year is included in the one-off formation fee. However, for Operating Agreement templates, it's the opposite.
Northwest Registered Agent offers free Operating Agreement templates for anyone to download, straight from the website.
Bizee, on the other hand, only offers Operating Agreement templates to its premium customers.
If you're interested in registering other entity types like S-corp, C-corp, or non-profit organizations, or a Doing Business As (DBA) name,  both Bizee and Northwest Registered Agent can guide you through the process
. Just keep in mind that applying from outside the US might have some specific requirements, so it's a good idea to check with them directly. While many similar features are available with either service, they also offer distinctive features that may matter more to you and your business.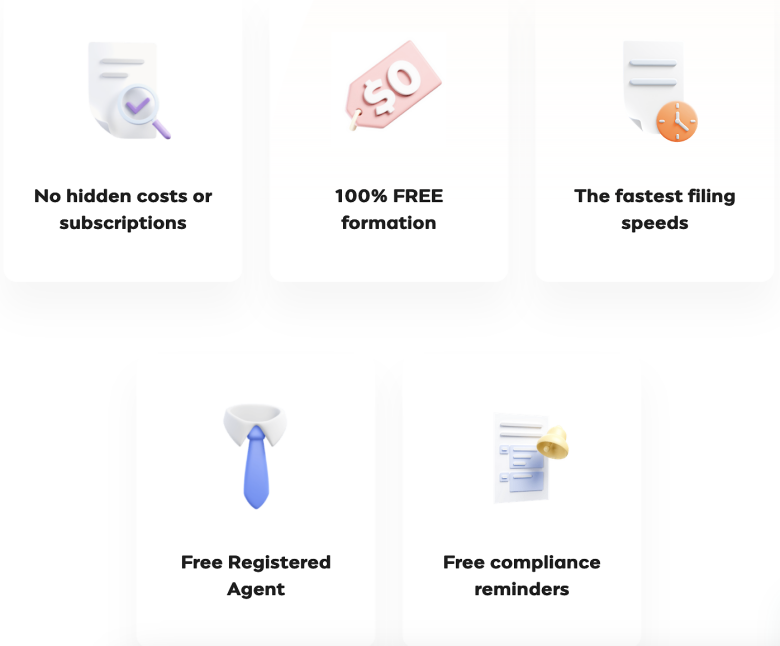 Bizee shines in this department with a wide range of additional services that might appeal to you more if you're new to business and need more support.
It goes beyond just forming an LLC and can assist you with compliance reports, sorting out permits and licensing, and even helping with trademark application. Additionally,
Bizee provides tax consultation services
 – including a free 30-minute consultation
– which can be immensely helpful when you're just starting out. On top of that, Bizee offers customizable business contract templates for an added cost, simplifying the process of drafting legal agreements. Finally, Bizee also offers a unique grant program that offers financial support to college students and new entrepreneurs, showing its dedication to helping small businesses thrive.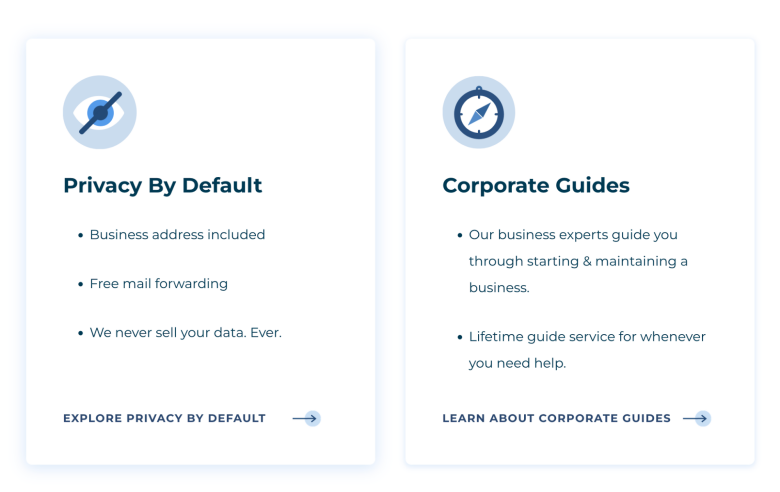 On the other hand, what sets Northwest Registered Agent apart is its commitment to data protection.
If you're concerned about maintaining your privacy above all else, Northwest Registered Agent has your back.
With Privacy by Default, Northwest Registered Agent guarantees the protection of your data by promising to never sell your information to third parties and putting safeguards in place to mitigate the risk of data leaks. It also offers VoIP phone services and a virtual address, so you can keep your business and personal information completely separate for added peace of mind. Both of these companies have a lot to offer, and it was definitely a close call.
In my opinion, Northwest Registered Agent just barely wins out.
Its commitment to privacy and data protection, along with all the great business features it offers makes it one of the best in the industry.
Ease of Use
Northwest Registered Agent's State-Specific Support Helps New Businesses Thrive
Bizee and Northwest Registered Agent both strive to offer user-friendly experiences throughout the process, but they both lack advanced features that other services offer.
Website navigation is a breeze on both platforms. Bizee offers a clean and organized layout with a clear menu structure, allowing easy access to different sections. Similarly, Northwest Registered Agent presents a well-organized website with a user-friendly interface, ensuring essential information is readily accessible.
The sign-up process with Bizee is quick and efficient, with clear instructions and minimal steps required.
It's a simple form that guides you through the information you need to form your LLC, with a helpful sidebar that tracks your progress and your costs.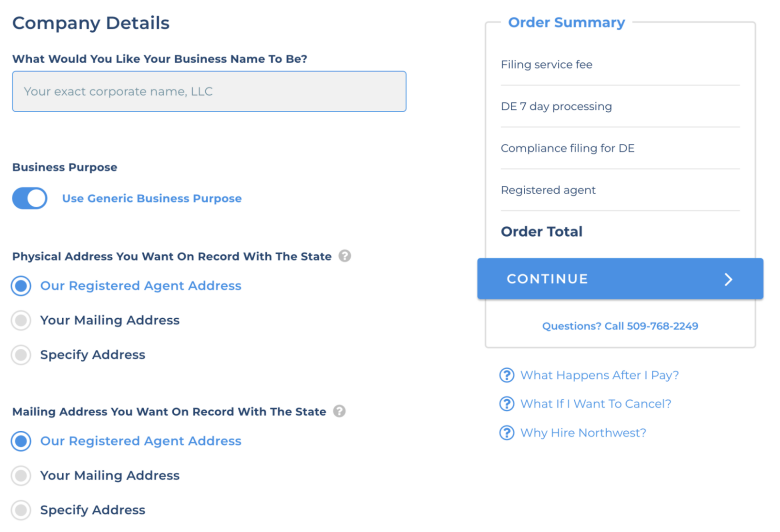 Northwest Registered Agent's sign-up process is similar to Bizee. It starts with an online form that tracks your costs on the sidebar. However, when working through both,
I found that Northwest Registered Agent was simpler and easy to use for someone with no business experience.
It asked fewer questions overall and had a cleaner user interface for ease of use. It's also worth noting that
both Bizee and Northwest Registered Agent provide support in English and Spanish.
Not every service offers this, so it's great to see that both these companies have added accessibility for Spanish-speaking business owners. Though both companies have comparable sign-up processes and website support,
one standout feature of Northwest Registered Agent is its Corporate Guides.
These guides are experts in every state, providing personalized support and expert guidance throughout the LLC formation process. Their presence adds an extra layer of assurance and ensures that you receive tailored assistance based on your specific location and needs. All in all, both Bizee and Northwest Registered Agent prioritize ease of use and offer user-friendly experiences. While you can't go wrong with either,
I think that if you prioritize hands-on assistance and tailored support, Northwest Registered Agent wins overall.
Its Corporate Guides really set it apart from Bizee and make the experience much easier.
Pricing
Bizee's Free Plan Is Perfect for Businesses on a Budget
When it comes to pricing, both Bizee and Northwest Registered Agent offer competitive options, although their models differ slightly Bizee offers a combination of one-off fees and annual subscription plans for add-on services like Registered Agent services or virtual addresses.
Bizee's Silver plan is the most budget-conscious
, which is free, minus state filing fees.
Though it's a pretty barebones plan in regards to features, it does include a free first-year Registered Agent service, which is a fantastic cost-saving perk. Be aware that after the first year, there's an annual fee for the Registered Agent service. There are also two paid plans, the Gold and Platinum, which start at
$
199.00
and provide a lot of value for the price.
In addition to everything offered in the Silver package, the Gold and Platinum packages include services like banking resolution, Operating Agreements, and business contract templates.
While Bizee does offer some paid add-ons, such as expedited processing or extra business services, they're optional and not necessary for the basic LLC formation process. Northwest Registered Agent, on the other hand, doesn't offer any free plans.
Instead, it primarily operates on a one-time fee, currently discounted to
$

39.00

 for a limited time only.
It offers a single pricing tier for basic LLC formation and Registered Agent service, which includes other features like annual report filing and online document access. After that, you can choose some add-ons like access to a virtual office or VoIP for ongoing, monthly fees.
Northwest Registered Agent's pricing is transparent and affordable
, without any hidden fees. But Bizee overall is the best choice for affordable pricing.
Bizee's packages allow you to choose the level of service that best fits your needs and budget.
The free package is a great deal if you want some support but don't have the money to upgrade. However, while Northwest Registered Agent didn't win in this category, it's still a great option for businesses that want great service and prioritize privacy. To see how these companies stack up, check out our comparison table:
Bizee (Incfile)
Northwest Registered Agent
Price of the cheapest or most comparable plan (minus state fees)

$

0

$

39.00

Stated filing time/range (minus state processing time)
Next-day filing
Same-day filing
Registered Agent

✔

(free for 1 year)

✔

(free for 1 year)
EIN application
Paid add-on
Paid add-on
Operating Agreement
Paid add-on

✔

Tax consultation

✔

✘

Expedited filing
Paid add-on
Paid add-on
Support
Northwest Registered Agent Provides Tailored Support Across the Board
When it comes to customer support, both Bizee and Northwest Registered Agent prioritize assisting their users.
Bizee offers customer support through phone, email, and chat, which is available Monday to Friday, from 9 a.m. to 5 p.m. CST.
I reached out by phone first and was connected almost immediately, which is always good. The customer service agent was helpful but aloof. She pointed me in the right direction for answers on the website but didn't seem actively invested or interested in going above and beyond.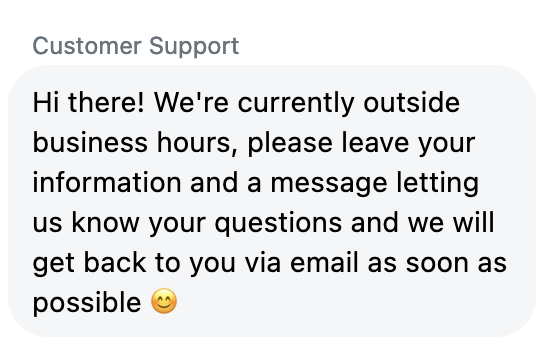 After that, I tried the chatbot. The AI chatbot on the site helps point out blog posts and guides on the website, but it can't answer in-depth or specific questions. That's where the live chat feature comes in.
Unfortunately, it was after business hours when I tried the live chat, but I did have the option to leave my information for the team to respond via email.
I still haven't received an email follow-up more than a week later. In comparison, I found Northwest Registered Agent much easier to connect with across the board.
Northwest Registered Agent's customer support is available Monday to Friday, from 6 a.m. to 4 p.m. PST.
I reached out by phone to talk about forming an LLC in a different state. The customer service rep I connected with was extremely thorough in helping me. They offered a ton of advice and told me exactly what I needed. They even offered to walk me through the forms online when I was ready. It was a proactive response that really set it apart.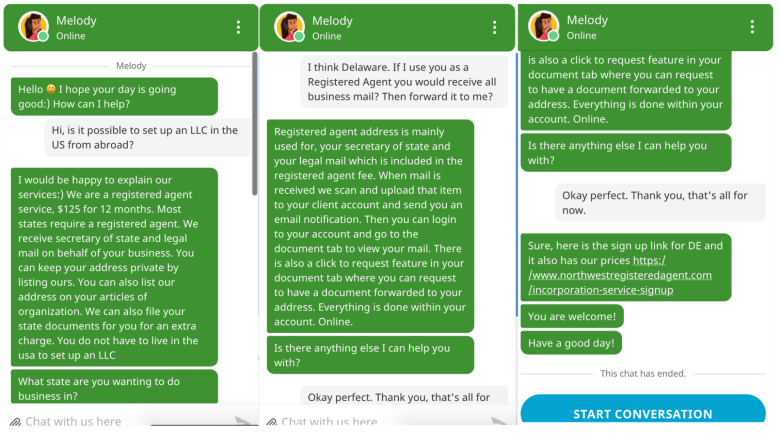 I also reached out via live chat and found a similarly helpful and timely response.
While the live chat wasn't as in-depth as my phone conversation, it was still useful and provided me with the information I needed.
In addition, Northwest Registered Agent offers a comprehensive knowledge base with informative articles and a plethora of downloadable templates,
providing you with valuable information to aid you in your LLC formation journey. Bizee also offers a comprehensive knowledge base on its website, featuring articles and resources to help users navigate various aspects of starting and managing a business. It also provides helpful tutorials and video guides. While both offer similar support channels and online knowledge bases,
Northwest Registered Agent impressed me more with its timely and helpful responses across all channels.
Plus, with the free templates available right on the website, you can get useful information even if you aren't a customer.
Northwest Registered Agent Goes a Step Above to Provide the Ultimate Service
Both Bizee and Northwest Registered Agent are excellent LLC formation service providers.
It was a close call on this, but Northwest Registered Agent proved to be the better of the two.
With offices in every state, you're sure to get personalized and state-specific support when you need it. Plus, I loved the Privacy by Default feature, which ensures your personal information is always safe and secure. Besides that,
standard features like Employer Identification Number (EIN) support, Registered Agents, and virtual offices make Northwest Registered Agent an ideal choice for most businesses.
However,
Bizee isn't a bad option, especially for those on a budget.
Its free plan is ideal if you're just looking for something easy and straightforward, without all the bells and whistles. See our side-by-side comparison for more information.
Bizee (Incfile)
Northwest Registered Agent
Features
An array of features to help your business succeed
Lots of options and templates to help get your business started
Ease of Use
Simple online form for fast sign-up
Straightforward and clean online form for effective sign-up
Pricing
Free Silver Package with paid upgrades available
One-off flat rate with some paid add-ons
Support
Unresponsive email support but helpful phone agent
In-depth phone support and responsive chat
FAQ
Does Bizee charge annually?
Bizee charges a one-off fee for LLC formation if you choose the Gold or Platinum Plan. However, Bizee also charges an annual fee for its Registered Agent service. After the first year, there's a recurring fee for the Registered Agent service if you choose to continue using Incfile.
Can I form other businesses besides an LLC with Northwest Registered Agent or Bizee?
Yes, both Northwest Registered Agent and Bizee can help you form various other business entities besides an LLC. They offer services for registering different types of entities, such as S-corporations, C-corporations, and non-profit organizations.
Is Bizee or Northwest Registered Agent better for businesses on a budget?
If you're on a budget, Bizee may be a more cost-effective option. It offers a free plan with included Registered Agent service for the first year, which can help save expenses. Additionally, Bizee provides affordable packages and add-ons, including EIN applications and tax consultation.
Is my personal information secure when using Bizee or Northwest Registered Agent?
Both Bizee and Northwest Registered Agent prioritize data security and take measures to protect user information. However, Northwest Registered Agent goes above and beyond with Privacy by Default, a guarantee that it will never sell your data.