Website Planet
had the chance to sit down and chat with Lindy, Head of Marketing of HOSTAFRICA. We discussed how the company started, the challenges they faced, and got some expert tips for all online business owners.
Let's introduce HOSTAFRICA to our audience. What hosting packages do you offer?
We offer a variety of hosting packages, ranging from but not limited to
Domains
Email
VPS
dedicated servers
Standard web hosting
Moreover, we also offer a choice of reseller hosting and security solutions.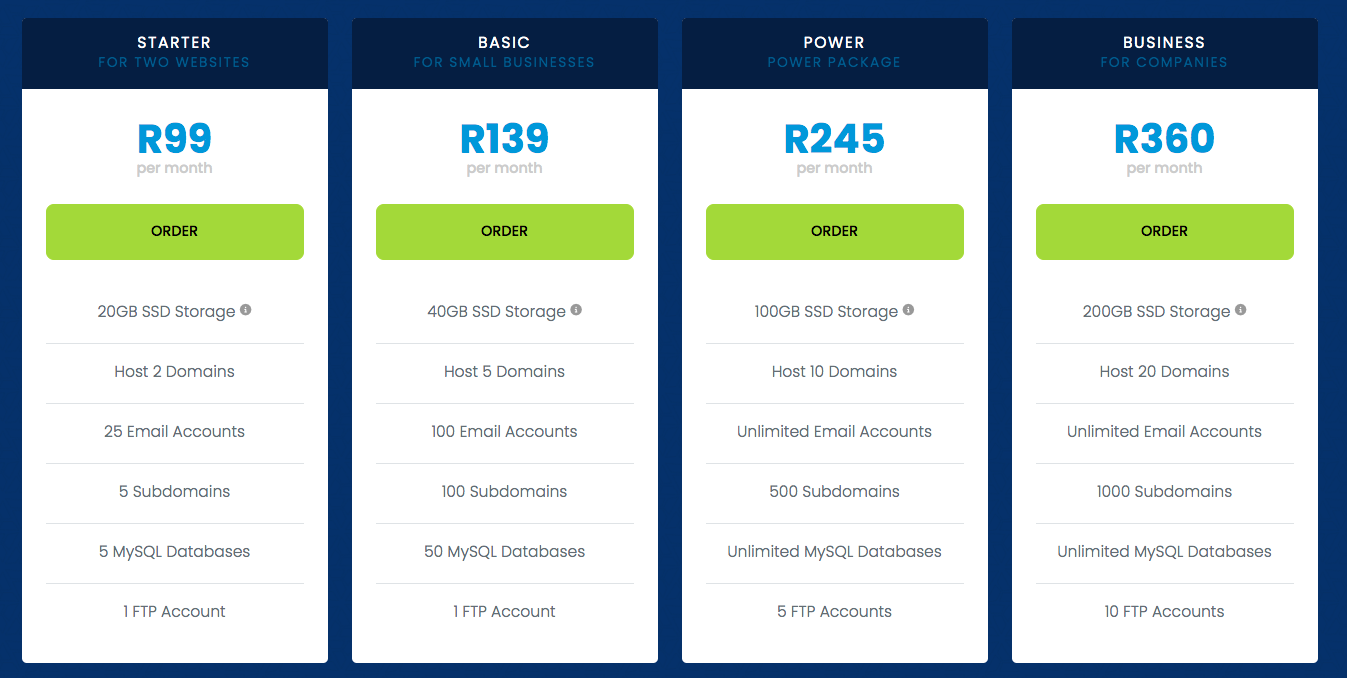 HOSTAFRICA'a cPanel hosting packages at a glance
All of our products have a 99.9% uptime guarantee
since we use only the most reliable equipment. Our aim is to create an integrated hosting and productivity environment, so our services extend beyond just standard web hosting.
What inspired you to get into such a competitive niche, and how do you plan to keep up with the big web hosting brands?
Web hosting is not necessarily about size. It's about service and solutions. Customers want to sell and communicate online, so we're here to help them achieve that. Our focus is to understand the specific needs of African customers. There's definitely a lack of quality African players addressing these needs, and we're trying to fill this gap. One such way we do this is through our product offerings and ability for customers to scale. Besides our entry-level hosting packages,
we're able to fully accommodate rapid growth
and manage traffic spikes within a client's online space. This can be by upgrading their current package to include more resources, or shifting to a more performant hosting solution like VPS, cloud, or dedicated hosting.
All of our solutions are rigorously secured using Imunify360 WAF, CageFS, CLoudLinux Hardened PHP, basic DDoS protection and more
. Our focus on staff and client security has largely kept us incident-free. Cyber threats are evolving at an accelerated rate, however, so it remains the responsibility of the client to ensure their environments are secured, over and above the security we provide.
How does your mission differ from the other companies in your niche?
For many bigger players customer interaction is a 'system error'. For us it's actually a sweet spot.
We're happy to engage with customers and tailor solutions that work for them. That also means we're able to get a better market understanding in order to offer African solutions for African challenges. That's a win-win situation.
Who are your typical customers and what problems do they have when they come to you?
IT is complex and evolving to become even more so. There are so many tools and applications nowadays that it's actually hard to navigate this complexity with absolute certainty. The available tools do offer great value, but it's hard to control something so intricate. Our clients usually range anywhere between two types of people.
"Dreamers" – the individuals that want a website but have no idea where to start
"Growers" – the individuals or companies that have a range of services hosted with us in order to successfully run their businesses.
Naturally, the challenges range from assisting individuals in selecting hosting packages, to building specifications for dedicated servers. We're continuously trying to give customers a hand in navigating the complexity. Certainly, we're only at the beginning of this process but we're making strides. This will be our challenge in the coming years. To make hosting and its integrated solutions simpler for customers. For clients looking to improve their understanding of our tools and general hosting best practices, our blog and knowledge base provides an array of articles on a variety of general and specific topics.
And what makes them eventually choose you over your competitors?
Simply put,
our customer service
. As soon as we engage with the customer directly we're basically close to sealing the deal. Most customers have only a few questions before they start the journey with us. Our support staff ensures all questions are properly answered and that the customer knows they're important to us. Our support engineers do this in a number of ways. One of the more common ways they do this is through the initial setup, which makes it easier for clients to manage once completed. If any issues arise, our support staff are more than willing and able to handle it. Even more so with our recent
AI chatbot implementation – Apollo
. The AI, that can be accessed via our website chat, empowers clients in their search for answers. Our stellar support with AI to boost creates an immersive support experience focused on solutions. An example might be a client trying to improve their website performance and speed. After initial contact, our support engineers might list a range of possible factors impacting website performance. They'd then suggest solutions or changes, and accompany that with the relevant documentation via the knowledgebase or blog. That helps forge a fuller understanding for the client.
Any client that has their problem solved will be happy
. As long as your customers are happy, they'll have no inclination to move house. This way we hardly lose any customers.
Can you share one success story from your customers? What was their pain point, and what results did they get thanks to HOSTAFRICA?
Commerce Edge Learning Innovation, run by Stephan Freysen, was experiencing some complications regarding the server they used for hosting their websites. "Our previous service providers were highly expensive and the service wasn't supported and managed. We had to host all sites on the same server and whenever one site had an issue, the entire ecosystem was influenced negatively." Our support engineers considered CELI's situation and agreed that a dedicated server would suit them best. It would provide the ideal ecosystem for their websites to run at the capacity they needed. Since our dedicated servers are managed, we handled the entire setup for them. A "seamless" process, as Freysen said after the fact. That's our approach to problems in a nutshell. Not every solution will work for every person, but we make it our business to find the hosting solution that works for an individual customer's pain point. Freysen's company has been hosted smoothly ever since.
What do you see in the future of your industry, and how do you plan to cope?
We expect customers to need more integrated services. As you have emails, you'll also need chat, video, conferencing, productivity tools etc. Ideally, we'll provide the customers everything out of one hand. It's easier for the customer and provides us with good opportunities that leverage our customer base to grow.