We spoke with
Ryan Gray, CEO of NameHero
, about their newest offering,
HeroBuilder
which provides an easy way to build a professional looking website,
even a fully functional online store
, without any previous experience.  Unlike other page builders on the market, HeroBuilder is deployed on NameHero's private cloud, giving users the same speed, reliability, and security, we offer on our traditional web hosting products.  LiteSpeed web server, free SSL, CloudLinux security, and more.
This interview was originally published on August 14, 2020.
What is HeroBuilder?
HeroBuilder is a simple website builder where individuals with no experience whatsoever creating a website can easily point and click, drag and drop, and get their website online. Unlike other builders on the market, it lives on top of our high-speed cloud, so you're getting the same benefits as our traditional NameHero hosting plans – LiteSpeed web server, free SSL, CloudLinux security, and more. Everything is wrapped into the builder, and there is no manual intervention or configuration required.
So, sites built with HeroBuilder are hosted on your parent company NameHero?
Correct. It's an entirely separate product from any of our other hosting packages, and everything is built inside of the interface. Users can start with a seven-day free trial and then upgrade if they want to keep it. Everything is built on a public subdomain, so you can immediately begin previewing your site. Then whenever you are ready, you can buy or use an existing domain name and connect it to that site. So, there's very minimal setup in terms of having to configure DNS records and other technical things like that. We also have free and automatic SSL certificates with Let's Encrypt, so as soon as they connect their domain, they can generate an SSL right inside of our interface.
How does one create a site using HeroBuilder?
So the first thing is to go to our website builder page on NameHero. If they are not an active customer currently, register for a free account, On the website builder page, click Get Started Now and enter their basic information such as first name, last name, email, phone number, and a billing address –  no credit card required. In just a few seconds, the builder is deployed, and they select the template they want to use. Once a template is chosen,  they're brought to the drag and drop elements of the page and can start customizing and setting up their site.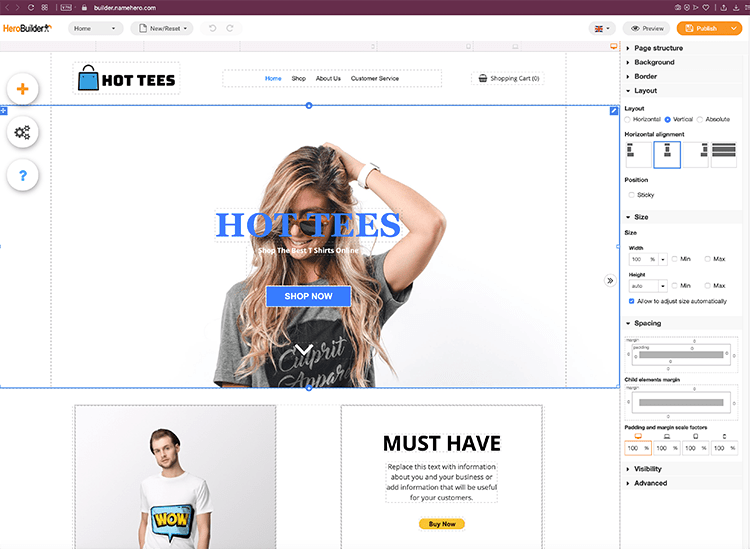 Is a template a single page, or a  full site with sample pages?
We have a few templates that are just single page templates for building coming soon pages and whatnot, but the majority of our over 200 templates are full sites. Once they are deployed, users can edit all the pages. And they can customize everything – there are no ads. While our logo is at the bottom by default, they can remove that as well, so it's entirely white-label to their site. Users who want to design their website have the option to start with a blank canvas.
What type of functionality or interactivity can be integrated into a site?
You can integrate Tawk. To's free live chat widget and create forms that send the results right to your email box. Our platform is also very dynamic in terms of adding galleries, embedding content from social media such as Facebook, Instagram, and Twitter.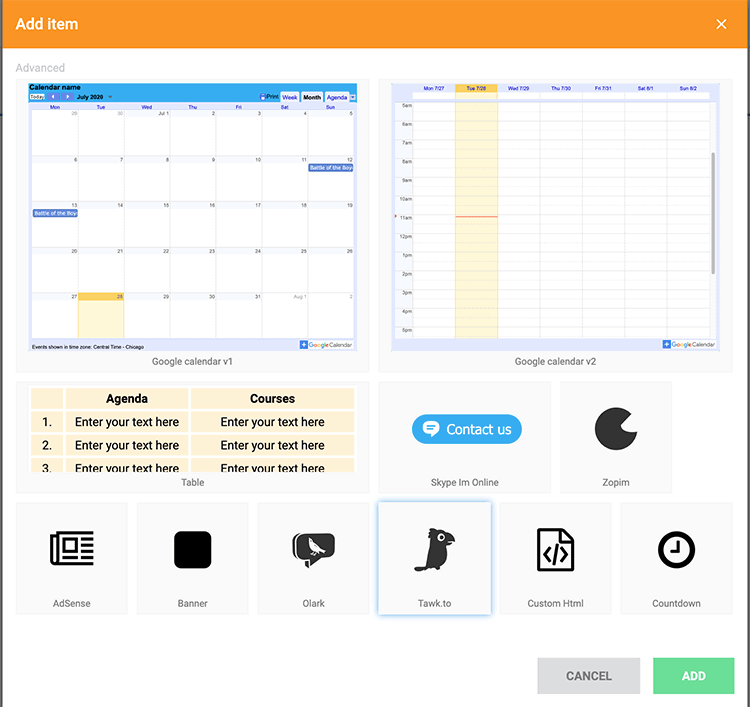 There really is a lot you can do, pretty much anything you can do on a regular site you can do in HeroBuilder. You can insert text blocks, pictures, draw shapes and lines, insert a call to action buttons, and lots of menu items for the navigation. Google maps is a popular integration that allows you to put customized maps onto your site. HeroBuilder is very focused on mobile devices, so inside the builder, you can easily toggle between how your site looks on a widescreen, a laptop computer, a tablet, and a smartphone. This way, as you are working, you can make your site will look good on all devices.
Can social media be integrated into HeroBuilder sites?
Yes,  our sites are already optimized to look good when you paste the link on Facebook or other social media platforms. You can also drag and drop social media elements like a Facebook, Twitter, or Instagram block on to any page to display your social media page or feed. And of course, like and share buttons can be integrated as well. Another unique feature we offer to those that do a lot of social media or paid marketing is the ability to convert their site into just a landing page. This basically converts the entire website into a one-page site – it will even change the menu items to have everything on one page. Now it really easy for someone to buy a product as soon as they hit the landing page without having to navigate from page to page.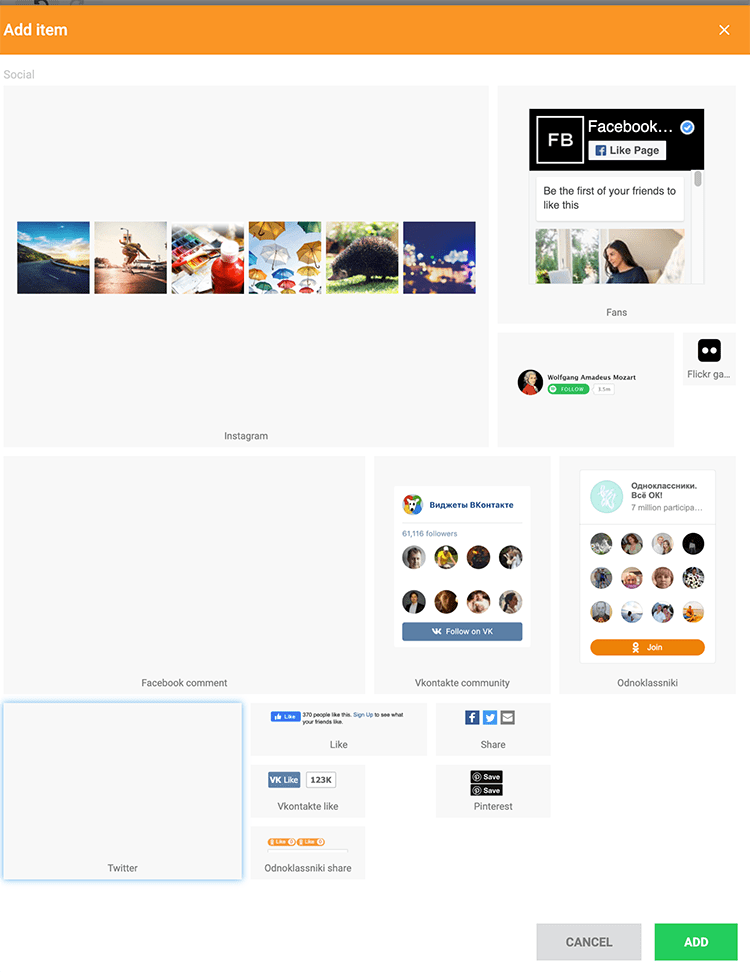 Can eCommerce sites be built with HeroBuilder?
Yes. We offer three different packages, the personal, business, or e-commerce plan, each of which begins with a free trial. Users of the eCommerce package have access to the eCommerce templates, which have built-in integration, and they can add as many products as they want. They can also drag and drop a shopping cart section where it displays their products.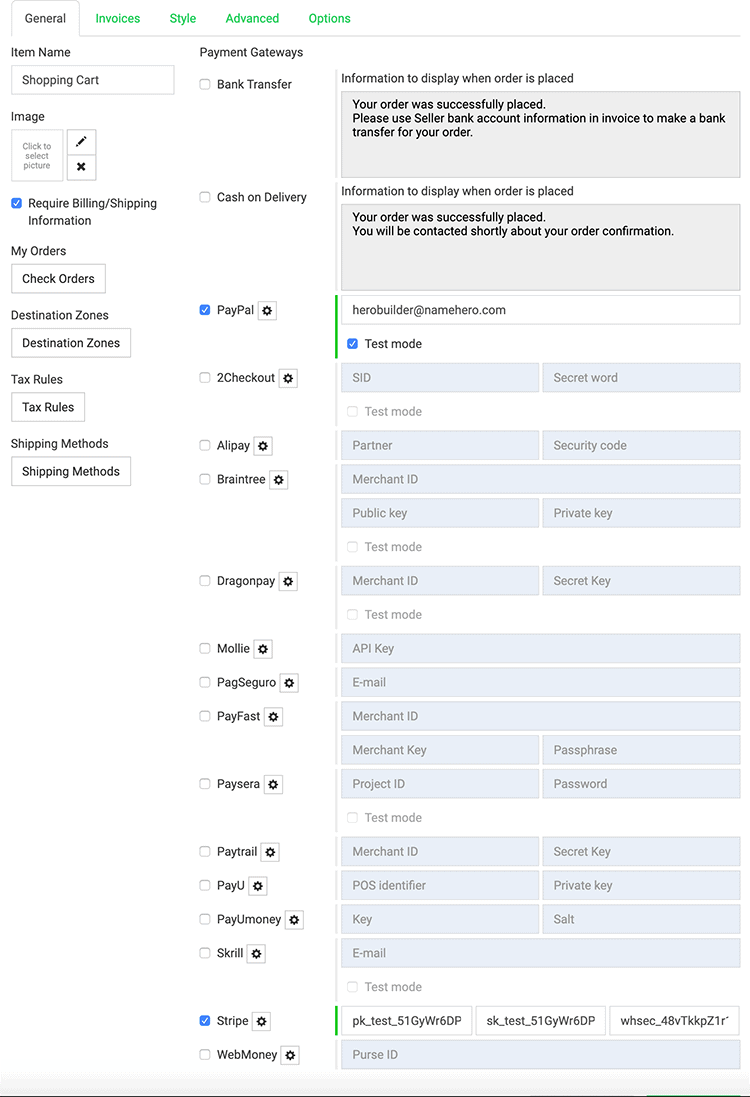 If desired, PayPal users can use PayPal's Buy It Now buttons for instant purchases. HeroBuilder formats your website so it will function properly on devices of all shapes and sizes and is integrated with popular payment providers such as PayPal, Stripe, Skrill, 2Checkout, and more! With HeroBuilder, users can check their orders, configure shipping destinations, tax rules, shipping methods, merchant accounts all from one area.
Can products have different options, such as size and colors?
Yes. For example, for a T-shirt, You can configure options like size and price or different fabrics.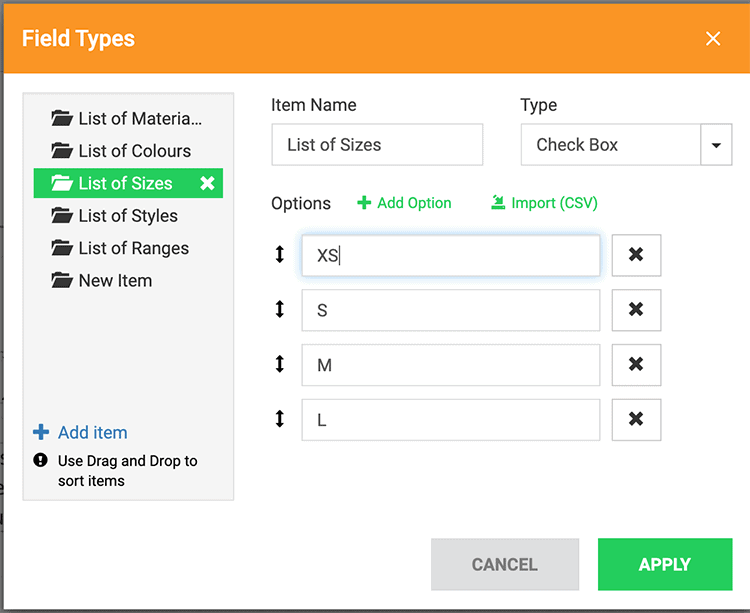 What type of configuration can be done for shipping and taxation?
Within out platform, users can easily customize all shipping options and define based on flat rate, weight, subtotal and even offer free or overnight shipping. A popular option is the ability to print shipping labels through PayPal. For sales tax, you can set the tax rate for your local area. Rates can be set per product in the event certain items are not taxable.
Are SEO services available?
The entire HeroBuilder package is optimized for SEO and is automatically integrated into every package, even those we offer for free. You can modify your meta keywords, your descriptions, and titles. Each product has a page, and so you can customize the SEO for any specific page you want to rank.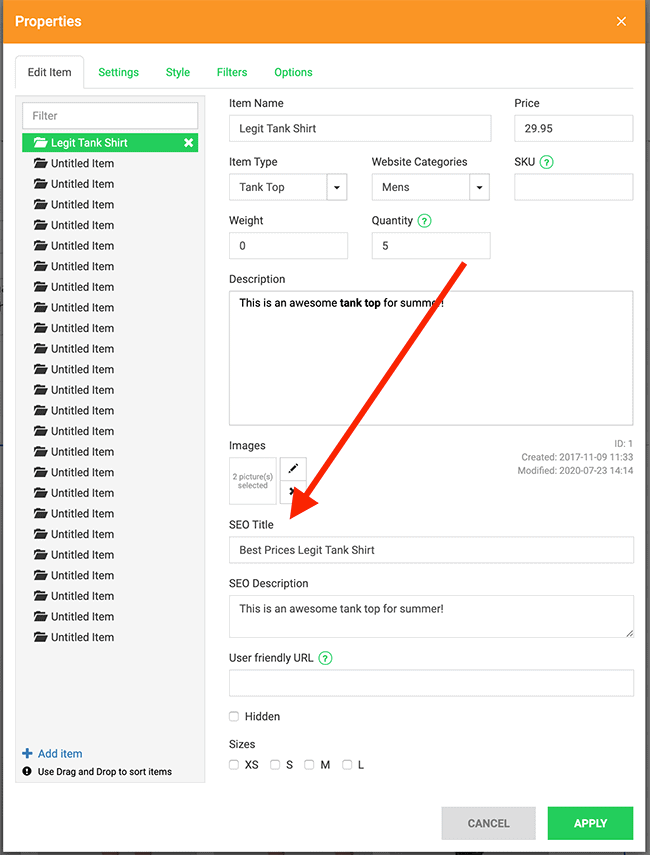 Are tracking analytics are available?
Sites built with HeroBuilder are set up to go right into google analytics. Once you sign up with google analytics, all you need to do is enter your tracking ID into the builder.
What support is available for HeroBuilder users?
We offer the same support as NameHero, so we have 24/7/365 live chat and telephone support, as well as our ticket desk. In fact, our support's quick response time is one of the most defining things about NameHero.