Website Planet
had the chance to interview Simon Treulle, CEO and founder of
Pangolia
, a company running a portfolio of content sites and e-commerce brands in the pet niche with a total readership of 48 million readers per year.
Simon will show us how his content marketing strategy and customer-focused approach helped his modern cat furniture site,
Hepper
, grow from 174 to around 80,000 daily pageviews since February 2021, and generate 7 figures in revenue.

TL;DR
This hypergrowth was a result of publishing more than 5,000 articles that help pet families all over the world solve specific pain points, while showing how Hepper's products help with each problem. That's content marketing 101. Then product quality and customer experience are the key factors that helped maximise conversions and revenue from his eCommerce brands.
Let's meet Hepper
Hepper is actually a brand that we acquired. Up till February 2021 we were just operating our digital media sites, but we were talking about the idea of starting our own pet products business so that we could do more to improve the lives of pet families. However, it seemed intimidating to start an e-commerce business from scratch, so when we saw the opportunity to acquire Hepper, we saw a perfect fit. At Hepper, we source and design modern cat furniture that a cat will love to use, and their parents will love looking at.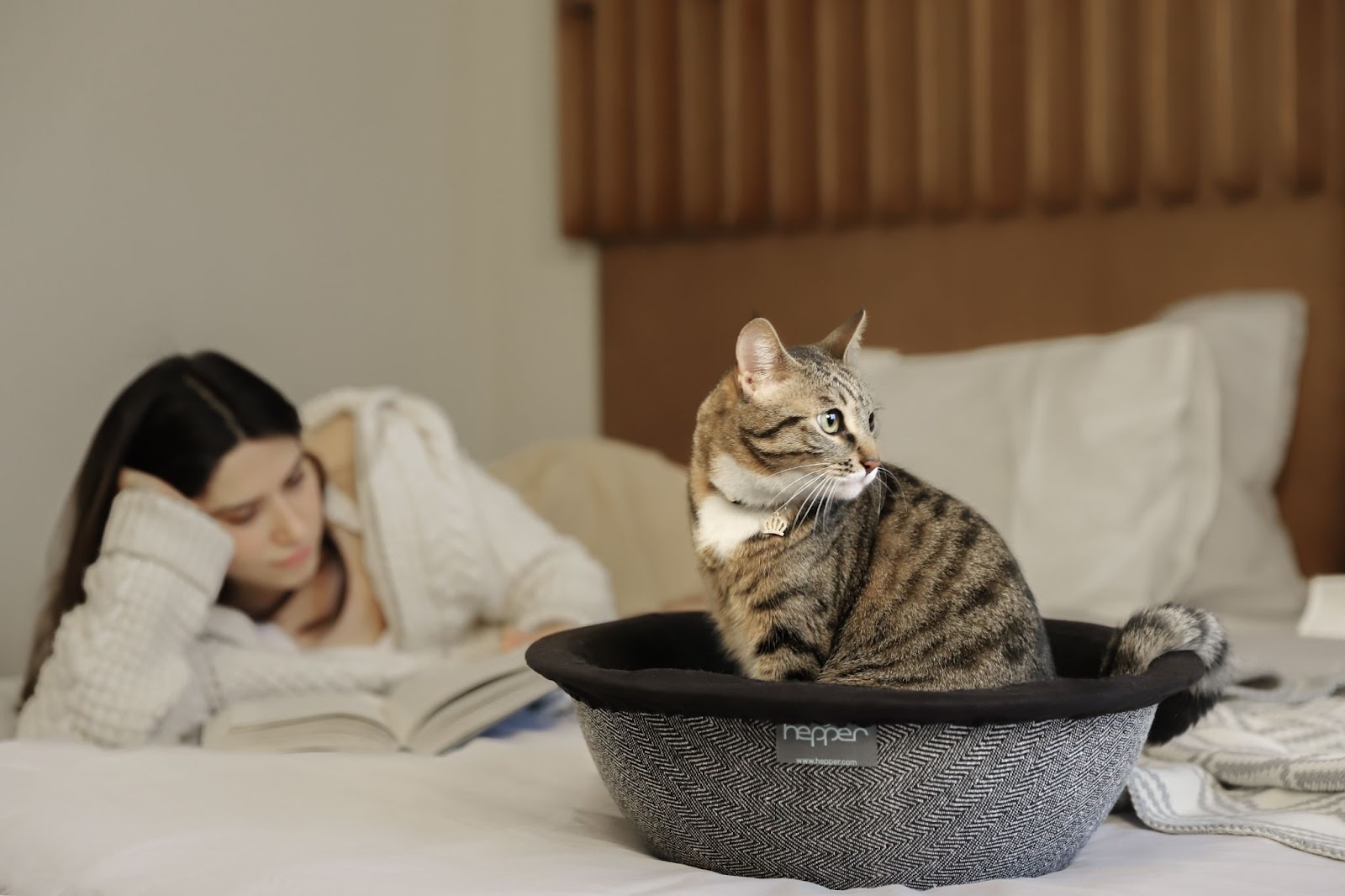 What makes Hepper unique
There are two core tenets of our brand – product and community.
Many pet product brands are stuck in a time-warp. They sell dated designs that have been poorly tested, and therefore the construction leaves a huge amount to be desired. In short, they're low effort. In contrast,
we will work with our manufacturers in such a granular way, that even the method of stitching an edge on our harness is amended
. That doesn't mean we get it right every time, but where we don't get it right, we'll
make it right
over time. Most traditional pet brands think that the customer effort extends as far as collecting a review. We don't. We are in constant conversation with pet parents, we send them free products for testing, have private communities where we chat together, and do everything we can to genuinely get to know each other. This isn't a marketing gimmick or a transactional effort.
We simply know that our brand can only thrive if we know and care about our customers and their pets.
How Hepper's website was built
Hepper is built on WordPress and WooCommerce
. We chose to use this tech stack over Shopify because we already have many years of experience with WordPress, and because it's very important to us that we can customize as much as possible.
We mainly use PayPal and Stripe for receiving payments
. We choose to configure our payment portal with them because they are well-known, trustworthy brands with great user experiences.
Cloudways web hosting helped us boost productivity and save money
. Thanks to their service, we are now sure that our websites are always online, load fast (also with the help of WP Rocket caching plugin), and that our backend is able to support our fast-paced content strategy.
Bonus tip:
When it comes to working with the first web developer for your site, I would recommend trying to find a talented web developer that you expect to work with for many years to come. The reason for this is because when they know your website in and out they are better able to proactively implement features and improvements to your website.
The two secrets behind Hepper's success
Secret #1: Customer care that REALLY cares
As part of our community efforts discussed previously, we provide a huge amount of leniency to our customers when things go wrong. Ordering online for the first time requires a huge amount of trust, because the customer obviously can't tangibly experience the product beforehand. We ensure we're accessible via email and contact forms, and responsive. When something does go wrong, as not every buyer will love every product, we're very flexible with refunds, replacements and other initiatives to provide a good experience. In the last week alone, two customers rewarded our attentiveness by improving our reviews (without prompting), one from one star to four stars, and another from three stars to four stars. The key to this, and other great customer service, is the phrase
"it isn't about what you say or do, it's about how you make them feel"
. We don't let email templates or automated responses conceal the fact that customer service is about leaving the customer feeling better than when they first reached out to you. Too many customer service initiatives focus more on the process than on the customer themselves.
Secret #2: Content focused on the customer's pan points
Something that has been working really well for us is to mention Hepper products on Hepper's blog and on our other sites such as
Pet Keen
and Excited Cats. For example, we noticed that many of our readers had issues with pet odors and stains. This led us to launch a pet odor eliminator spray that could help pet families resolve this problem. So we launched a content strategy to write lots of articles on topics like: "How To Get Dog Pee Smell Out of a Couch: 10 Proven Methods". The article elaborates on and demonstrates how to get dog pee out of a couch, and also shows how Hepper's product can help solve this problem. Here's a screenshot that shows how we sometimes mention a Hepper product inside an article on Hepper: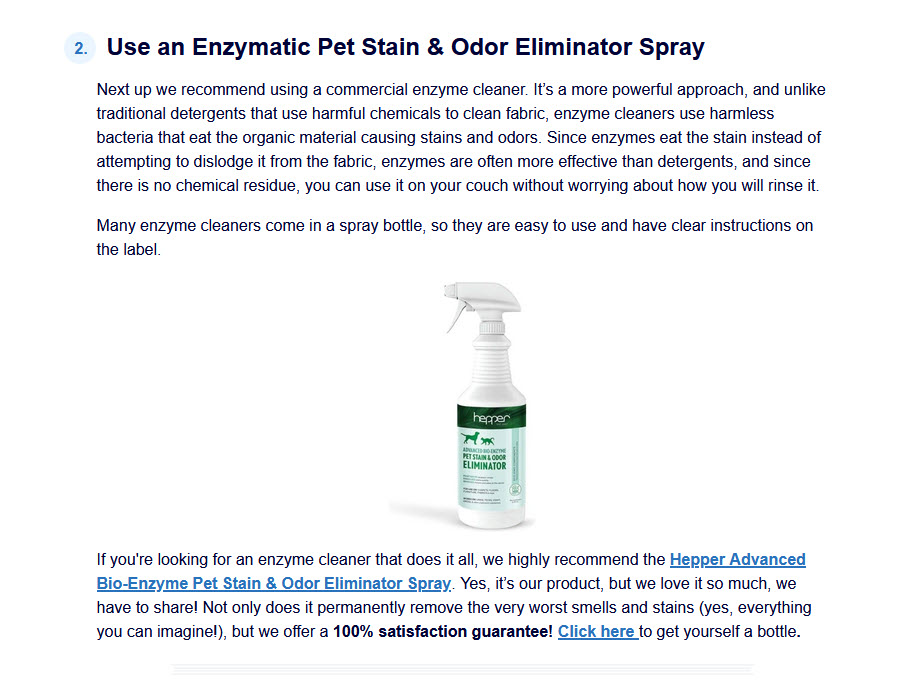 These articles are helpful content for our existing customers, but they also get lots of organic traffic from search engines like Google. This content strategy has resulted in thousands of Hepper sprays being sold every month, and this strategy also provides helpful information that builds trust and brand awareness with our audience.
Pangolia's  3 linkbuilding techniques:
HARO (Help A Reporter Out)
Contributing helpful articles to other websites (aka guest posting)
Data-driven Digital PR
Simon Treulle's favorite tools to run his business
One of our favorite tools when creating content is Ahrefs
, as it allows us to estimate what topics and keywords people are looking for. This allows us to make data-driven decisions about which articles to write rather than just relying on gut feel.
Something that has worked really well for us is to build an internal company knowledge base using Notion.
This is where we put information like: team directory, our payment policy, and communication guidelines. Most importantly, we use Notion to create our SOPs (standard operating procedures), which are step-by-step instructions on how to do certain types of work in our company. Perhaps the greatest benefit of Notion is its accessibility. Our SOPs are living documents that we can tweak and revise as we learn more about our work. Our core principle of our tool stack is to keep it super simple. So
we use Trello for project management
, which is great for collaboration between departments and maintaining focus on deadlines.
Google Workspace is essential for email and documents
, and gives us plenty of options for managing access with freelancers and other independent contractors. A great integration with Google Workspace is Mailshake.
Without Mailshake we would have 8 people doing outreach instead of 3
, and way fewer affiliate partnerships than we were able to establish. Finally,
Slack is amazing for day-to-day communication
. It allows real-time conversations between co-workers and acts as our company's "water cooler" where team members gather to socialize and get to know each other, which is extremely important for a remote company.
What trends or technologies will reshape your industry in the coming years, and how do you plan to cope?
Geo-politics has a massive influence on the e-commerce landscape, and things change. I think there's a chance that trade tensions around the world may continue. Although there are some signs of this abating, many brands are diversifying their supply chain more aggressively as a result. Although Southeast Asia is still an excellent location for producing certain products, it's unwise for brands to be blinded to these supply chain risks. The way our company plans to be prepared for this is by diversifying our supply chain network by working with multiple suppliers from different parts of the world.