I had another chance to chat with Lin Xiao, CEO of
DesignEvo
, about FlexClip, an all-in-one video maker developed by his team in 2019 with a small group of 49 members, and already used by over 10 million people across the globe. A must read for those interested in learning from a successful serial SaaS entrepreneur what are the key factors behind the success of his products, how he narrowed down his product-market fit, and what is his dream roadmap for the future.
Let's introduce FlexClip to our audience. What is it and how does it work?
FlexClip
is an online video creation platform that allows users to easily create professional-quality videos for various purposes. It is designed to simplify the video creation process and make it accessible to a wide range of users, including marketers, content creators, businesses, and individuals.
How to use FlexClip in just 5 steps:
Sign Up: To get started with FlexClip, users need to sign up for an account on the platform.
Select Template: Once logged in, users can choose a video template from the extensive library that best suits their project's requirements.
Customize Video: Users can then upload their media, including images, video clips, and audio files. They can edit the content, add text, apply transitions, effects, and customize the video to match their brand or style.
Enhance with Media Library: Users can browse through FlexClip's media library to find additional stock images, videos, or music to enhance their video further.
Preview and Export: After completing the customization, users can preview their video to ensure everything looks as desired. Once satisfied, they can export the video in high resolutions suitable for different platforms.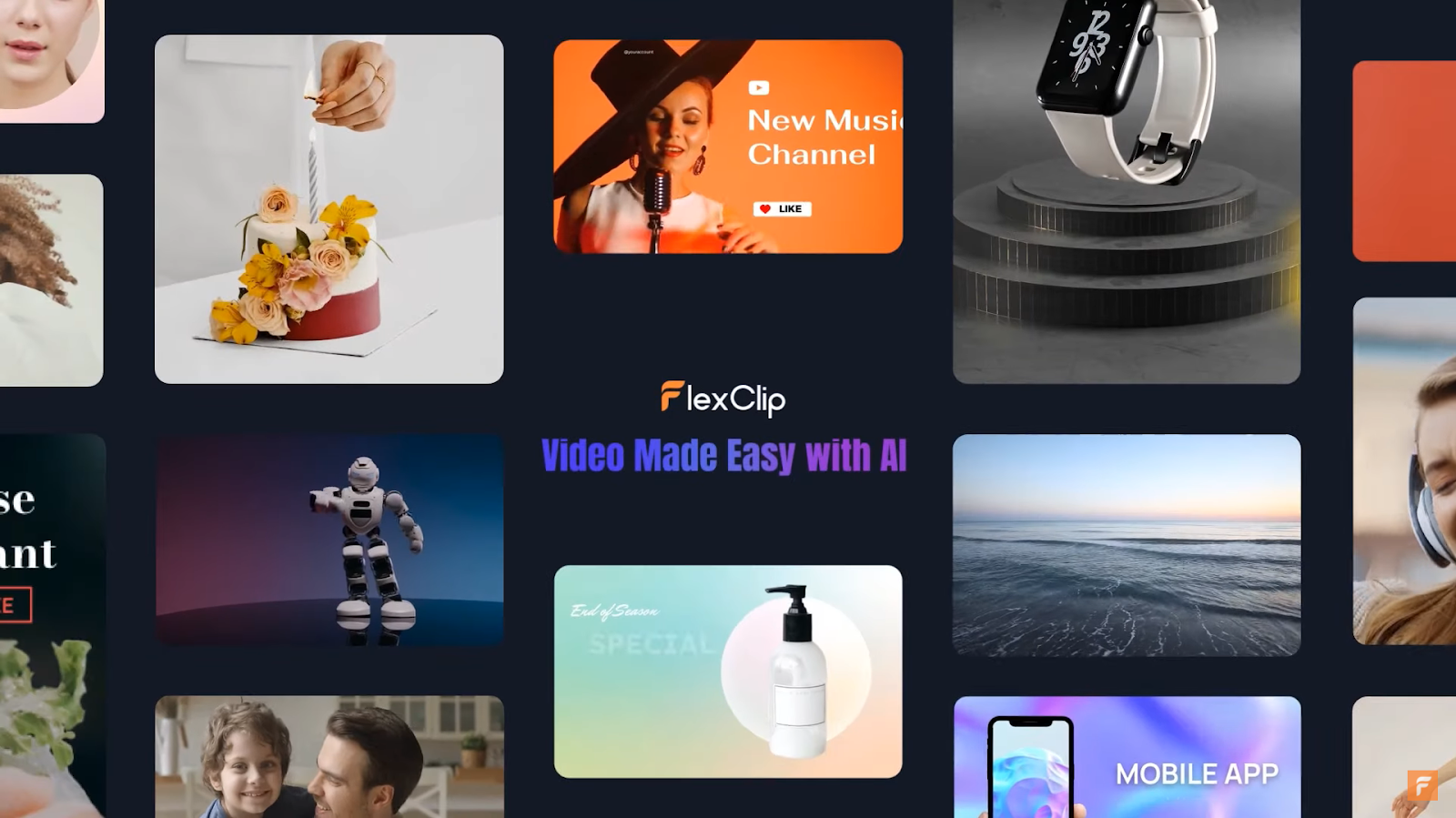 Which types of individuals or businesses can benefit the most from using the platform? What features specifically address their needs?
FlexClip can be beneficial to a wide range of individuals and businesses that are looking to create compelling video content without the need for advanced video editing skills. Here are some specific types of users and businesses that can benefit the most from using the platform, along with the features that address their needs:
Small Businesses and Startups: Small businesses and startups often have limited resources and budgets for video production. FlexClip's easy-to-use platform, along with its vast template library and media resources, allows them to create professional-quality videos for marketing, social media, and promotional purposes. Businesses and individuals can save time and effort by choosing from a diverse collection of templates tailored to their specific content goals.
Content Creators and Influencers: Individuals who create content for social media platforms, YouTube, or blogs can use FlexClip to turn their written content into engaging video content quickly. The platform's text-to-video feature streamlines the process, making it efficient and effective. Content creators, bloggers, and marketers can quickly transform their written content into engaging videos, expanding their audience reach and impact.
Marketing Professionals: Marketing teams can leverage FlexClip to create eye-catching video ads, product demonstrations, and explainer videos. The platform's ratio feature ensures videos are optimized for different social media platforms, maximizing their reach and impact.
Educators and Trainers: FlexClip's template library includes options for creating educational videos, tutorials, and training materials. Educators and trainers can easily customize these templates with their content, enhancing the learning experience for their audience. FlexClip's vast library of stock images, videos, and music ensures that users have access to high-quality visuals and audio to enhance their video projects.
Event Organizers: For businesses and individuals hosting events, FlexClip can be used to create promotional videos, event recaps, and invitations. The platform's collaboration feature allows event organizers to work together with their team members to create compelling event-related content.
Real Estate Professionals: Real estate agents can utilize FlexClip to create property tours, neighborhood guides, and virtual walkthroughs. The platform's video editing tools enable them to showcase properties effectively.
Nonprofits and NGOs: FlexClip can be a valuable resource for nonprofit organizations to create impactful videos for fundraising campaigns, awareness initiatives, and mission-related content. The media library helps in finding relevant visuals to support their cause.
We also offer several support options and self-help resources to our users:
Customer Support: FlexClip likely provides customer support to address user inquiries, technical issues, and account-related questions. This support might be available through email, or website contact form.
Help Center: FlexClip likely maintains a Help Center section that contains helpful articles, guides, and tutorials on using various features of the platform.
Step By Step Tutorials:We have step-by-step tutorials on our website to help users get a quick start.
Video Tutorials: To help users learn how to use the platform effectively, FlexClip might offer video tutorials that provide step-by-step instructions on creating different types of videos and using specific tools.
Social Media Channels: FlexClip may maintain active social media channels where they share tips, tricks, updates, and examples of videos created using the platform.
Blog: The platform may have a blog that covers topics related to video creation, content marketing, and industry trends, providing users with valuable insights and inspiration.
Users can access these resources to enhance their understanding of the platform and make the most out of FlexClip's features and capabilities.
How did it all start, and what are your achievements to this day?
FlexClip was launched in 2019 by David and his team, a small group of 49 members. They
envisioned a platform that would democratize video creation and make it accessible to individuals and businesses of all sizes, without the need for extensive video editing skills or costly software
. David recognized the increasing demand for video content in the digital era and aimed to simplify the video creation process through an intuitive and user-friendly platform. FlexClip had achieved several milestones and made significant progress in the online video creation space. Some of their achievements and notable features at that time included:
We grew our User Base to 10M+ worldwide,
 comprising marketers, content creators, businesses, educators, and individuals worldwide.
Extensive Template Library
: The platform boasted an extensive collection of video templates catering to various purposes, industries, and styles. These templates allowed users to quickly kickstart their video projects with professional designs.
Media Library
: FlexClip provided users access to a vast library of stock images, videos, and music to enhance their video projects and make them visually appealing.
AI Features
: FlexClip's AI features are standout. The text-to-video enables users to transform written content into engaging video content automatically. And its also has the other AI features such as AI Video Script, AI Image Generator, AI Text to Speech, AI Auto Subtitle, AI Background Remover.
Easy-to-Use Video Editor
: The platform offers a user-friendly video editor with drag-and-drop functionality, making it accessible to users with varying levels of video editing expertise.
Collaboration and Sharing
: FlexClip facilitates collaboration among users, allowing teams to work together on video projects in real-time.
How does your mission differ from other companies in your niche?
In general, we differentiate us from the other companies in several ways, such as:
We are User-oriented
: We place the needs, preferences, and experiences of the users at the center of product development, design, and decision-making processes. We do constant updates according to our users feedback and suggestions.
Our Feature Set
: We offer a robust set of features, such as AI text to video, AI video script, AI image generator, AI text to speech, auto subtitle, AI background remover, advanced effects, audio editing capabilities, collaboration tools, etc.
FlexClip is super easy to use
: We offer a user-friendly and intuitive interface with clear navigation so that everyone can make a video easily using FlexClip.
We provide a wide range of templates, stock videos and audios
. Moreover, all of them can be freely edited to create their videos.
Our flexible pricing
: We offer free plans, affordable subscription options, or lifetime deal plans to cater to different user needs.
Who are your typical clients and what problems do they have when they come to you?
Many of our users are YouTubers who constantly create videos to make money on YouTube. They often wonder if they have the copyright to upload their videos and monetize them. Unfortunately, some of their videos are mistakenly flagged for wrongful use of copyrighted content after uploading them to YouTube. To ensure their videos pass YouTube's review more smoothly, we strive to provide our best assistance – Firstly, we thoroughly check all the resources available in our tools to ensure they are all copyrighted. Despite our efforts, occasional false copyright claims still occur. Therefore, we introduced the
Whitelist
feature to automatically remove such claims and help our users resolve these issues seamlessly.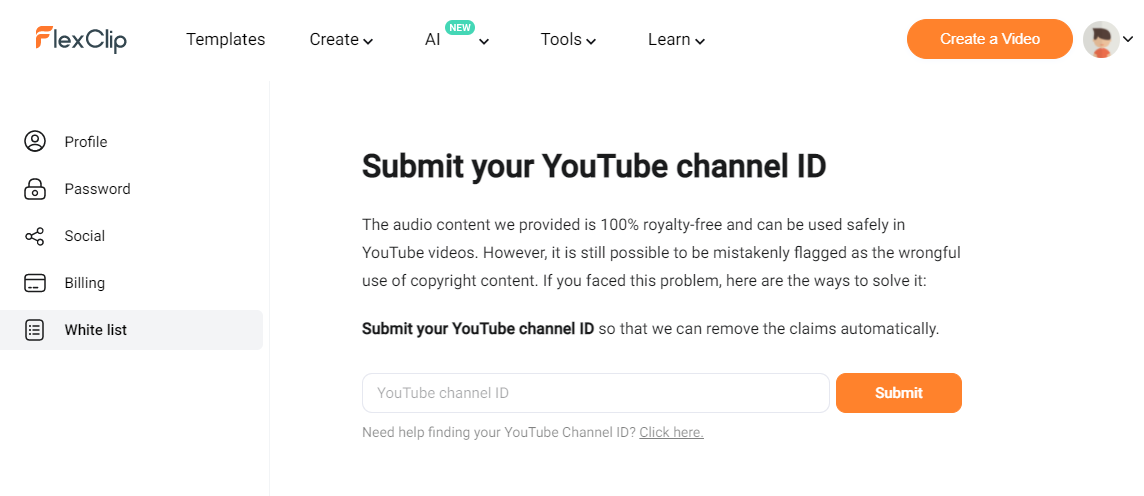 Why people love FlexClip?
From our 2000+ reviews across TrustPilot and Facebook, it's clear that
most of FlexClip's users praise the quick and easy video creation process
, with voice recording, AI tools,, animated texts, and easy trimming being the most appreciated features. In fact, we receive much love from beginners and whoever is looking for a simple yet capable video editor that doesn't need a PhD to learn.
"One of the standout aspects of FlexClip.com is its ease of use. The platform streamlines the video creation process, making it accessible to users with limited editing experience. You can create engaging videos in just a few simple steps, thanks to the intuitive interface and pre-designed templates that serve as a significant starting point for your projects.
FlexClip.com also provides cloud storage for your projects, ensuring that your work is safely stored and accessible from any device with an internet connection. This feature allows you to work on your videos from anywhere, making it convenient for collaborative projects or when you need to make edits on the go."
Sam Brooks, NorkDorf Entertainment
If you had unlimited funds, what improvements would you make?
If I had unlimited funds, I would consider investing in the following improvements:
Advanced AI Capabilities: Enhance their AI-powered video editing tools to provide more sophisticated automation and customization options for users.
Expanded Media Library: Invest in acquiring a vast and diverse collection of stock footage, images, audio tracks, and animations to offer users a wider range of creative resources.
Customizable Templates: Enable users to create and share their custom templates, fostering a creative community and expanding the platform's offerings.
Multilingual Support: Expand language support to make the platform accessible to users around the world and provide localized features for different regions.
Virtual Reality (VR) and 360-Degree Video Editing: Introduce support for VR and 360-degree video editing, allowing users to create immersive and interactive content.
Integration with External Platforms: Integrate with popular video hosting platforms, social media channels, and content management systems, simplifying the video publishing process.
Real-Time Rendering: Reduce rendering times and increase video export speed, making the video creation process more efficient.
The short version – I dream of having unlimited funds so that I can bring my aspirations to life, one by one.