We spoke with
Marty Puranik, President & CEO of Atlantic.Net
, about their reputation as an exceptional hosting company, known for simplifying complex technologies, providing top-quality services. With their dedication to promoting grassroots technology initiatives and open-source organizations all while keeping customer satisfaction paramount, they demonstrate their trustworthiness to their clients time and time again.
This interview was originally published on April 19, 2021
What is HIPAA Compliant Hosting?
HIPAA compliant hosting meets and exceeds the required physical, administrative and technical safeguards mandated by the HIPAA regulations and the subsequent Security Rule and Privacy Rule amendments. In short, it is a service that is inherently secure and designed from the ground up to protect electronic patient health information (ePHI). Clients can plug directly into this service, knowing ePHI data integrity is guaranteed.
What Hosting plans do you offer?
Aside from our prominent HIPAA compliant hosting services, we have a mature and agile Cloud Platform available to anyone with an internet connection. Public cloud Virtual Private Servers (VPS) are very popular, and we also cater to clients that need private cloud servers or dedicated private cloud nodes. These services are available in our seven international data center locations. We also provide Colocation, Managed Hosting, and IaaS.
What is included with your WordPress hosting packages?
We offer WordPress as a one-click application for our public cloud customers. We use Ubuntu as the base operating system for a LAMP technical stack (Linux, Apache, MySQL, and PHP). WordPress is pre-configured on a secure server that launches automatically in seconds.
Do your hosting plans include SSL?
We can provide optional SSL certificates for our HIPAA clients and corporate customers; however, in our public cloud, SSL is not included out of the box.
What Cloud services do you offer?
Our Cloud Platform is the top cloud service we offer, but we also provide a wide range of Managed Services. All these services incorporate our Cloud Storage, Snapshots, One-Click Applications, Disaster Recovery, Cloud Backup, Managed Security, and managed database capabilities; all supported 24/7 by the managed services teams.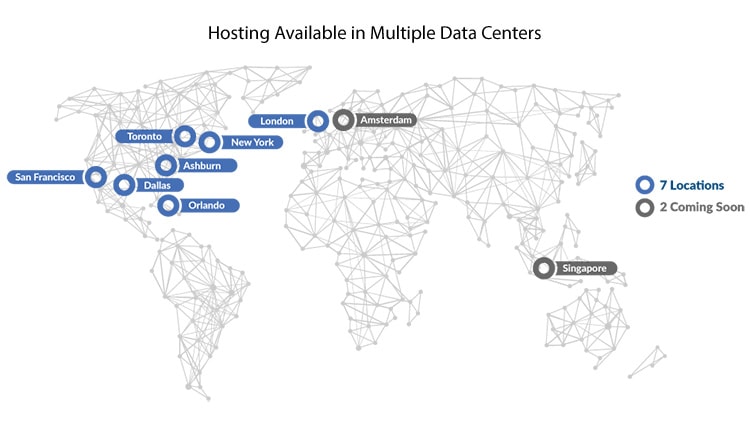 What is a VPC, and for whom is it a good fit?
Atlantic.Net
Virtual Private Cloud (VPC) enables you to have complete logical isolation on a virtual network using the Atlantic.Net Cloud. VPC resides entirely on Atlantic.Net's Cloud services and is 100% logically separated from other VPCs in the Atlantic.Net Cloud. This allows you to have a secure and compliant network while adding all the features of cloud-like scalability.
How can you guarantee 100% uptime?
Atlantic.Net offers industry-leading service levels backed by a 100% Uptime SLA. Atlantic.Net guarantees that all critical infrastructure components will be available 100% of the time in a given month, excluding scheduled maintenance. Our 100% SLA differentiates Atlantic.Net from its competitors, each of our data centers has been designed from the ground up to be fail-safe and highly redundant. My teams test our capabilities frequently, and we are so confident in the infrastructure that we offer 100% SLA.
Are backup and recovery services available?
Backups are available on all our services. For cloud customers, we offer one-click backups to protect critical data, and we also replicate the data between our data centers to ensure data integrity.
What type of consulting services do you offer?
We have a dedicated team of highly skilled SME engineers.  We operate four tiers of consultancy that range from basic configurations and deployments to high-end services such as border gateway routing and everything in between.
What Managed Services are available?
Our Managed Service teams have decades of experience. We provide the full-stack of managed services covering everything from hosting, backups, networking, storage, cloud, and application support. The managed services team is available 24/7. We know that no two IT environments are the same, and we work with our customers to create a solution that works for them. Our Managed Services include Intrusion Prevention Service, Server management, Virtual Private Cloud, Managed Firewall Service, Multi-Factor Authentication, Trend micro, Load Balancing, and Consulting Services.
How are your servers protected against hackers and other cyber threats?
Security is the primary driving force behind the design decisions, so we built our infrastructure from the ground up to provide a secure platform for our clients. It starts with our teams, who experts in security-driven decision making. We leverage technology such as Intrusion Prevention Systems, Multi-Factor Authentication, Malware Protection, detailed logging services, encryption, and Trend Micro Services to further harden our infrastructure from the inside.
What type of support is available to your customers? 
Our front-line support teams are available 24x7x365 via email and phone. We always have someone available at the end of a phone line. The support teams are encouraged to develop and grow with advanced training, helping to ensure our customers get the support they want for the first time of calling.