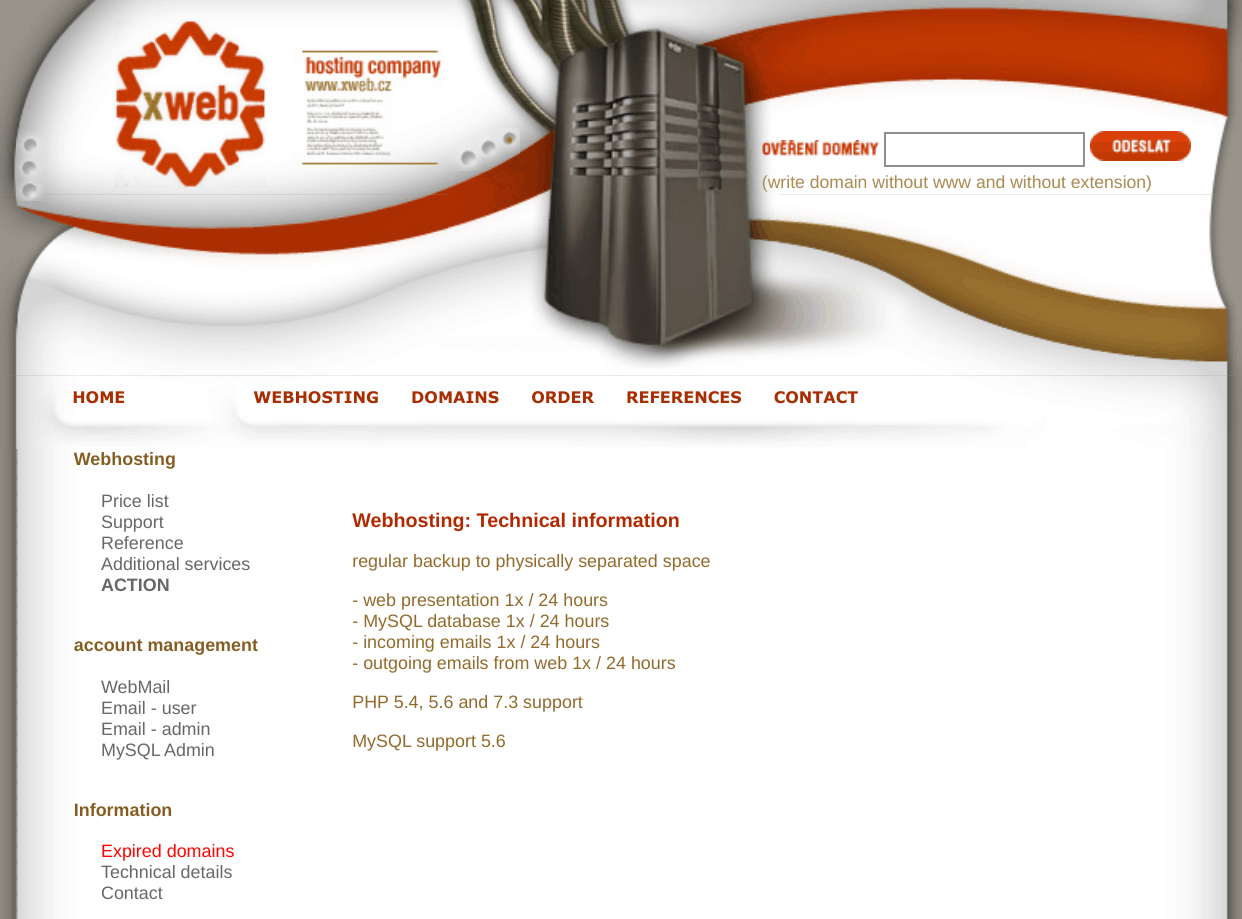 SPINARET sro (trading as Xweb.cz) is a small hosting company with headquarters in Lípa, Czech Republic. Although it's unclear when this company was founded, the fact that its old-fashioned Czech-language website mentions its "10th-anniversary event" means it must be at least this old. Probably much older, by my reckoning.
Xweb offers web hosting and domain registration services.
Features and Ease of Use
Xweb advertises three shared hosting packages (Home, Silver, and Gold) which come with the following features:
Up to 1,000 MB FTP space

Up to 100 mailboxes

Unlimited email addresses
The basic "Xweb Home +" package provides 100 MB disk space, one mailbox with 500 MB email space, and unlimited email addresses. You don't get PHP and MySQL support with this plan.
The medium "Xweb Silver +" subscription has 1,000 MB disk space, 10 mailboxes with 10 x 500 MB email space, and unlimited email addresses. It includes free domain registration, but no PHP nor MySQL support.
Since the two lowest plans don't have PHP and MySQL, you'll only be able to create static sites. If you want dynamic features, you'll need to choose the highest plan, "Xweb Gold +," which offers 1,000 MB disk space, 100 x 500 MB email space, unlimited email addresses, free domain registration, and includes PHP and MySQL support, unlike the other two plans.
Xweb.cz also offers free SEO analysis.
Pricing and Support
Although Xweb's prices are average for a Czech provider, the limited features and resources make it one of the less attractive hosts in the market. It becomes even less appealing when you consider that you have to be billed annually and all contracts are non-refundable.
As already hinted, Xweb's website is inferior by modern standards. It includes very little information and no self-support resources. Although theoretically, you can contact this company by telephone or email, my exploratory email received no response.