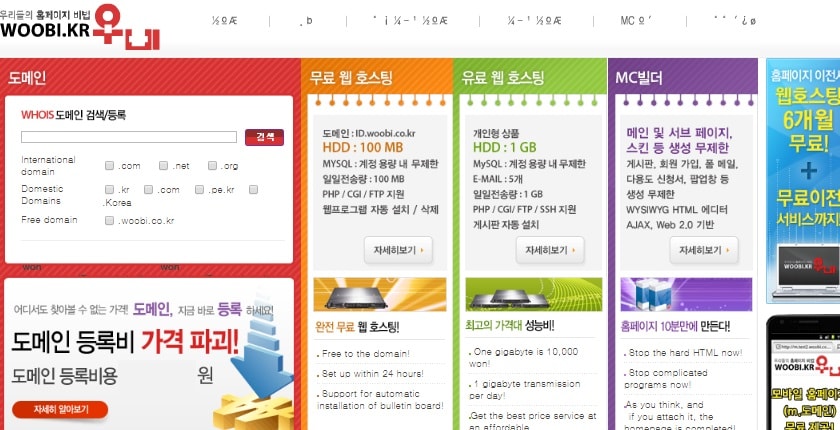 To compare the best web hosts, we hosted the same WordPress website on each one and tested performance, customer service, and value for money.
Check out the results here.
Based in South Korea, Woobi.kr is a trusted hosting service with a history of providing local and international customers with unlimited web hosting, domains, customizable VPS, and SSL. Its hosting packages are cheap and loaded with many features.
Features and Ease of Use
Free or paid, the Woobi.kr shared Linux hosting plans come with a number of features that help you start your website project quickly:
Domestic registration, forwarding, parking
DNS zone editor
Website builder
Web-based file manager
MySQL databases
PHP/CGI/Ajax/Perl
FTP/SSH Access
Firewall protection
Web-based emails
Website statistics
Woobi.kr provides a six-month free basic web hosting service to individual customers. This plan includes the easy-to-use MC Homepage builder and a number of ready-to-use scripts such as WordPress, Textcube, XpressEngine. With a few clicks, a user can deploy and customize any of the supported apps. Advanced users and programmers also have access to various programming languages such as Python, Perl, GCC, and PHP plus its various libraries.
When it comes to user security, Woobi.kr isn't sleeping on the job. Servers are hardened and systems monitored 24/7. Customers also enjoy daily/weekly website and database backups regardless of their plans, so there's little to worry about data loss.
Each hosting account is powered by Linux and connected to SSD storage which is significantly faster than the traditional HDD, so you can expect pages to load quickly. Virtual server hosting runs on Red Hat Linux though there is the option to install a custom OS. Fast and reliable, its hosting packages can meet the needs of starters, medium-size enterprises, and even large organizations.
At first I had a hard time navigating Woobi.kr, but I realized my Adobe Flash player wasn't working. The moment I fixed it, I was able to check out different sections including FAQs, pricing, hosting guides, and nice demos of websites built using the MC builder.
Pricing and Support
Woobi.kr packages are not only cheap, but are loaded with features that cut across the board. When you scale up, you get more storage, emails, and a greater monthly bandwidth to meet your growing traffic needs. Shared hosting packages are deployed instantly the moment you pay while VPS deployment takes up to 24 hours. Hosting prices include a one-time setup fee, which honestly I wouldn't mind paying considering how cheap and feature-rich its packages are. Bank transfer and credit cards are accepted.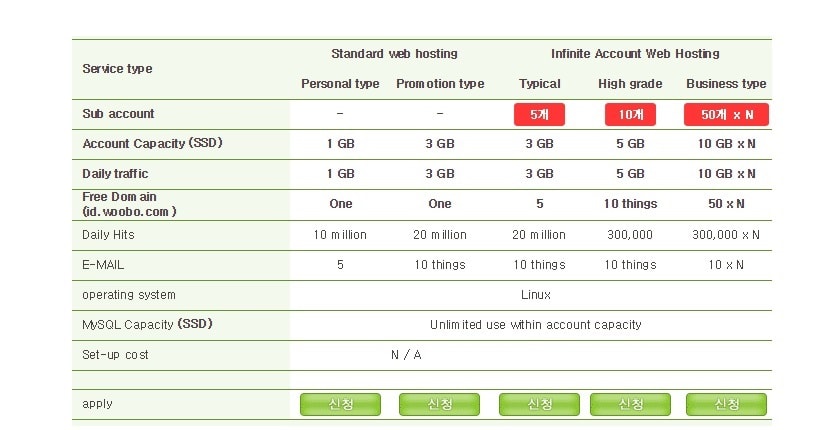 The Woobi.kr onsite technicians, known for their hard work and diligence, are capable of promptly resolving hosting issues. You can reach out to them by telephone to speak with live operators or send an email with your inquiries or requests for help. It would be great if Woobi.kr introduces live chat support for both local and international customers, as currently, support is only available in Korean.