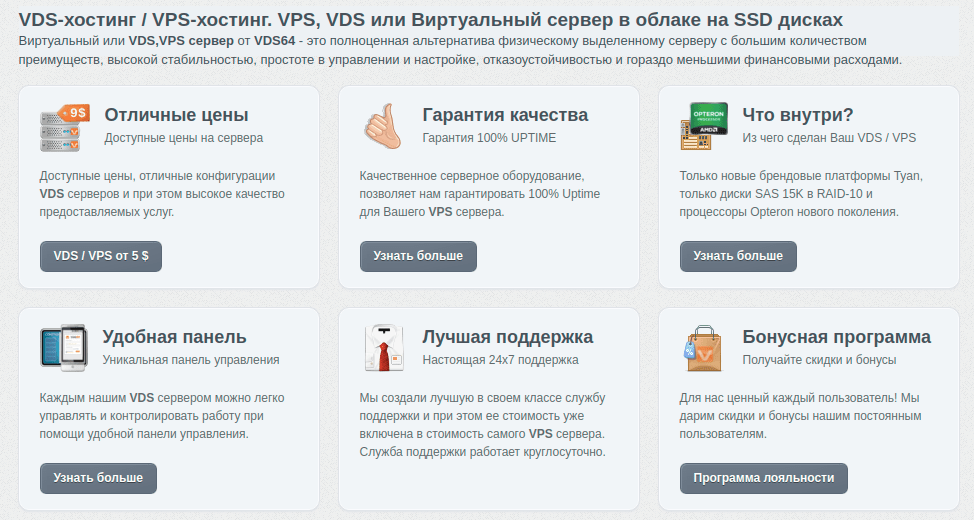 VDS64 is a web hosting vendor with head offices in Kiev, Ukraine. The hosting provider has over the years specialized in the provisioning of reliable server solutions to all types of business enterprises across Ukraine. In addition, it has a significant market share in Russia. The VDS64 website is only available in Russian.
Features and Ease of Use
VDS64 does not seem to offer the typical shared or reseller web hosting services, but instead, focuses on the provision of virtual server solutions. Some of its hosting solutions include fast VPS/VDS servers, hybrid VDS, and dedicated servers. The hosting solutions come with the following standard features:
RAID-10 hardware controllers
SimpleHM/DirectAdmin/cPanel control panel
VDS64-management center
IP addresses
Weekly backups
Unlimited monthly bandwidth with up to 100 MB/s
VDS64 houses its hosting infrastructure in a high-quality data center located in Kiev, Ukraine. Additionally, if it were to outsource data center services to host its resources, it would host its facilities in state-of-the-art data centers which are highly regarded by large banks and international companies, and certainly not data centers lower than Tier II certified.
VDS64 server platforms only use Intel SS3700 and Seagate SAS 15K SSD drives with RAID-10 hardware configuration. By using RAID-10 architecture in each of its servers, the vendor is able to offer super-fast web page loading speeds of the websites it hosts, providing high reliability even if half of the disks experience a failure.
VDS64 hybrid servers come with all the advantages of dedicated servers providing more convenient solutions. The hosting solution uses virtualization with an easy administration and you can reinstall OS in just a few minutes. What's more, the hosting firm takes it upon itself to perform weekly backups of its client's servers. In case of a disaster, customers can quickly restore both their entire servers and folders.
Pricing and Support
In contrast with what other virtual server providers in the market, I would say VDS64 hosting prices compare favorably. The prices of its hosting solutions are listed in U.S. dollars. What's more, the hosting packages come with flexible monthly billing cycles.
VDS64 web packages guarantee an uptime of 100%. Moreover, the hosting vendor promises to give you a free trial period of up to 30 days.
Customers can contact the VDS64 technical support desk via telephone, email, and live chat. You can also reach out to them on their social media channels, including Twitter. All the same, the hosting company does not seem to have a ticketing system anywhere I could find. Its support service is, however, available round the clock.
I tried to reach out to them through live chat, but I didn't have any luck. So, I decided to send them a support email with my query. The vendor's email support has an automated system that sends out responses with ticket numbers. Even though I received a ticket number, the support team never addressed my query.
VDS64 has a detailed help center wiki where customers who appreciate a DIY approach to hosting can get all the information that they need for a smooth hosting service.