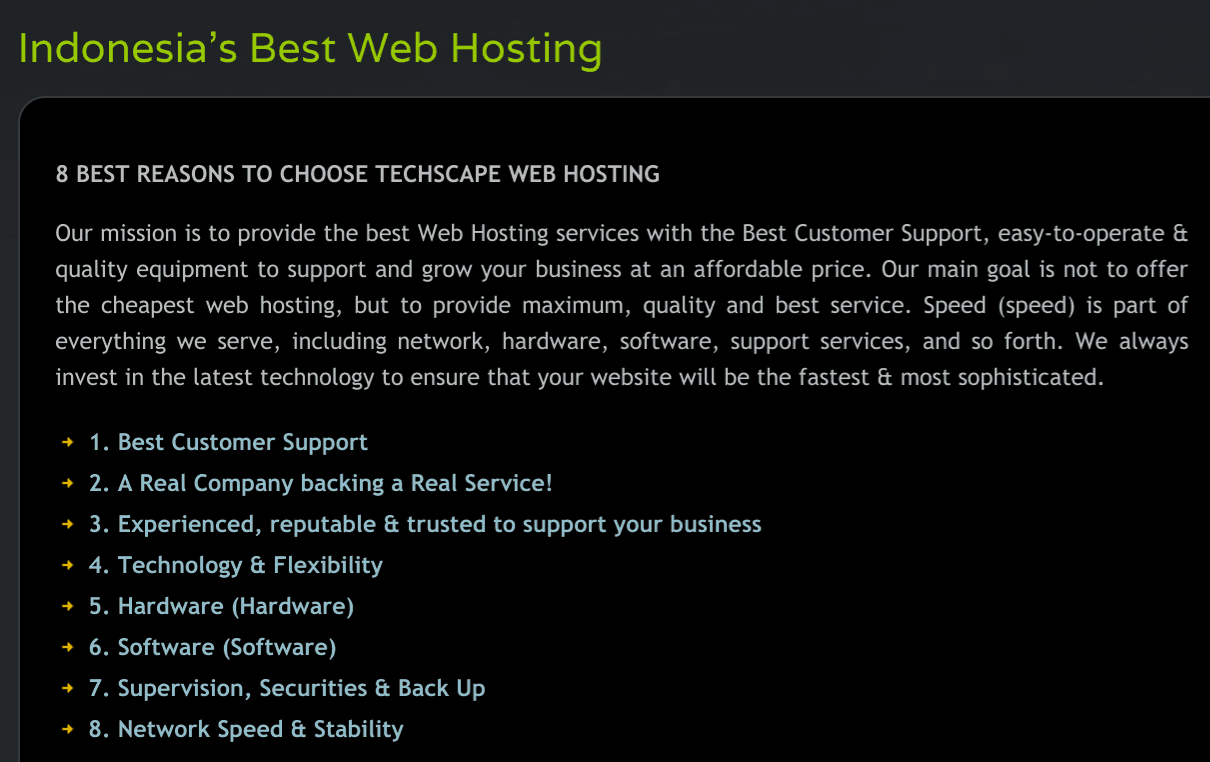 TechScape is a small Indonesian web hosting company that was founded in June 1999. It offers shared hosting services and domain registration solutions to individuals and small businesses, but not VPS or dedicated server solutions. The TechScape website is in Indonesian.
Features and Ease of Use
Some of the standard features you can expect to find in TechScape hosting packages include:
cPanel control panel
Auto-install web app
Web-based email
MySQL databases
FTP access
DNS/MX manager
TechScape uses servers powered by the latest technology to ensure the delivery of high-quality hosting services to its customers. The Unix operating system is underpinned by Hyper-Threading Technology that allows Intel Core processors to run multiple threads to improve the overall performance of the system.
TechScape's hosting packages include the basic Cyberstand package (with 1GB monthly data transfer and a mere 1MB disk space) and the premium Corporate package (with unlimited data transfer, SSH access, bandwidth of up to 10 Mbps, and unlimited emails). In addition, all packages include CGI, PHP, WAP, SSI, DHTML access, and email backup services.
This vendor also has a backup plan just in case anything happens to its primary servers. They perform remote backups every day. However, in the event of data loss, they can only restore the last backup that was taken and only up to a maximum of 5 GB of data.
Pricing and Support
TechScape's hosting plans (priced in Indonesian rupiah) are well within the price range of other Indonesian hosting companies. Customers pay monthly. Negatively, there is no refund policy and no uptime guarantee.
Customers can use several communication channels to contact the company: email, live chat, a ticketing system, and a toll-free Indonesian telephone number. The support team is highly responsive, and I received an email reply from them in less than 12 hours, albeit half in Indonesian: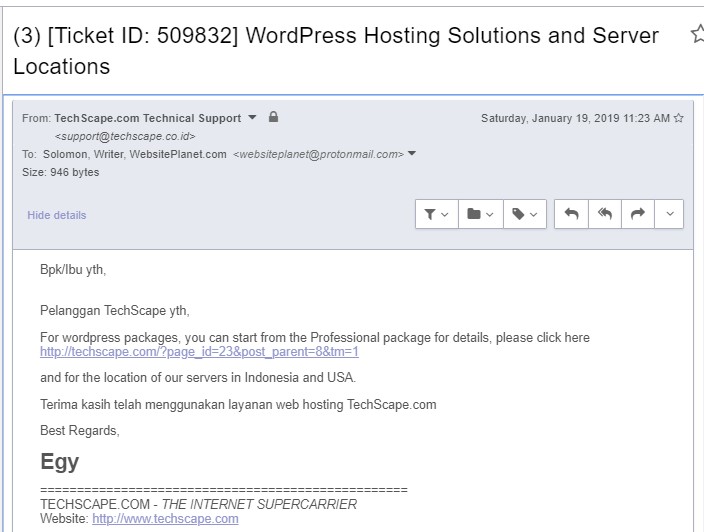 The TechScape website includes a set of FAQs and a small set of articles, but no formal knowledge base as far as I know.
How much does TechScape cost?
TechScape offers plans from $0.36 to $218.98. The price depends on which type of hosting plan you choose. You can see the updated pricing table (updated weekly) below.

Which TechScape plan should I get?
My recommendation is to start with a cheaper plan. You can always upgrade later on. TechScape can help you with the migration to a more expensive plan. The increase in visitors many times takes longer than expected and you shouldn't pay a lot of money until the need arises. Of course, your needs may vary, and you can consult with a hosting expert from TechScape here.

How good is TechScape's customer support?
TechScape is not ranked as one of our top web hosts. But that can also be a result of TechScape being a small, under the radar, hosting provider. There are advantages to a small hosting company – as a customer, you are more important to them. You can also check out our comparison of the most popular web hosting services here.