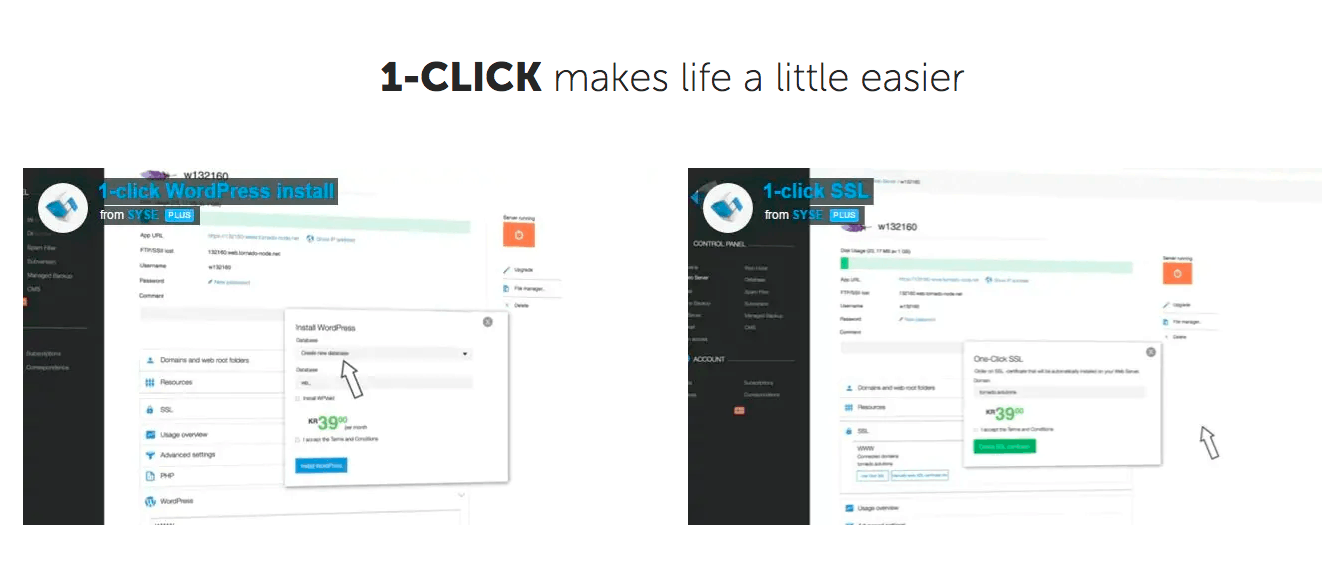 SYSE is a Norwegian hosting provider that has been in business since 1995. Hosting is one of many website-related services it sells from its Norwegian language website.
Features and Ease of Use
With more than 20 years of experience, SYSE sells a range of hosting services. The shared hosting plans come with the following features:
Automatic backups retained for 60 days

Domain registration available

Unlimited add-on domains

Free Let's Encrypt SSL certificates included

Up to 50GB disk space / bandwidth limits
SYSE has its servers co-located in a Norwegian data center. It's better if the company owns the data center and it's a little disappointing that there isn't a standard uptime guarantee. There is a page with the recorded uptime, however, and when I checked it was over 99.99%.
The Tornado® control panel is custom built by SYSE and includes one-click installation of both WordPress and SSL. Unfortunately, with other providers offering a one-click installer for up to 400 programs, this offering feels a bit lackluster in comparison.
The backup, on the other hand, is excellent. Automatic backups are taken, retained for 60 days, and can be restored, free of charge, by SYSE. It's surprising how often this is an added cost, so it's refreshing to see it included in the base plan.
For experts, there's support for PHP, SSH access, and Cron jobs to keep your website running optimally.
Pricing and Support
The plans are relatively expensive compared to international companies, however, in line with similar Norwegian hosts. The main issues with the pricing are that you are limited to annual terms and there isn't a money-back guarantee, so it feels like a big commitment when you first sign up.
On the other hand, the added value with SYSE is that you can configure your plan as needed when you checkout – simply slide the scale to increase or decrease disk space and the number of databases. So, you only pay for the resources you need.
Customer service is available by chat, Facebook, telephone, and email. The regular business hours are from 8:30 AM to 4:30 PM on weekdays, but for urgent support requests, you are able to contact the team 24/7 on Facebook. There's a decent-sized help desk as well.
I have engaged in several live chat conversations with the team. On each occasion, I was delighted to interact with a friendly and supportive operator who was more than willing to assist me in English.