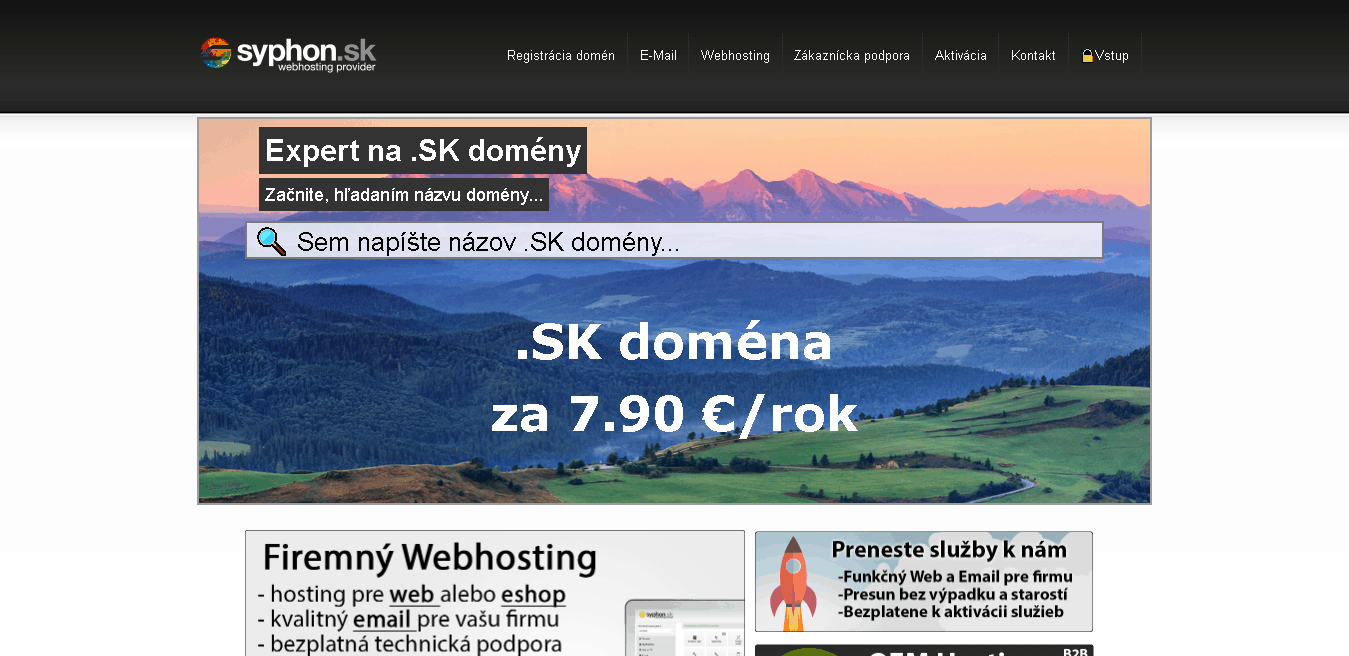 syphon.sk is a Slovakian hosting provider that got its start as far back as 2001 as a Windows-based host. They primarily offer single domain and multi-domain shared hosting. They also offer a range of managed services to augment your hosting solutions.
Features and Ease of Use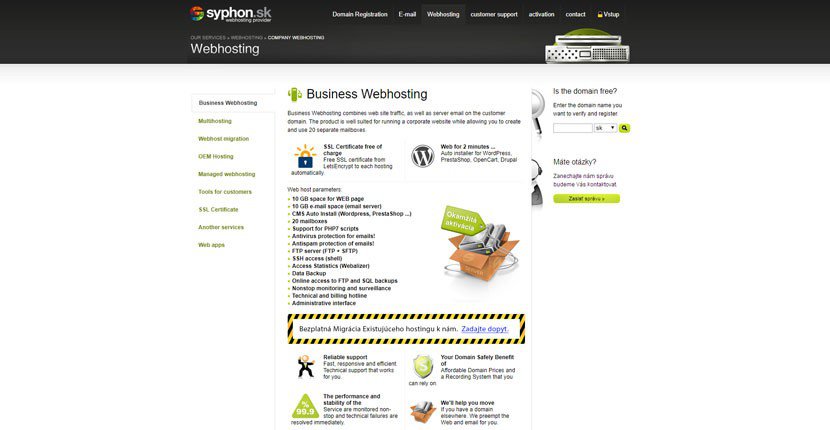 Although the company only offers shared web hosting and a very simple range of products, syphon.sk does try to provide all the essentials, plus a few extra features:
99.9% uptime
Free domain registration
MySQL database and FTP backups
Free Let's Encrypt SSL certificates
10 GB of web storage
Unlimited website traffic
From a features perspective, the biggest complaint is that you can't get more than 10 GB of storage space without some special agreement and that there are effectively only two hosting plans available. However, syphon.sk does also provide a managed web hosting service that can be customized with your specific needs in mind.
syphon.sk's solutions support up to PHP 7, which means you'll be able to run all the latest CMSes and web hosting applications. These applications can also be auto-installed with a script installer within minutes. All the other basics such as cron jobs, SSH access, multiple database technologies, and webmail are also included.
Note that the free domain registration only applies to .sk, which may limit your chances of ranking well in search engines outside of the Slovakian market. If that's where your target audience resides, however, that shouldn't be a problem.
Pricing and Support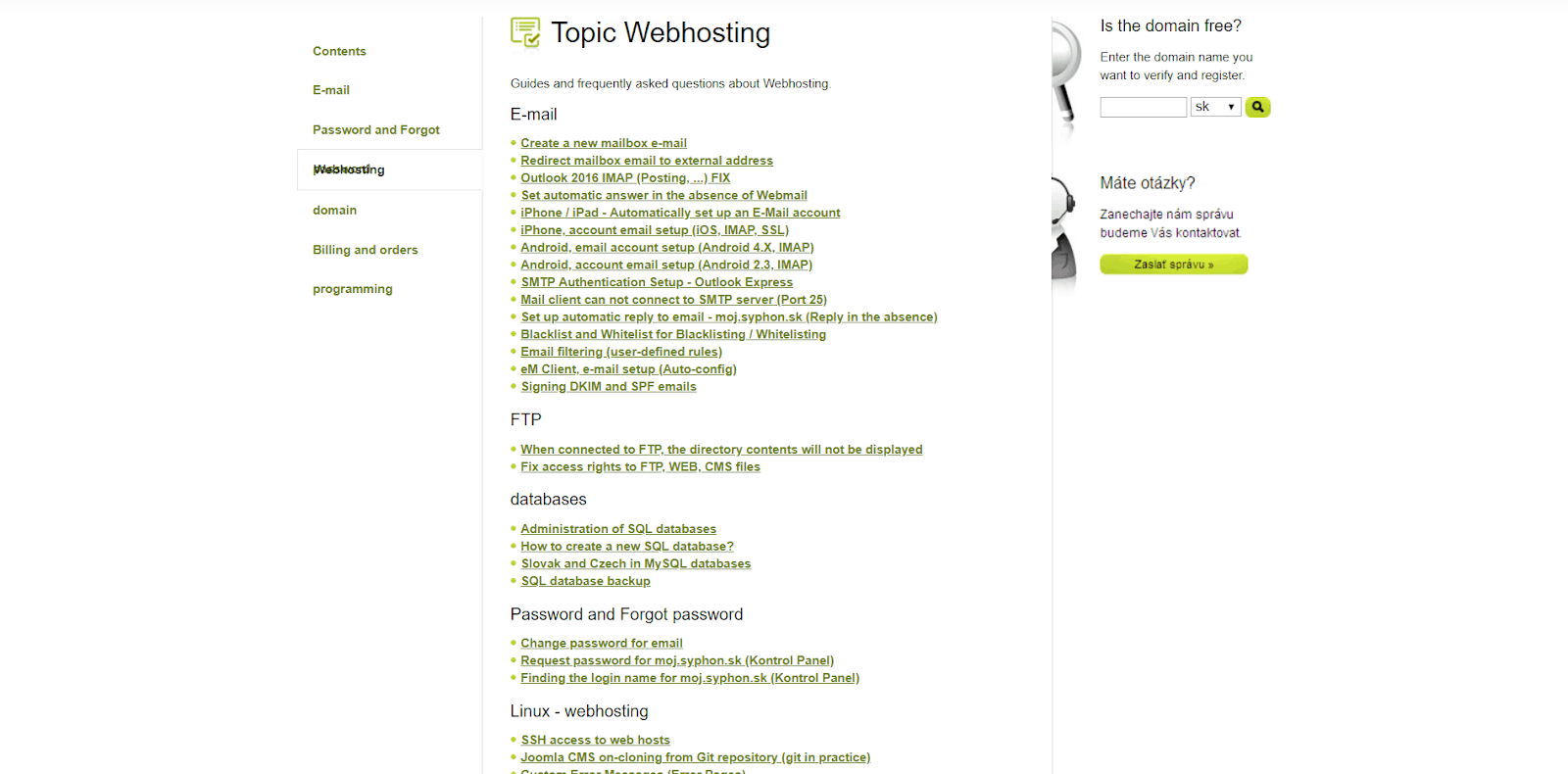 syphon.sk offers just one plan for each type of hosting. Although the Business Webhosting package is adequate for most single websites, I find the Multihosting package a bit expensive considering the resource limits. If you've maxed out your domains, you basically only get 1GB of storage for each website.
Plus, if you don't need the entire 10GB of space included with the Business Webhosting package, you may find yourself paying for resources and features you're not going to use.
However, syphon.sk's products do come with some attractive features. For example, you get a free SSL certificate and perhaps even a free domain depending on your chosen billing cycle.
All of syphon.sk's products are also quite feature-rich, giving you good value for money. Backup, email, support, and security shouldn't be taken for granted. There are also quarterly, half-yearly, or annual billing terms with the longer two terms discounted at 10 and 15%.
You can purchase a few extra services like data recovery, log file management, and a range of other managed services at an additional cost. In addition to that, the company provides free domain-specific services. The pricing of syphon.sk may not be the most affordable or the best value for money, but it's definitely not a ripoff.
syphon.sk offers technical support primarily via email and a contact form on their website. This isn't 24/7, however; you'll only be able to reach support staff during regular business hours on weekdays and the first half of the day on weekends and holidays. There's also a fixed line you can call if you require more immediate assistance.
There's a decent albeit not comprehensive knowledge base with useful articles you can reference. Overall, I found their support similar to their hosting prices: pretty good, but not excellent.