SweetHome is one of the leading web hosting companies in Israel. This Israeli company has been providing hosting solutions to individuals and organizations since 1998. Today, the website hosting vendor uses top-of-the-range cloud infrastructures to provide these services to thousands of customers. SweetHome now hosts tens of thousands of websites in its IBM and VMWare technology servers. The website is available in Hebrew and English, and its support team provides technical support in English, Hebrew, and Russian.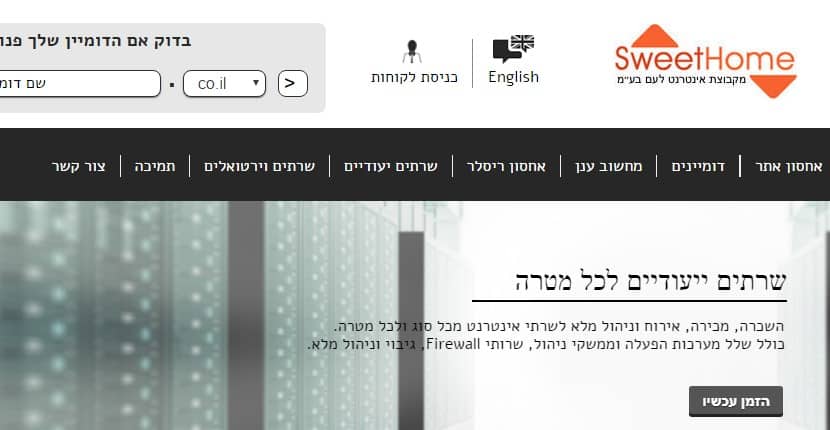 Features and Ease of Use
After two decades of proven hosting solutions for individuals and organizations, SweetHome has perfected the art. The company provides several hosting options, including Windows Hosting, Linux Hosting, and Cloud Computing. Other hosting solutions include Virtual Servers, Dedicated Servers, and Reseller Storage package. Both the Windows Hosting and Linux Hosting packages come with a free package. The basic Linux Hosting option is perfect for image websites and private websites. It fully supports open source applications like Drupal and WordPress and comes with an installation manager.
The Windows Hosting package has Windows Private, Windows Basic, and Windows Pro plans. The Windows Private plan includes 1GB disk space, 100GB traffic every month and up to 10 domains per account. This option is suitable for private and corporate websites that use MySQL / MS-Access / MS-SQL 2012 and NET4 / Asp. The Windows Basic, on the other hand, includes 250GB monthly traffic, 3GB disk space, and up to 25 domains for every account. It is perfect for dynamic .NET / SQL websites.
SweetHome Windows Pro plan is designed for large websites that need professional storage. The option comes with 500GB monthly traffic, 7GB disk space, and unlimited domains. SweetHome's Reseller hosting solutions are available in two options: CloudLinux / cPanel and Windows 2012 / Plesk. Both plans include 50GB disk storage and 1000GB traffic. SweetHome has a number of plans under the Dedicated Servers solution. These are:
Linux / Windows Dedicated Server Management
Hosting dedicated servers across various farms in Israel
Renting new and used servers for the purpose of your choice
Critical Internet Systems
Microsoft Windows Servers
Dedicated Linux Server
SweetHome's data center is situated in Petah Tikva at Bezeq International's server farm. They rely on a powerful and secure server to ensure high availability for all the websites they host. The company has invested significant effort in making their hosting platform user-friendly for both beginners and experts. The simplicity of SweetHome's solutions has made them a popular choice among individuals and organizations in Israel and beyond.
Pricing and Support
SweetHome is quite competitive in the Israeli market. All the hosting plans by this vendor include a free Israeli or international domain for the first year. Additionally, SweetHome offers promotional offers especially for customers who buy annual subscriptions. SweetHome offers no free version for any of its website hosting packages, neither does it offer a free trial version. Switching from one hosting plan to the other is pretty straightforward and can be completed with a few clicks.
SweetHome's support team is available to help the company's customers with any technical issue with the hosting that arises. The company has also created a resourceful support page on their website with a variety of documents to help customers set up and use SweetHome's hosting solutions. The support team is available 24/7 all year round. That said, SweetHome's support team only deals with infrastructure related issues after office hours. Any other hosting issue has to wait for the next business day. The company, therefore, discourages its customers from performing upgrade or maintenance work that might require their input outside business hours. My conversations with this vendor's support team were helpful and their responsiveness impressed me.