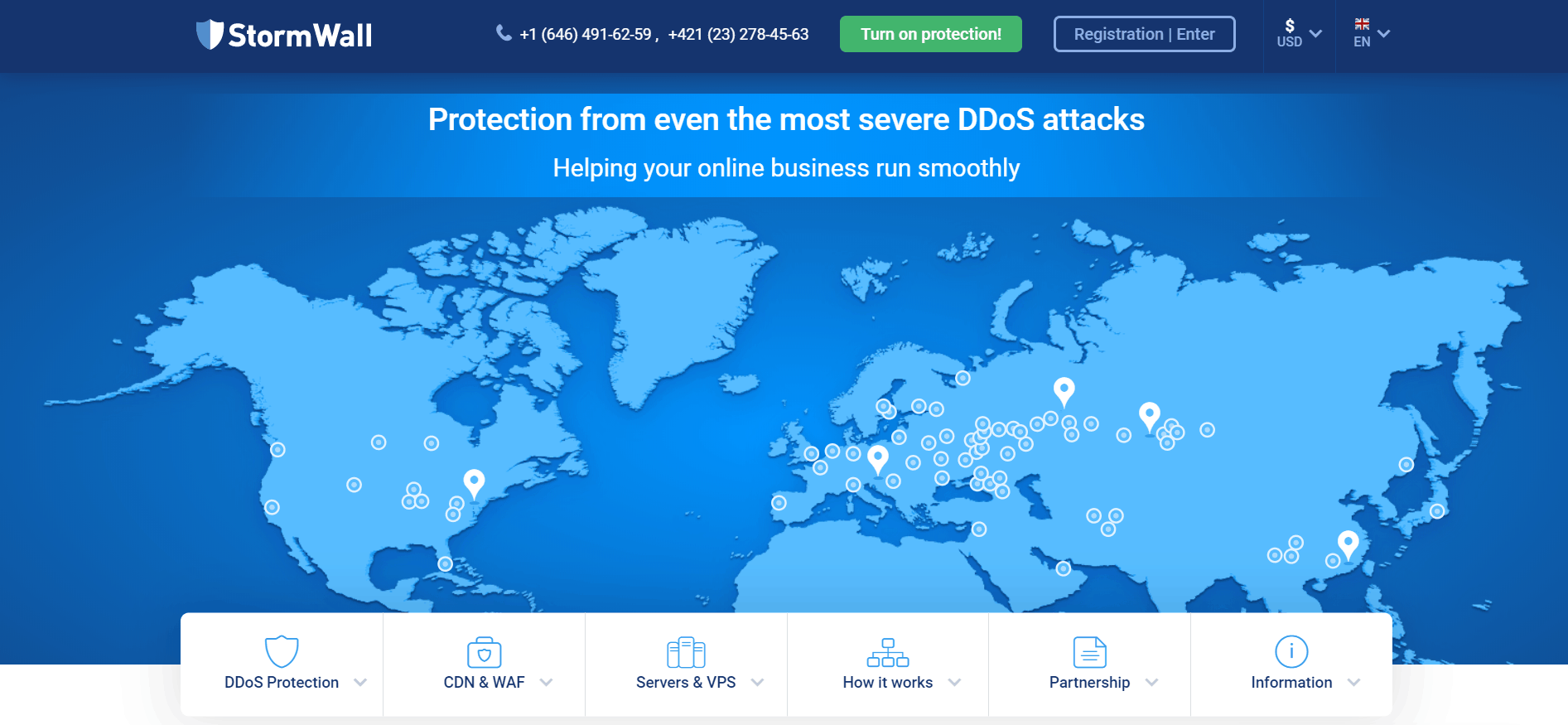 To compare the best web hosts, we hosted the same WordPress website on each one and tested performance, customer service, and value for money.
Check out the results here.
StormWall is a privately-held Slovakian company offering a variety of internet and hosting services. They specialize in VPS and dedicated server hosting, but they also have premium SSD shared hosting with automatic DDoS protection for extremely security-conscious individuals willing to pay extra for the coverage. Their VPS packages, unfortunately, are average at best and provide fewer features than you'd see on standard providers.
Features and Ease of Use
StormWall offers a variety of VPS plans with average features that include:
20GB or more of SSD storage
Between 512MB and 8GB of DDR4 RAM
Intel XEON E5-2660v3 @ 2.6GHz processors
Bandwidth from 10 to 100Mbps
Unlimited bandwidth
L3-L7 DDoS protection standard
I like the unlimited traffic, DDoS protection, and bandwidth speeds, but I'm not a fan of some of the other available features such as the amount of RAM and storage. Servers at this level should offer higher features, especially considering you'll pay considerably more for this than shared hosting.
Regarding usability, this is not an option for beginners as you'll need to be able to set up and maintain your own server. You can have the OS pre-installed for you, but beyond that, you need to know what you're doing.
Other value-added features available for purchase include a CDN, cloud web application firewall, website proxying, and TCP/UDP IP protection. This is in line with StormWall's company name and mission to give their users the best possible protection against hacking and DDoS attacks.
StormWall's SSD shared hosting packages are essentially light on resources but comparatively heavier on performance and security. Their three pre-made packages include as standard:
HTTPS support
SSD storage
SSL certificates
Optional add-on domains
Optional dedicated IP address
Maximum support response time of one hour (30 minutes for Business ONE plan)
SLA-guaranteed availability of 98%
Free website transfer service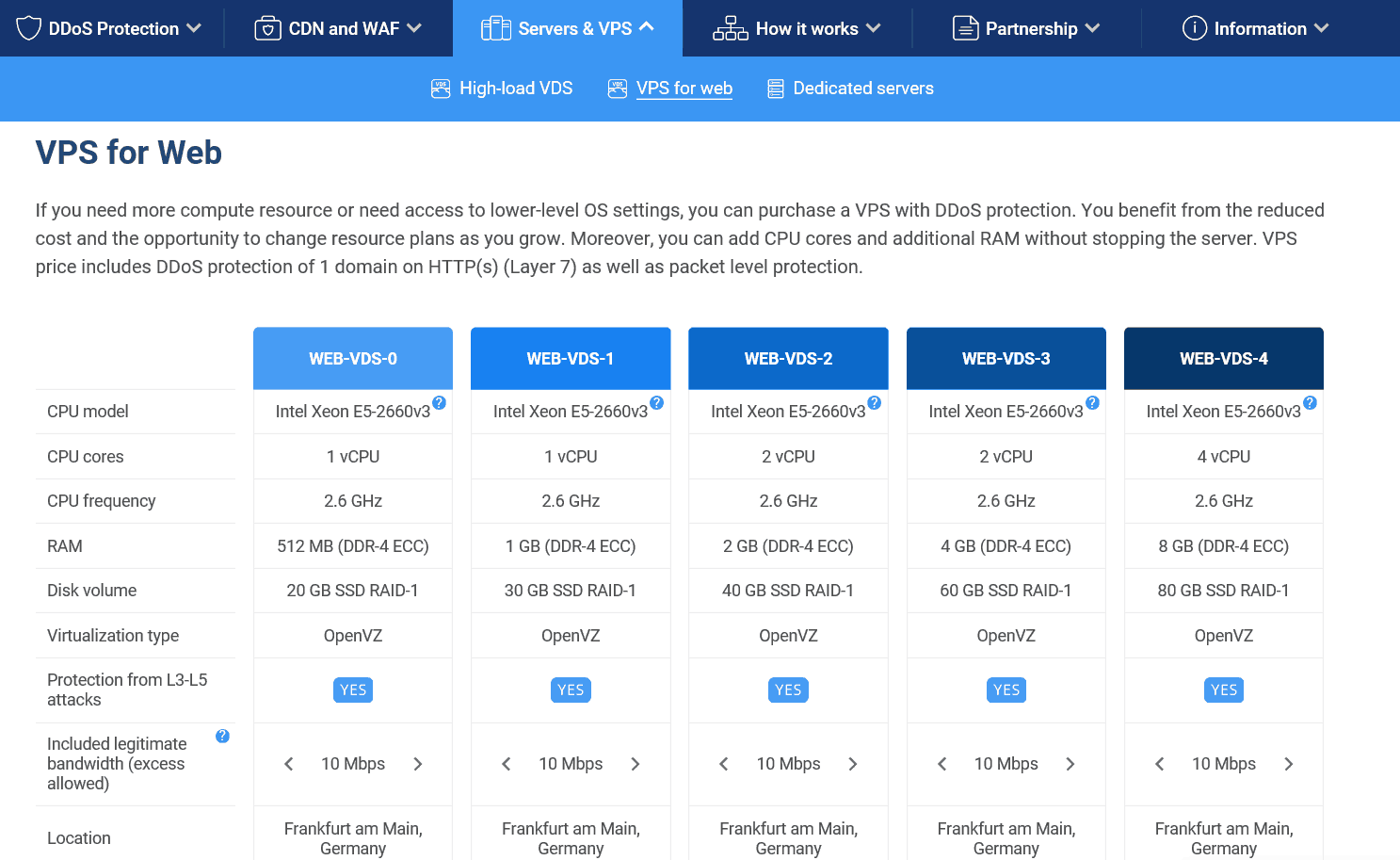 Pricing and Support
StormWall offers VPS services that are semi-customizable. Here's a quick rundown of the primary differences in servers:
| | WEB-VDS-0 | WEB-VDS-1 | WEB-VDS-2 | WEB-VDS-3 | WEB-VDS-4 |
| --- | --- | --- | --- | --- | --- |
| CPU Cores | 1 | 1 | 2 | 2 | 4 |
| DDR4 RAM | 512MB | 1GB | 2GB | 4GB | 8GB |
| SSD Storage | 20GB | 30GB | 40GB | 60GB | 80GB |
These plans allow you to customize the amount of bandwidth, operating system, management panels, and the number of WebSocket ports for an additional fee.
Regarding pricing, these VPS setups are a bit pricier than the industry average. Also, I'd like to see more customizable options for these plans. Many VPS hosts will allow you to customize multiple features such as storage and RAM or even offer a fully customizable option. Some providers will provide more in terms of storage and RAM for a lot less.
The same goes for their SSD shared hosting plans. The main value-add of these plans are the extra security features, but quite frankly, I don't see them providing that much more utility above and beyond their competition — definitely not enough to justify their high prices for shared hosting. All in all, even if you're security-conscious, there are far better options elsewhere for a lower price point.
Regarding support, there don't appear to be many options. They do list contact phone numbers, but their email and live chat are for sales only. They don't offer a support section or a knowledge base on their website. I tried contacting them via live chat, but other than them saying they would provide help, they wouldn't give me any actual information on how to contact support.
Granted, if you're using VPS, you should already have knowledge of most basic admin tasks. However, they really need to provide a clearer statement regarding the support they offer.
How much does StormWall cost?
StormWall offers plans from $66 to $95. The price depends on which type of hosting plan you choose. You can see the updated pricing table (updated weekly) below.

Which StormWall plan should I get?
My recommendation is to start with a cheaper plan. You can always upgrade later on. StormWall can help you with the migration to a more expensive plan. The increase in visitors many times takes longer than expected and you shouldn't pay a lot of money until the need arises. Of course, your needs may vary, and you can consult with a hosting expert from StormWall here.

How good is StormWall's customer support?
StormWall is not ranked as one of our top web hosts. But that can also be a result of StormWall being a small, under the radar, hosting provider. There are advantages to a small hosting company – as a customer, you are more important to them. You can also check out our comparison of the most popular web hosting services here.