To compare the best web hosts, we hosted the same WordPress website on each one and tested performance, customer service, and value for money.
Check out the results here.
Serveriai.It is a subsidiary of UAB Internet Vision, a Lithuanian web services company that's been providing web hosting since 2003. The company has over 112,000 clients worldwide, and they're the leading online services provider in Lithuania.
Serveriai.It offers shared web hosting services with excellent basic features, but they are a bit lacking in advanced features. This provider is best for personal websites and small business websites that don't require advanced development options.
Features and Ease of Use
Serveriai.It offers shared hosting plans with insane storage and bandwidth along with decent core basic features that include:
Minimum of 100GB storage
Minimum of 10TB bandwidth
Unlimited email accounts
Website builder available
Installatron Auto-installer
Serveriai.It doesn't offer a ton of advanced features, but they do support most versions of PHP. You also get:
Daily backups
Support for both MariaDB and MySQL
Support for PHP 5.2 through 7.2
I'd like to see more in the way of advanced features, such as support for Python and Ruby. Also, some form of advanced security would be nice, but it doesn't appear to be there.
Beginners will enjoy this host as they provide a web design tool that you can use to either build a basic ten-page website or as your primary builder and editor. You can also use the Installatron auto-installer to add WordPress or dozens of apps to your website. Otherwise, you can build your website using cPanel.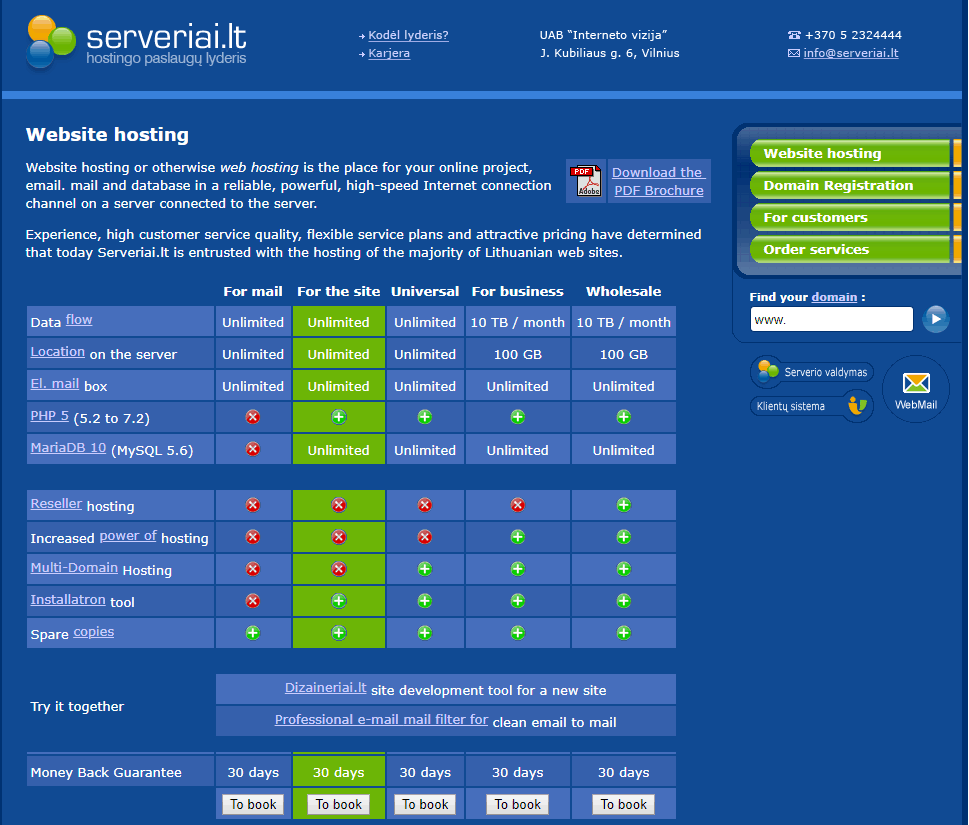 Pricing and Support
Serveriai.It provides four different plans for their shared hosting, each offering the features listed above, but with a few key differences. Let's quickly break down their plans below.
| | Site | Universal | Business | Wholesale |
| --- | --- | --- | --- | --- |
| Storage | Unlimited | Unlimited | 100GB | 100GB |
| Bandwidth | Unlimited | Unlimited | 10TB | 10TB |
| Multi-Domain? | No | Yes | Yes | Yes |
| Increased Hosting Power? | No | No | Yes | Yes |
The Site plan is for single domain hosting, while you can host multiple websites on the Universal and Business plans. If you plan to resell hosting, you need to get Wholesale hosting. For the majority of websites, Site or Universal will work fine. The only real advantage to the Business plan is their "increased power of hosting," which gives you double the PHP execution speed and up to five times higher bandwidth speeds.
Note that if you choose to use their web design service rather than build it yourself, you will pay an additional monthly fee in addition to your hosting. For Site and Universal plans, the added cost can almost double your monthly cost for hosting. There's also a free trial available though, so you could just create the maximum allowable number of webpages with the trial version, then cancel the builder subscription afterwards.
Also, note that SSL certificates are not free and you must pay for each website for which you need a certificate. This applies to domain registration as well; none of their plans include a free domain.
Pricing for these plans are relatively average, but you can save from 10 to 25% by booking for six months or longer. All plans come with a 30-day money back guarantee.
Support for Serveriai.It is average. You can reach them via phone and email, but they don't offer live chat support.  They also have a help page supporting available products, though this is only in Lithuanian. Unfortunately, their support is not 24/7. They are only open weekdays from 8:30 a.m. to 10 p.m., except for Friday when they are closed from 4 p.m. to 5:30 p.m. On weekends they are only available from 10 a.m. to 10 p.m. excluding holidays.