To compare the best web hosts, we hosted the same WordPress website on each one and tested performance, customer service, and value for money.
Check out the results here.
Qwords was founded in 2005 by then-student Rendy Maulana. In addition to their four Indonesian offices in Surabaya, Jakarta, Bandung, and Yogyakarta, they also have facilities in Singapore and the U.S. Close ties to powerful global partners also give Qwords a high-performance global networking infrastructure that boasts 99.99% uptime.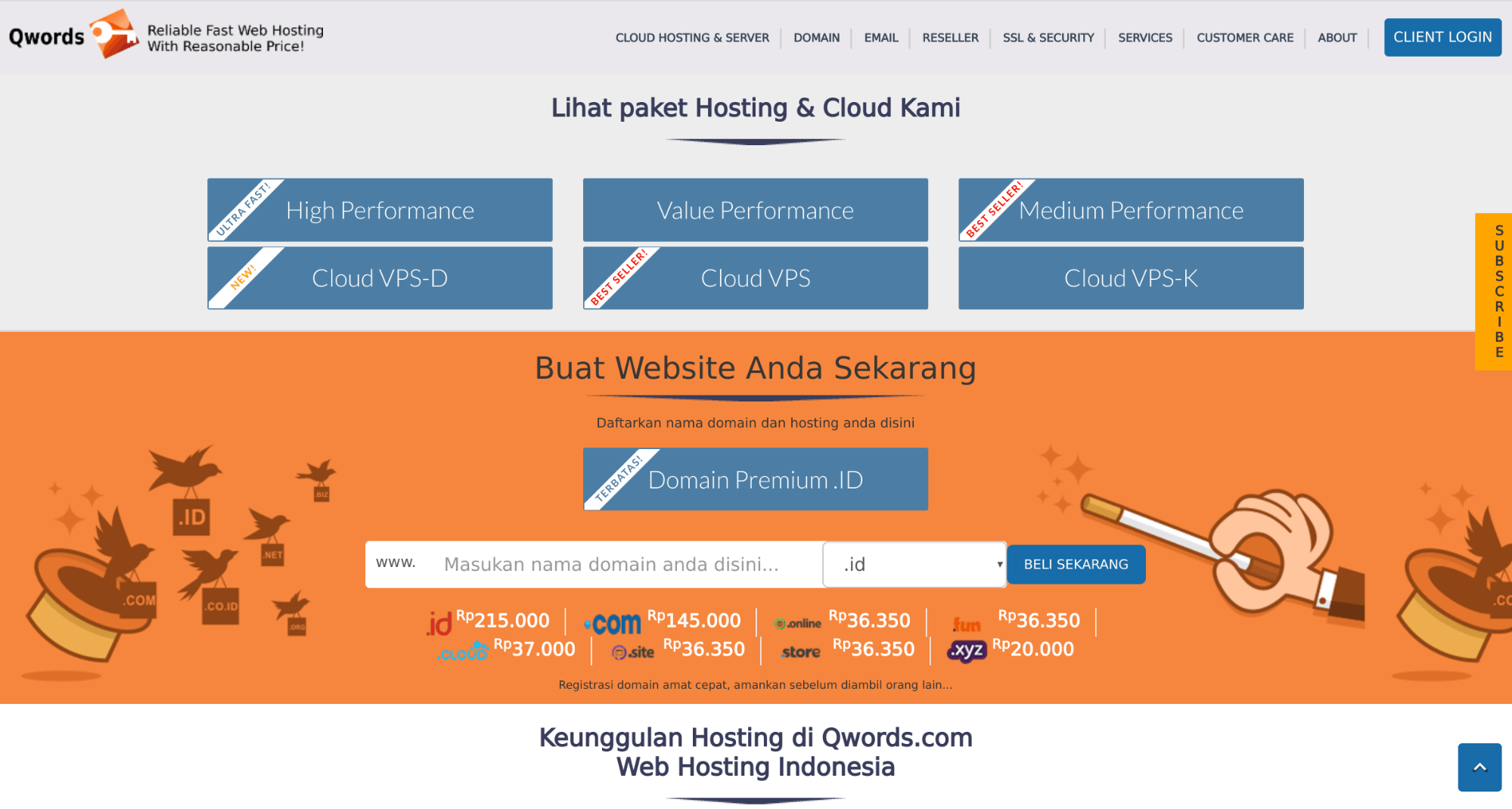 Features and Ease of Use
Qwords has just about every hosting service or feature you can think of, including:
Domain registration
SSL certificates provided for free with some plans via a number of providers
Email hosting via G Suite, Office 365, or the EC Collaboration Suite
Backups
Hosting insurance
They even have a number of unexpected features such as:
Adobe Authorized Trust Lists Certificate: This is a trusted digital certificate service by Adobe that can be purchased from Qwords. You can use it to sign your emails and documents so that the source is verified and trusted
Free DNS Manager: Since Qwords is a domain registrar, you get access to free DNS management that allows you to modify your Cname, MX records, and DNS records. You can also one-click configure Google Apps on your domain
WordPress Hosting: A hosting solution optimized for WordPress, which includes CloudFlare, cPanel, PHP, extendable resources, and WordPress-specific support
All shared hosting comes with cPanel and Softaculous, which allows you to install more than 300 web hosting scripts with Drupal, Joomla or WordPress.
Pricing and Support
Qwords hosting products mostly focus on providing private cloud-based web and VPS hosting. They provide a range of pricing structures with different levels of resources for different customers' requirements. Some products allow you to choose between Indonesian, Singaporean, or U.S. facilities.
Public Cloud Hosting plans are as follows:
Value Performance: Two plans with very modest resources and few software features for individuals, with 1 to 3 GB of storage and unmetered bandwidth
Medium Performance High Storage: Great for larger websites run by individuals or small businesses, this option includes a free domain, Website Builder, SSL, and unmetered bandwidth. Storage ranges from 15 to 80 GB
High-Performance Hosting Cloud Computing: 14 configurations that prioritize performance with dedicated memory and CPU access. Maximum of 29 GB storage but up to 13.5 CPU cores and 13.5 GB RAM. SSL certificate, domain, and unmetered bandwidth are included
WordPress Hosting: WordPress-specific hosting with a 30-day free trial and extended support
Public Cloud Virtual Server plans have a minimum one-month contract and are as follows:
VPS: Seven entry-level VPS packages with dedicated memory and CPUs as well as between 20 and 400 GB of RAID10 storage.
Double Speed VPS: A high-performance alternative with less storage but higher CPU and memory resource allocation
Kernel-based VPS: More modest resources but with full access to the machine kernel. Intended for researchers and developers
Bare Metal Dedicated Servers are highly configurable dedicated servers with Linux, Windows, and Mac options housed in Jakarta, Indonesia. These make use of a global network backbone. You can pay extra for installation and configuration support services.
Colocation Services for geographically redundant server space are also offered.
It is clear from the sheer number of hosting types and plans that there should be something for everyone. Prices range from less than a dollar a month, all the way up to hundreds of dollars. The prices are very low compared to the global hosting industry.
Qwords offer several levels of support:
Standard support is provided mostly through tickets, although you can reach them via phone lines too. It also includes services such as migration and backup
Extended support includes help with additional daily hosting functions such as changing cPanel, email, and database settings
Fully managed services are available for VPS, dedicated server, and colocated customers
While the support services offered may surpass those of many other vendors, I have personally experienced instances where they were too busy to provide timely responses.