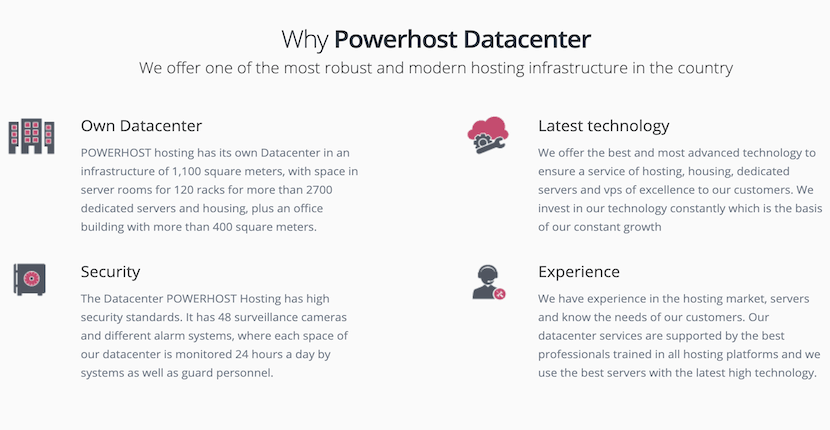 Located in Santiago, Chile, data center and hosting company PowerHost provides server housing, dedicated server hosting, VPS hosting, and website hosting. The data center is one of the best connected in Chile, and it was the first facility to have four gigabits of connectivity.
PowerHost's website is in Spanish.
Features and Ease of Use
PowerHost's I-POWER (or iPower) hosting plans are aimed at businesses that need fast and stable hosting.
The entry-level hosting plan includes 2,500 MB of disk space, five databases, 20 email mailboxes, and two additional domains. The premium SSD hosting gives you 12.5 GB of SSD disk space, unlimited databases, 60 email mailboxes, and 10 additional domains.
All iPower plans feature unlimited monthly traffic as well as:
99.9% uptime guarantee
SSD with some hosting plans
Weekly data backups
cPanel
Unlimited traffic with VPS
24/7 customer support for VPS
Cloud VPS hosting plans are built around a SAN storage network and include 24/7 customer support. Virtual server plans start with one vCore, 1 GB of RAM, and 50 GB of storage. These levels increase with higher plans, up to 10 vCores, 12 GB of RAM, and 250 GB of storage.
PowerHost's data center can accommodate 2,700 servers and maintains a 4 Gbit redundant connection to the major carriers, ensuring a first-level connectivity rate of 99.98%. In the event of an outage, backup power is available to sustain continuous operation for 21 days. For fire protection, the facility utilizes an Inergen gas system capable of depleting the building's oxygen within seconds. Security measures include an electric fence, over 40 security cameras, and round-the-clock monitoring.
Pricing and Support
PowerHost's plans don't come cheap, with the entry-level hosting plan costing more than twice the cost or comparable Chilean plans. However, some customers might consider that you get what you pay for with this company's top-notch data center facilities.
Hosting plans come with yearly contracts and can be paid for via bank transfer, credit card, PayPal, or Servipag.
24/7 customer support can be accessed via telephone for VPS and higher plans. Simple website hosting customers can receive support via the online tech support form. Unfortunately, I received no response when I raised a test support ticket. For self-support, PowerHost provides an FAQ page: