PHPS.kr (a website hosting company) is part of a family of Korean companies, called PICHISKY SCHOOL CO., LTD. The company began in 2002 and includes PHPSchool (developer community in Korea), DiZi (custom website design), and DNSzi (DNS management). It has since
grown into the largest community in Korea specifically designed for developers
, with a Korean language website.
Features and Ease of Use
PHPS.kr sells a full range of hosting services including shared hosting, which comes with the following core features:
Free daily backups
Domain registration available
Up to twenty add-on domains
SSL certificates available
Up to 10GB HDD disk space
Up to 700GB traffic per month
In terms of shared hosting, there are five plans, all of which come with the same features, but varying levels of resources. For experts, there's support for all of the standard software and databases you'd expect. For example, you get PHP versions 5.2 to 7, CGI, Flash, Javascript, and Perl, as well as MySQL databases, phpMyAdmin, and FTP accounts. The shared hosting plans support SSH and SFTP for access information security.
The servers are Linux operating system with Apache web server, however, I'm surprised that HDD is still in use as opposed to the far faster SSD, which is generally being moved towards by most hosting companies.
The plans are fairly customizable. Although you can choose from five base plans, you can add or remove resources to build a plan to suit your requirements. Optional add-ons include more HDD storage, more traffic, domains, or email accounts. It's quite unusual to be able to customize shared hosting plans, so it's a nice value add.
The situation regarding beginners is less clear. There isn't a one-click installer or a website building tool advertised and unfortunately, I couldn't get confirmation from customer service, so it's unclear if there are limited beginner features, or they are just not displayed.
Pricing and Support
The prices are in line with local and international competitors. It's not expensive, but I have come across cheaper options considering the level of value-added features. Keep in mind that you will need to buy a domain name and an SSL certificate, so make sure to factor in those costs.
You can buy the plans in one month or one year terms, but there's no discount for purchasing the latter upfront. When you purchase a plan, you need to sign up for an account first, which although quite usual for Korean companies, is a long process and not user friendly.
There's a "Service Center" on the website, which includes a phone number, online contact form, a help manual, and a small number of FAQ articles. The business hours are between 9:30 a.m. and 6:30 p.m., with a lunch break from 12:30 p.m to 1:30 p.m. It mentions night, weekend, and holiday support, although it's less clear in what form that comes.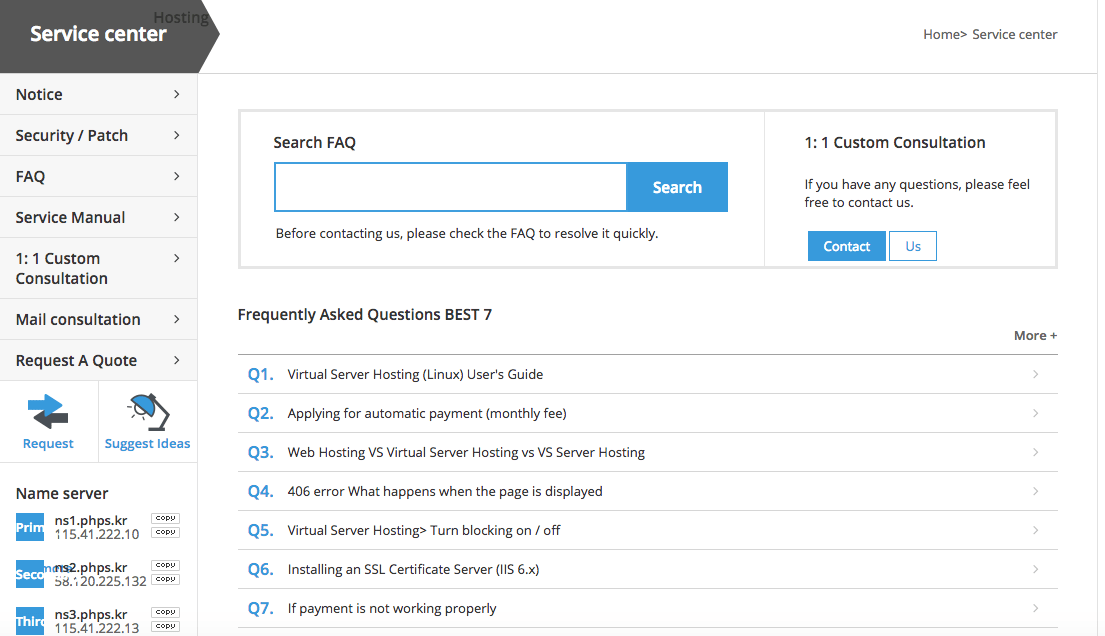 I sent an email via the online contact form at around 3:00 p.m. on a Tuesday. The form was complicated and took me several attempts to complete, mainly because of the language, so this is likely not a problem for Koreans. Unfortunately, despite waiting several days, I did not receive a response.