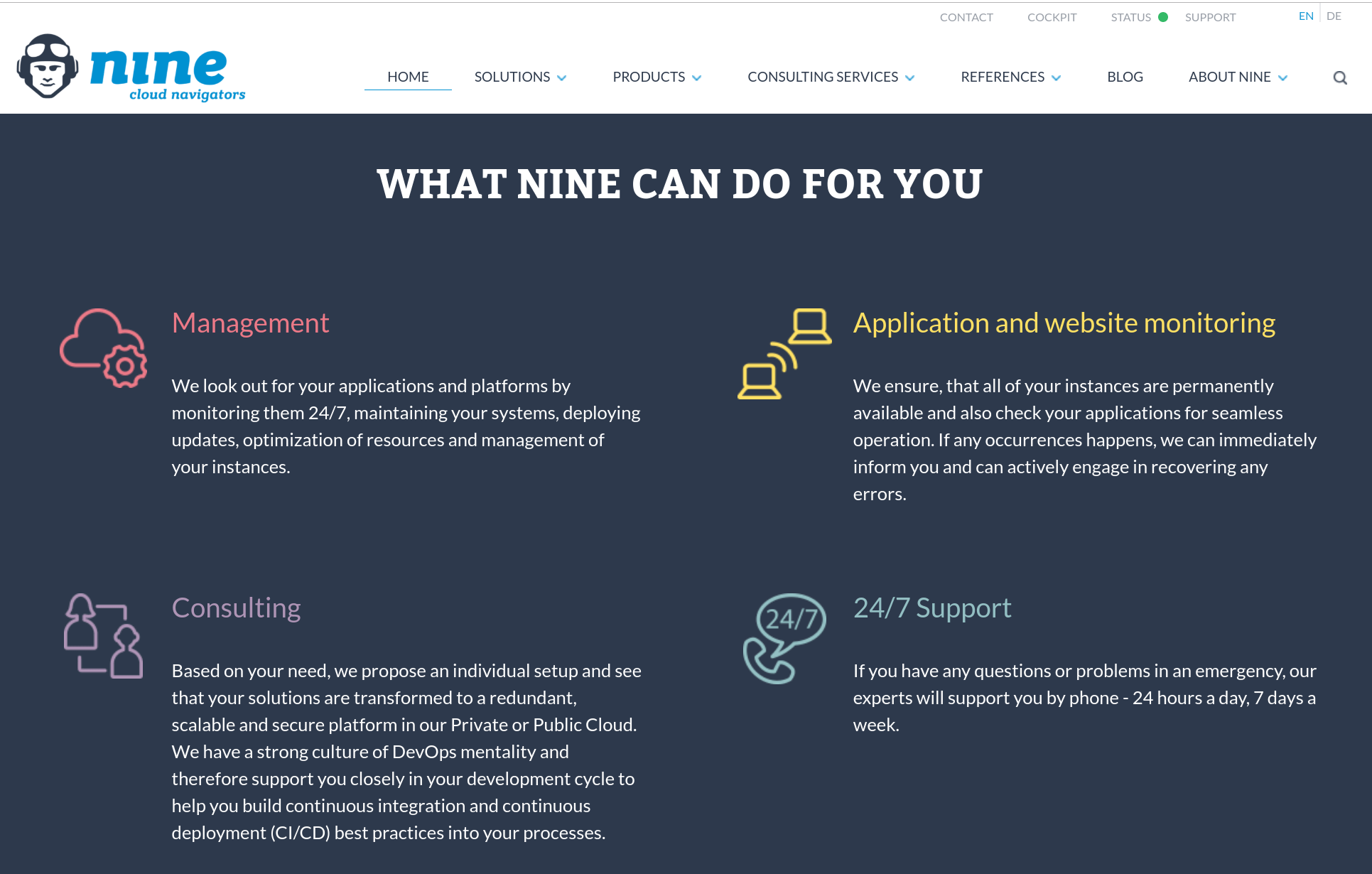 Swiss company Nine Internet Solutions (or simply 'Nine') was founded in 1999 and has two ISO certificates (ISO 27001 and ISO 9001) for internet security and quality management. It provides a suite of fully managed solutions to customers worldwide, and its client list includes several notable organizations such as Unicef, World Vision, and WWF.
Nine's sleek but slightly confusing website is available in English and German.
Features and Ease of Use
Nine offers a wide choice of fully managed hosting products including cloud hosting, VPS, and dedicated servers, so you are pretty sure to find what you need. The cloud hosting packages include:
SSD with NVMe disks
Root access
Custom control panel
Unlimited bandwidth
1 GB to 16 GB RAM
You are guaranteed to get your cloud server deployed in less than a minute, with the ability to install any Linux version you want, and with SSH access and root to boot. Also, the "cockpit" custom control panel allows you to manage, control, and back up your cloud server. And you can scale up your disk space for an extra fee.
The managed VPS plans are best if you want to concentrate on your business while Nine's team takes care of the technical stuff.  You get web space from 100 GB to 2,700 GB, with 3 GB to 96 GB RAM and unlimited traffic. All managed server packages come with optional features at extra cost, including SSL certificates, DDoS protection from Cloudflare, FTP, MySQL, and Apache.
Nine has built a robust infrastructure consisting of three eco-friendly data centers located in Zurich, Switzerland. These data centers house over one thousand servers that are connected through a route-redundant dark fiber ring, ensuring a 99.9% uptime guarantee.
Pricing and Support
From the information presented on its website, it's not easy to determine Nine's standard pricing, but that's not so unusual for a cloud computing or managed services provider (compared with a self-service shared hosting provider). For each provided service, there are several packages, and there are additional add-ons at extra cost. Factor in the upfront setup fees and Nine's packages become quite pricey.
If you're satisfied with the pricing for this Swiss hosting, you can pay using PayPal, but beware that you don't get any money-back guarantee.
Nine's website can be a little confusing, but getting support couldn't be easier through live chat, email, or phone, although it's worth noting that support availability differs from one plan to another (with only SLA customers getting priority support). Since the email response wasn't as rapid as I would have liked, I resorted to the more immediate medium of live chat: