myLoc Managed IT AG has been providing hosting solutions out of Dusseldorf since 1999, which makes them one of the oldest hosting providers in the country. In 2006, they were acquired as a subsidiary of Virtual Minds AG. In 2009, they merged with Fast IT GmbH, which allowed them to become the versatile hosting and IT solutions provider they are today. They now have three Tier 3 data centers located in Dusseldorf, from which they host all of their customers. They operate in both German and English.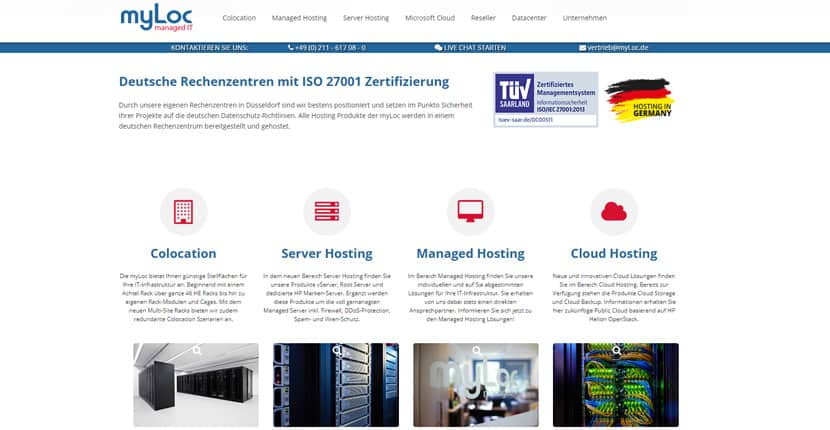 Features and Ease of Use
It's important to note here that myLoc Managed IT AG doesn't really cater to individuals and small businesses looking for a simple shared hosting service; rather, they're better suited to larger enterprises or businesses with more complex requirements. They've got managed hosting, cloud hosting, dedicated servers, and colocation services — all of which require you to have a decent level of technical proficiency to operate well.
That said, they don't skip the basics when it comes to web hosting services, though you may have to contact them to make sure that these are definitely included in your hosting solutions:
Domain registration services (some plans offer a free .co.za domain)
Your choice of Plesk Onyx or cPanel
SSL certificates
Email hosting
Backups
With most of their services, myLoc Managed IT AG places a heavy emphasis on customizing a solution for your business. This means that unlike with a typical hosting provider, you won't be able to simply select a pre-made hosting package for the most part: you'll have to contact them directly to work out a package.
Unfortunately, this means that there's very little information on how easy their platform is for users to learn, nor any uptime guarantees or standard SLAs available. You'll have to enquire about specific SLAs when you're customizing a package with them.
That said, you can rest assured that if you do choose myLoc Managed IT AG as your provider, they'll offer you a high level of service. In fact, their data centers are ISO 27001 certified, which means they're internationally recognized to have top-notch information security and management.
Pricing and Support
myLoc Managed IT AG provides a wide range of server solutions, each with their own pricing structures. They offer monthly to biennial contracts with most of their plans, as well as 30-day free trials with a few (namely, their cloud backup servers and Office 365 packages).
As a premium hosting provider, myLoc's packages don't come cheap by any means. However, they do have more affordable vServer and root server plans for those who aren't ready to scale up to a dedicated server just yet.
Their 24/7 technical support is available through live chat, German telephone lines, and email for all plans. While this may sound impressive, their support staff can be inconsistent, and it seems like they lack a deep understanding of their own packages. Additionally, it appears that their support team can get overwhelmed, leading to long response times for queries.