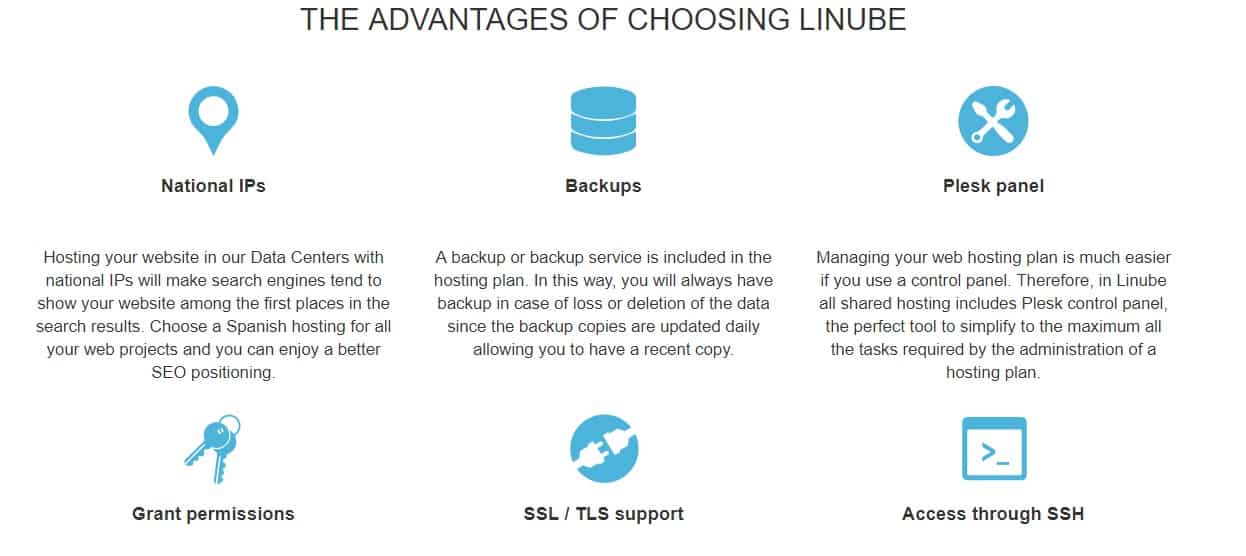 Since 2009, Linube has been offering all types of hosting plans and cloud servers to meet the requirements of its local (Spanish) customers. In addition to hosting services, this company also has expertise in the fields of web design, domain management, and systems administration. In February 2019, Linube gained ISO/IEC 27001 certification, which is an important step toward guaranteeing the security, availability, and integrity of data.
Linube's website supports Spanish.
Features and Ease of Use
For personal blogs or small projects, Linube offers three shared web hosting plans (S, M, and L) in both Linux and Windows variants. While all three plans come with 50 GB data transfer and unlimited mailboxes, the plans vary in terms of disk space (1, 5 and 10 GB respectively).
All the shared web hosting plans come with:
Spanish national IPs for better SEO positioning
Data backup
Plesk control panel
Password protected directories
SSL/TLS support
Remote server access via SSH
HTTP/2
PHP 7.3
SSL certificate
Linube also offers customized hosting plans for certain platforms such as PrestaShop, Drupal, Joomla, and WordPress. These come pre-installed in the Plesk control panel, and you just need to activate them to start using them.
For those who need greater resources, Linube offers three cloud server plans that provide additional features including DDoS protection, 24/7 server monitoring, and SSD storage.
This provider's 99% server uptime is quite a bit lower than the industry average, but it is backed by a compensation plan that gives you monthly discounts for any downtime.
Pricing and Support
Although Linube's shared hosting plans are not the cheapest, they are competitively priced, but you do need to add 21% VAT to the prices that are advertised in euros.
You can upgrade or downgrade your plan easily, but to terminate your contract, you must send a prior written notice at least fifteen days before the renewal date.
Linube's support staff can be contacted by telephone, ticket, email, or online contact form. Tickets can be opened by filling out a form or sending an email, but there is no obvious indication of when you might receive a response. When I queried the company as a non-customer, it took 28 hours for me to receive the following reply: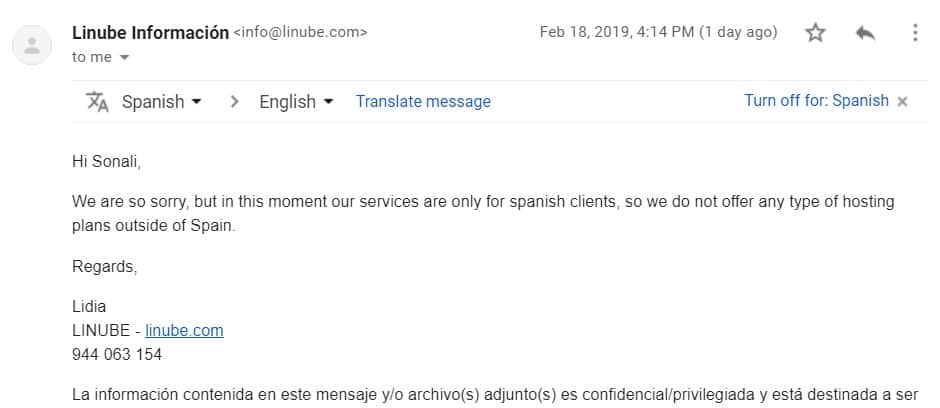 I can't provide specific information about the response current customers would receive, but based on this information, it is evident that the company primarily caters to Spanish-speaking customers.
For self-support, Linube provides a pretty well-stocked support center that should answer all of your common questions… in Spanish.