iWV came into existence after the merger of New Zealand company ICONZ and Singaporean company Webvisions. They've been in business since 1996. They started out as a web hosting provider, but have now become a Managed Services Provider, taking care of the IT needs of their 1000+ strong customer base.
Features and Ease of Use
iWV offers both cloud and dedicated server hosting. Instead of taking the usual route of pre-made packages, iWV has chosen instead to offer completely customizable hosting packages tailored to the specific needs of your business.
For instance, if you choose to go for their cloud hosting service, you'll have to decide on the computing power, the type of operating system, the network configurations, and your backup and firewall needs — after which you'll be contacted by their sales team with a quote. If you're not tech-savvy and don't have a clue about your IT requirements, you can also drop them a message and they'll recommend a solution for you.
This sales model has its benefits and drawbacks for the end-user. On the one hand, since each package is perfectly customized for you, you won't be paying for resources that you don't need. On the other hand, it requires you to have some experience with web hosting to figure out the best package — or take your chances with the sales rep. It also means that you'll be heavily reliant on their support team to scale your plan up or down when necessary.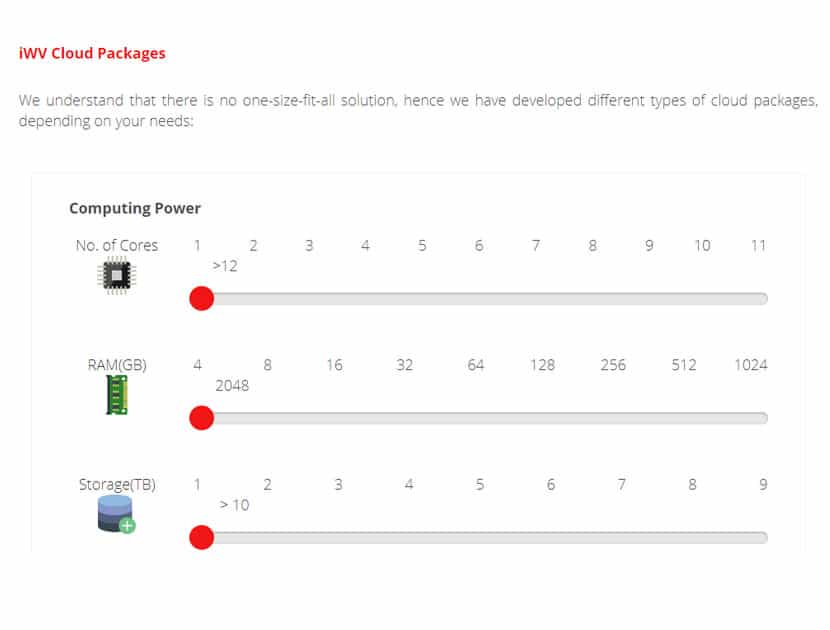 On the upside, because this approach demands a high level of performance and support, they provide these assurances with their SLAs. Their cloud hosting service comes with a 100% uptime SLA, and any dedicated server faults will be remedied at no additional cost to the customer.
Pricing and Support
As previously mentioned, iWV does not offer any pre-made packages. But you can easily get in touch with them, tell them your exact needs, and they will send you a quote and the specifications for your hosting solution. You can modify your requirements and change your plan at any point afterwards.
Their cloud hosting service comes with 24/7 monitoring and support, while every dedicated server purchased comes with your own iWV account management and technical support team – available around the clock, of course.
Their Singapore-based telephone number is clearly displayed at the top of their homepage. You can also reach them through email. Because their business model is focused on people getting in touch with them if they need a hosting solution, their support staff are quick to respond to queries. Their FAQs also contain answers to about 15 questions, but if you don't find your answer there, just give them a call or send them an email.
Summary
With their services tailored to SMB's located across Asia, iWV is a dynamic customer-focused IT solutions provider. If you need a scalable and highly customized hosting package supported by a highly-responsive team, you'd be well-served with this company.
Pros:
Personalized hosting requirements possible
Scalable cloud hosting solutions
24/7 monitoring and support
Backed by SLAs
Cons:
Requires some knowledge of web hosting
Heavy reliance on customer support