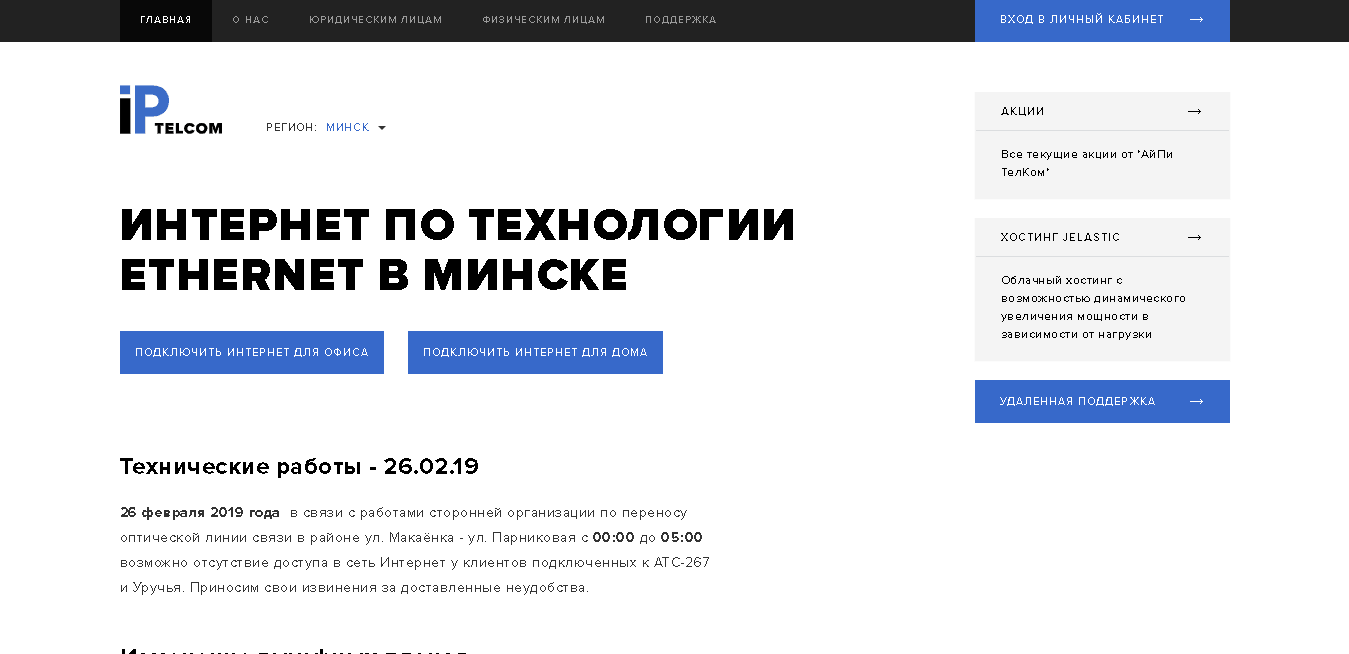 IP TelCom was founded in 2001. It has offices in Minsk and Gomel, Belarus. The simple, clean website is available in Belarusian.
Features and Ease of Use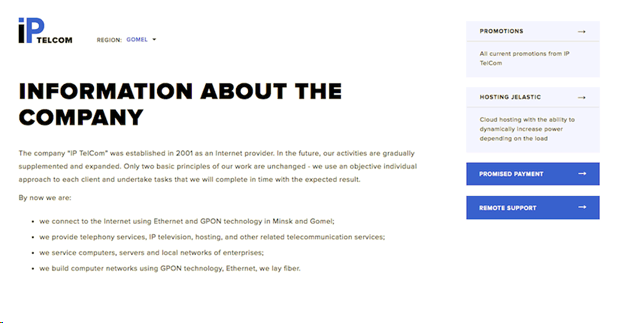 IP TelCom offers a wide range of services, including website hosting, which comes with the following core features:
Automatic backup to local and remote servers
One to ten add-on domains
From 1GB to 10GB disk space
Unlimited traffic per month
From one to ten FTP accounts
IP TelCom offers a simple selection of plans: shared hosting and virtual dedicated servers, and also works with MyCloud who provides cloud hosting. The shared hosting packages come with GNU Linux operating system, support for various PHP versions, although it's not clear which ones, automatic backups, and optional separate IPv4 and IPv6 addresses.
It does not support advanced coding languages such as Ruby on Rails, Javascript, Python, and so on, nor does it have a one-click installer or website builder. It offers unlimited traffic, which is great, if a little gimmicky and doesn't clearly state its normal usage expectations in the terms and conditions.
It is not clear what the uptime is, either, unfortunately.
Pricing and Support
IP TelCom offers three packages of shared hosting, Hosting 1, 5, and 10, as well as three packages of Secure (dedicated) Hosting, called Secure Hosting 1, 2, and 3. The shared packages range from the basic package with 1GB of disk space, one domain, and one database, to 10GB of disk space, ten domains, and ten databases. All plans come with "unlimited" traffic.
The prices are very, very affordable, regardless of which plan you need. Most everyday website owners will find the resource quotas in Hosting 1 sufficient, however, even the highest Secured Hosting plan is still extremely cheap. All plans are exclusive of 25% VAT, domain registration, and SSL certificates, and there is a small setup fee. While usually this would be bad news, the prices are so cheap, I can't complain.
My slight issue is that payment cannot be made online, so the setup process is slightly more complex than most shared hosting companies.
The support available depends on whether you are located in Minsk or Gome. For Minsk, you can get sales (non technical) support by telephone and email, Monday through Friday from 9:00 a.m. to 6:00 p.m., with technical support being available Monday to Friday from 9:00 a.m. to 10:00 p.m. and Saturday to Sunday from 9:00 a.m. to 9:00 p.m. Gomel support is a little more limited, available from Monday to Friday from 9:00 a.m. to 8:00 p.m. and Saturday from 9.:00 a.m. to 4:00 p.m.
There is also remote support available with TeamViewer and a client-only section of the website, so it's unclear if there is a help center that is accessible through the login pages.