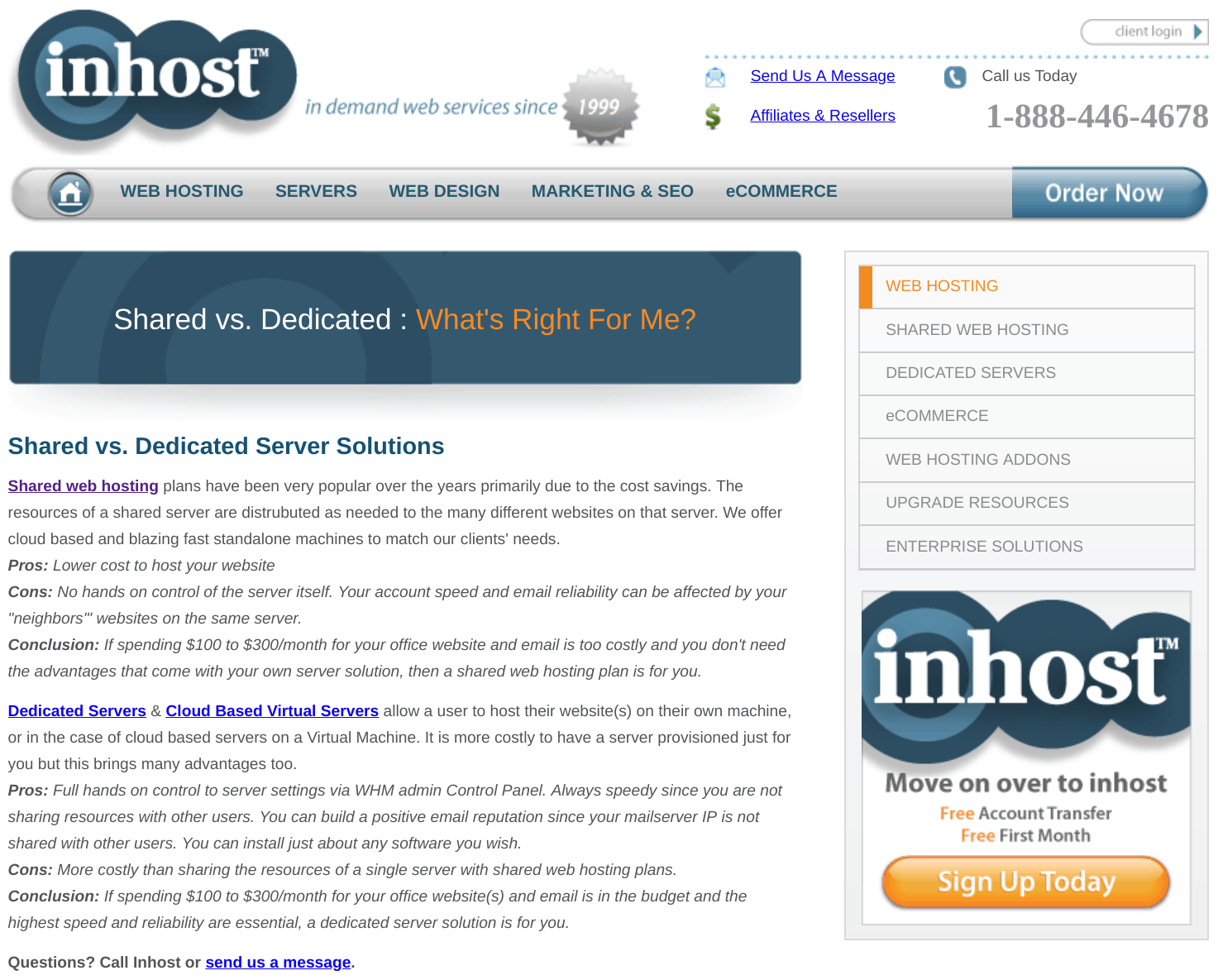 Founded in 1999, Inhost is a
proudly American
, family owned and operated
web hosting provider
. Their data center and staff are located in Los Angeles, and their website and support are available in (American) English.
Inhost doesn't advertise how many customers they currently work with, but it's clear that this very well established company has been in business for a long time.
Features and Ease of Use
Inhost offers a selection of website hosting services including shared hosting, dedicated servers, e-commerce hosting, managed servers, SSL certificates, plus website design and search engine optimization. Their shared hosting plans have the following characteristics:
Almost 100% uptime (not backed by SLA)
Backups available at additional cost
From 1 GB to 50 GB storage, dependent on package
From 20 GB to unlimited bandwidth, dependent on package
SSL certificates available at additional cost
What strikes me as unusual about Inhost is their relatively relaxed attitude to their inclusions. For example, instead of offering an uptime SLA or guarantee, they simply state "As close as you get to 100% uptime." That's a little vague, don't you think?
Equally vague is the information regarding their hardware or infrastructure. It's easy to deduce that their data centers are in America, but whether they are Tier I, II, III, or IV, and whether the company manages their servers themselves is something of a mystery. I don't know about you, but I'd like a little more concrete information before making my decision.
On the other hand, their website is simple and jargon-free, meaning that most beginners can quickly get started. Their inclusions are clear, and instead of using the misleading 'unlimited' terminology, they use concrete quotas for both storage and bandwidth. For example, the base package includes 1 GB of storage and 20 GB of bandwidth, whilst the second-largest package includes 10 GB storage and 150 GB per month bandwidth. Okay, so they do use the word 'unlimited' in relation to their largest package that includes unlimited bandwidth.
In terms of setting up, it takes up to 24 hours to go live, which is a little slower than most shared hosting providers.
Pricing and Support
Unfortunately, Inhost's prices are high compared to both local and international companies. In addition to the base price, there are also a few add-ons that incur an additional charge. These include anti-spam software, SSL certificates, and even backups.
At the checkout, you are given the choice of several different contract lengths including monthly, quarterly, semi-annually, annually, biannually and triannually. You do get discounts for purchasing for longer periods, but the discounts are quite minimal. No other discounts, free trials, or money-back guarantees are on offer.  
Like the rest of the website, the customer service section is pretty stripped back. They provide a telephone number and email address. They do not advertise their opening hours or their average response time. I've also had to wait a few days to get a response via email, which is longer than I would like. That said, they do have a knowledge base and network status page on their website, and they do claim to commit to 24/7 technical support.