HQHosting (or HQH, meaning "High Quality Hosting") is an Italian hosting company which since 2007 has been providing web hosting solutions, cloud services, domain registration, internet security, and email services. It has two efficient data centers in Via Caldera, Milan.
HQHosting's simple but somewhat poorly designed website in Italian.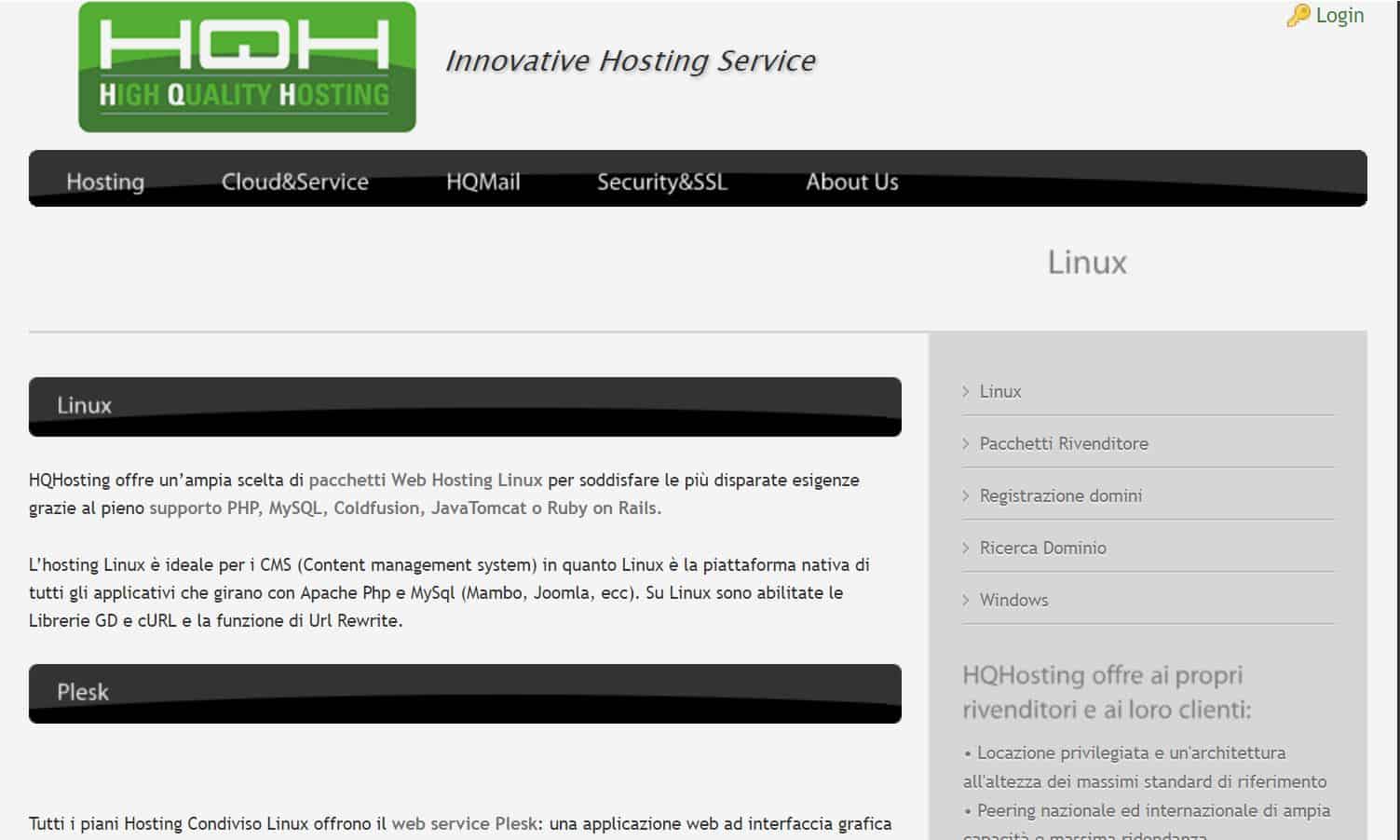 Features and Ease of Use
Although HQHosting provides several kinds of hosting, including shared hosting, its core focus seems to be on Linux and Windows reseller hosting that comes with the Plesk control panel and some of the following features:
From 5 GB to 10 GB disk space
From 70 GB to 140 GB monthly traffic
Unlimited subdomains
10 to 15 MySQL and PostgreSQL databases
100 to 150 POP3/IMAP email addresses
The Linux shared accounts are a good option for CMS users who need complete common tasks and make content updates quickly. Whether Windows or Linux, all shared hosting plans come with the Plesk control panel that is good enough for installing pre-configured scripts and CMS software such as Joomla, WordPress, Zen Cart, Drupal, and phpBB. You can also easily assign permissions to files and folders as well as managing server logs, FTP accounts, domain email, and DNS.
At the other end of the hosting spectrum, HQHosting also offers enterprise-class VPS packages on OpenStack and KVM platforms for more powerful and scalable VPS solutions. And if you own your own server, HQHosting will let you put it in one of its data rooms with guaranteed uninterrupted electricity and a secure and reliable network connection.
Pricing and Support
Unfortunately, HQHosting doesn't publish any prices or detail any refund policy on its website, so it's impossible to say if its hosting plans are good value for money or are even still offered at all. There is also no indication of any uptime guarantee.
When I sought additional information from customer support, I received no reply for five days… and counting. And I couldn't resort to self-support because there is no FAQ page or knowledge base.