HostEiweb is a web hosting company based in Estonia. The vendor is relatively new, having started its operations in 2014. It focuses on the provisioning of VPS hosting solutions to medium-sized and big corporations in Estonia and beyond. Some of its other solutions include dedicated servers, rental of VPS servers, and OpenVPN servers. The HostEiweb website is only available in Russian.
Features and Ease of Use
HostEiweb hosting packages include the following standard features:
Powerful processors

Domain name system

Modern TSOD

Website migration

Unlimited bandwidth

Daily backups
HostEiweb has a number of data centers distributed across the globe. Some of their locations include Ukraine, the U.S., Latvia, Netherlands, and Bulgaria. The data centers are all Tier-3 facilities with advanced hosting infrastructure.
I found it interesting that this Estonia-based web hosting company does not seem to have any data center within Estonia. It was not immediately clear to me why the vendor would make this choice.

HostEiweb leverages KVM virtualization to give its customers a feel of fully dedicated resources as if they were using dedicated servers. Its servers are made up of SSD drives to provide the highest possible loading speed to its clients' websites.
This vendor's customers get access to the VMmanager control panel through which they can configure their accounts, including launching their operating system.
HostEiweb offers its customers free daily backup services. Its backup solution is automatic and users get between 10GB and 100GB of backup space, based on the hosting solution they purchase.
Pricing and Support
HostEiweb offers pretty cheap hosting solutions, especially when you factor in the features it includes in each. The prices are listed in euros. The vendor allows users to choose their billing cycles with the shortest commitment required at one month. It also offers discounts to users who commit to longer contracts. At the time of writing this review, the discounts were: a 5% discount for committing to three months, a 10% discount for three months, and a 15% discount for a whole year.
This vendor offers a month of free hosting to E-commerce businesses that purchase its VPS plans. They also get access to PrestaShop, OpenCart, and Magento.
HostEiweb provides a 99.96% uptime guarantee annually, which translates to just three hours and 30 minutes of network unavailability for the entire year. What's more, the hosting firm promises to bear the financial responsibility in the event that its uptime guarantee falls below this promise.
This hosting provider does not offer a money-back guarantee and its refund policy states that only in select cases are refunds possible.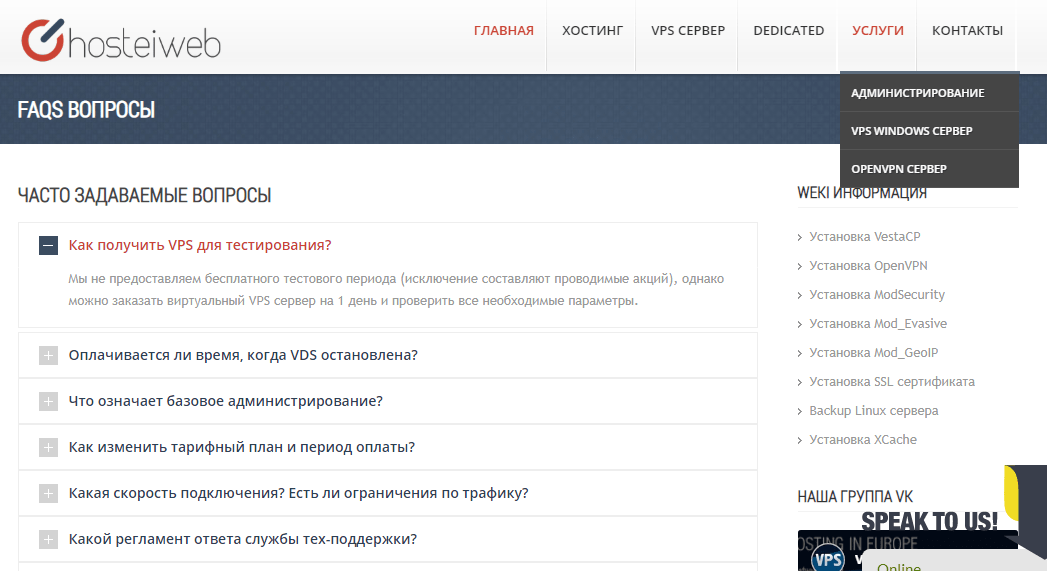 To contact HostEiweb, you can use the support phone number or email address made available on its website. You can also opt to talk to them via the live chat or reach out on social media.
I reached out to the vendor's support team via live chat, and although they advertised a wait time of around a minute before getting connected to a support rep, two minutes passed, and I was still waiting to be connected.
The HostEiweb website includes a detailed knowledge base, as well.