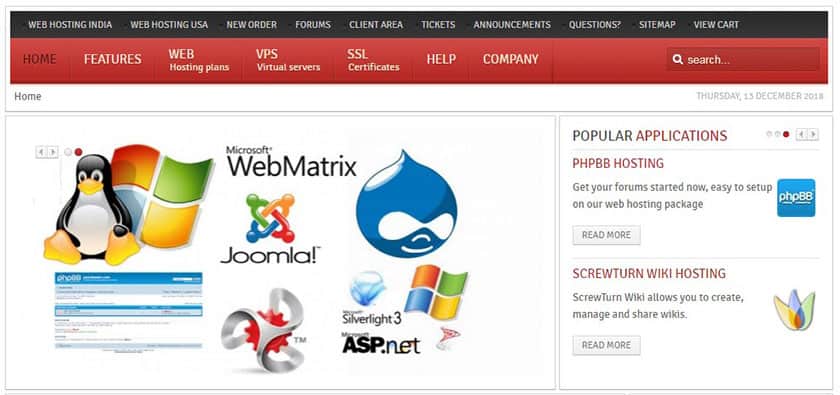 Founded in 1998, HostASP is an Indian-based website hosting provider specializing in Linux and Windows ASP.NET hosting. Their data centers are located in India, the United Kingdom, and America, and their website is provided in English.
Features and Ease of Use
HostASP offers Windows hosting, Linux hosting, virtual private servers (VPS), dedicated servers and SSL certificates. The following features can be found in their website hosting packages:
99.95% uptime guarantees on all servers
Configurable backups and restore options
From 1 to 150 domains depending on the package
SSL certificates available for purchase
20,000 MB upwards
Whilst the HostASP website includes quite a lot of technical information, they do also offer a lot of great features for beginners including a website builder with the following features: image galleries, a full e-commerce store (at extra cost), and ready-made templates.
Like many other website hosts, HostASP offers the Softaculous one-click installer for popular programs. They provide more than 150 programs that can be installed with one click.
Instead of offering only one basic SSL certificate, HostASP offers a variety of different SSL certificates including RapidSSL and GeoTrust True BusinessID.
When I purchased a hosting plan with HostASP, I was able to choose from servers located in America, England or India. They have really clear specifications for each server location so you know (for example) that the servers in India are housed in the first Tier 4 data center. This level of information could be super-useful for experts, but possibly a little overwhelming for beginners.
Pricing and Support
Very competitive prices are conveniently given in both Indian Rupees and U.S. dollars, and the prices are the same whether you choose an Indian, American or British server location.
There is no month-to-month pricing, and their terms are 12, 24 or 36 months. The price reduces quite steeply as the term increases. When I checked out, I was offered to customize the plan by purchasing add-ons such as extra email storage, additional bandwidth, or more disk space. Each add-on increased the monthly cost quite a bit, so be sure that the add-ons you choose are the ones you really need.
Whilst there is no free version, HostASP offers a pretty impressive "Anytime Money Back Guarantee" which does exactly what it says. You can cancel and request a refund at any time if you are unhappy. Note, however, that domain registration is not included in this money-back guarantee.
Their English language customer service is good, and there are several ways to get in touch. Between 10 am and 7 pm Indian Standard Time (IST) you can contact HostASP via their Indian-based call center, by email, or by live chat. I do find it a little odd that a world wide web hosting provider does not have an international phone number, and that their support hours do not span international time zones. That said, they have always picked up quickly and I have never had to wait.