HiNet, HiHosting, and HiCloud are all brands of Taiwan's Chunghwa Telecom Data Communication Branch, which has a history reaching as far back as 1981. HiNet has been the main brand for their internet services since 1994 with HiHosting and HiCloud coming into play almost as soon as their respective technologies existed. They currently offer shared web hosting and a diverse range of cloud services via their respective subsidiaries as well as a diverse range of other products.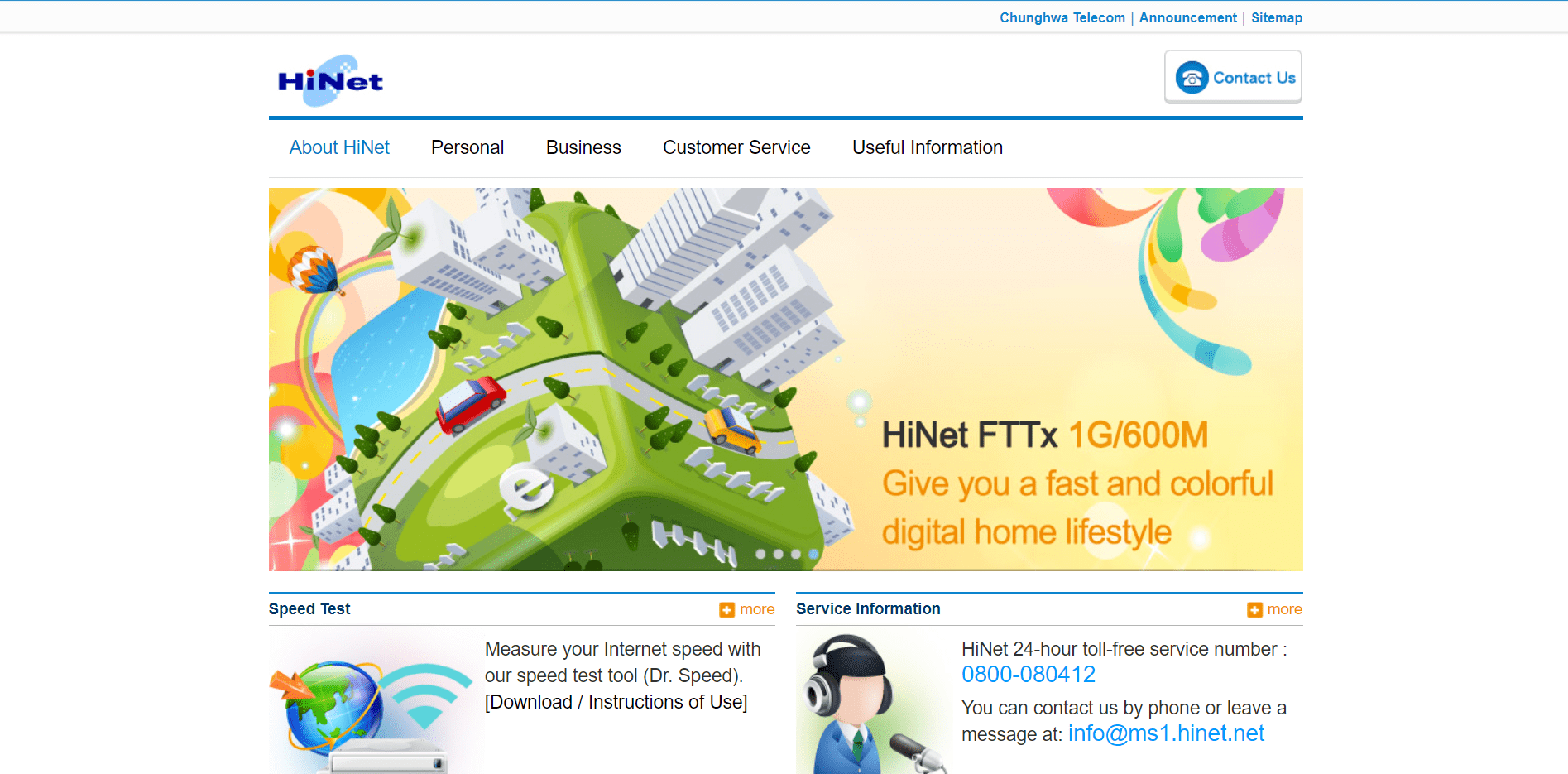 Features and Ease of Use
There is surprising depth to the pre-installed software that ships with HiNet's web hosting packages. First of all, you can choose between Windows or Linux operating systems. The basics and all the necessary frameworks for both operating systems have been installed. You get MSSQL 2012, ASP.NET, and SQL Server Management Studio for Windows, and phpMyAdmin, MySQL, MariaDB, and PHP 5.5/5.6 for Linux. You can also develop your website using the most popular CMSes such as Joomla, WordPress, and Drupal. SSL certificates are included as well.
Their hosting solutions are served out of high-performance and highly secure data centers that meet ISO27001 and ISO27011 International Security Certifications and are monitored 24/7 by security personnel and system administrators.
The two greatest features of their cloud hosting are the customizability of the hosting solutions as well as the available add-on services. These can be automatically applied for and provisioned, which means you can upgrade and downgrade your service in real time as you see fit. Load balancing, VPN tools, backups, extra monitoring features, etc. can all be provisioned on demand. The automated provisioning also means you can have near-instant access to your cloud-based computing.
Pricing and Support
As HiNet provides hosting services through a number of other brands, it can be slightly confusing to make sense of their pricing plans. However, the two main services are HiHosting for shared web hosting and HiCloud for cloud hosting.
HiHosting has only one hosting package divided into either a Windows or Linux installation. The package comes with 6 GB of storage, 400 GB of data transfer, and 16 Mbps bandwidth. Backups, a .ehosting.com.tw subdomain, a domain on escrow basis, and the various software and environments for both operating systems are included with your hosting. Email hosting and management are paid extras, unfortunately; this was a bummer, considering most web hosts include this for free. They also offer a number of other paid services such as custom website or online store creation services with special features.
HiCloud offers a number of highly configurable cloud hosting solutions that range from CaaS (Computing as a Service) to virtualized cloud hosting to simple cloud storage. These can be customized in terms of resources, such as memory, storage, and processors as well as software such as your hosting manager, SQL server, and so on. You can purchase cloud hosting on an hourly or daily basis. Strangely, the base plans don't include storage and data transfer, both of which you'll need to add on.
It's difficult to determine the exact cost of their services compared to others since it mainly relies on your needs and configurations. However, their plans start at a reasonable price, as low as a dollar a day.
HiNet offers a 24-hour toll-free hotline as well as email and ticket support to all their customers. They also provide a decent knowledge base and FAQ section as self-help resources for their products on each of their respective websites. Their support services are mostly for their Taiwanese customers, so non-Taiwanese customers who don't speak the language might struggle. You can also add on a bunch of other value-added services at extra cost, such as website design for shared hosting.