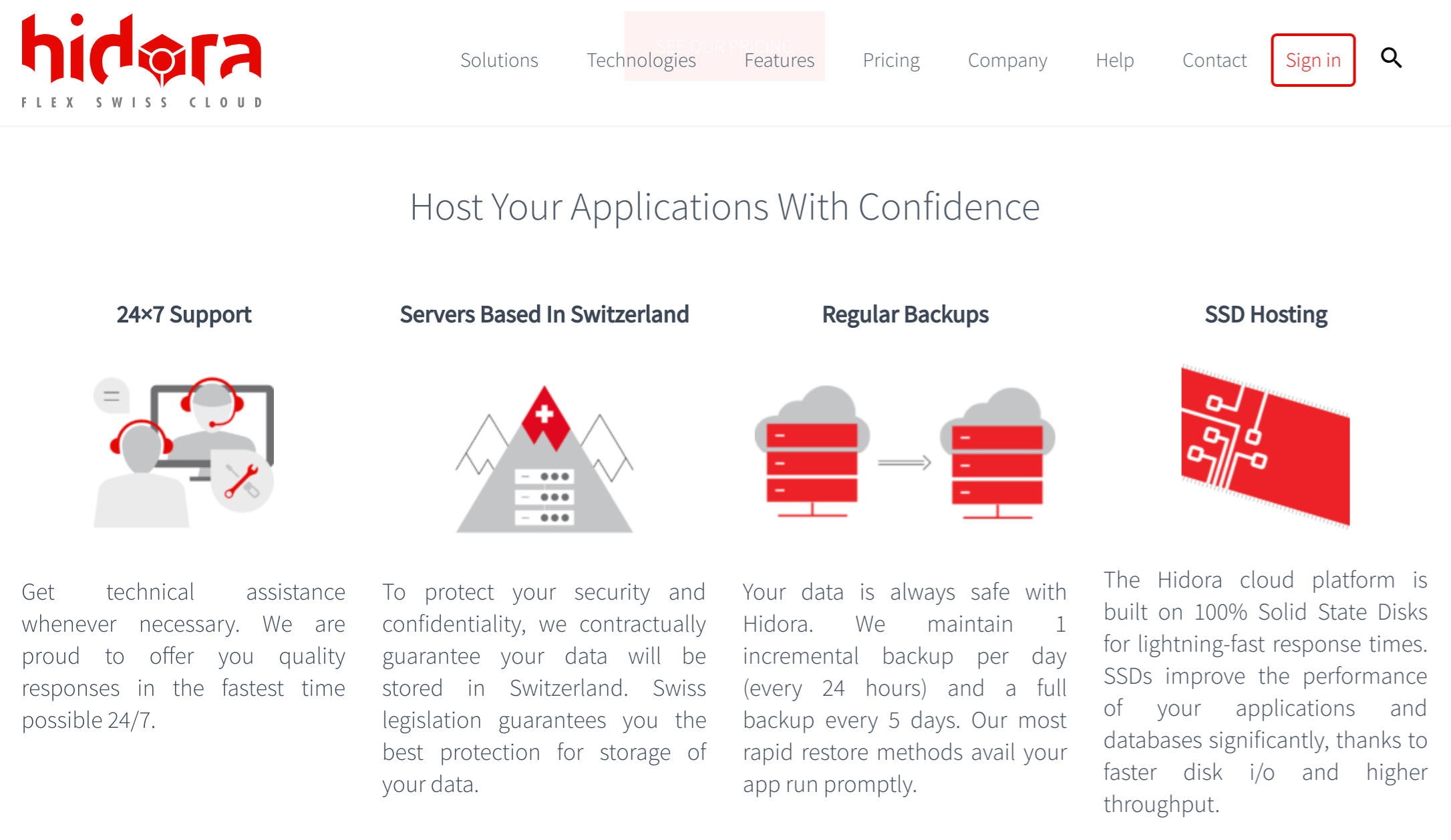 Swiss company Hidora provides a managed cloud platform that allows software developers to host their applications with confidence. It uses Jelastic platform-as-a-service (PaaS) and containers-as-a-service (CaaS) cloud technologies to simplify application deployment for e-commerce companies, developers and agencies.
Hidora's servers are in Switzerland, and its website is in English.
Features and Ease of Use
Hidora's hosting services feature:
24/7 customer support
SQL and NoSQL databases
Regular daily backups
100% SSD hosting
SSH and full root access
The cloud platform allows you to create and scale applications using multiple programming languages (Java, Ruby, Python, PHP or Node.js), and it automates complex administration tasks so you can concentrate on the coding rather than the hosting.
Although primarily aimed at software development organizations, Hidora also offers optimized e-commerce and CMS hosting for WordPress, Joomla, Magento, Drupal, and PrestaShop, some of which can be installed with one-click. In addition, the Hidora cloud marketplace provides a selection of 60 performance-optimized and highly available apps, including e-commerce apps, enterprise portals, CI/CD solutions, and project management tools.
Pricing and Support
Hidora offers a scalable pricing model (where you pay for what you use) rather than fixed price plans. For example, if you create an 8 GB server but only use 2 GB, then you only pay for the 2 GB.
Hidora's website has a cost calculator that helps you estimate your costs. You can set values using sliders for the number of servers, RAM per server (ranging from 128 MB to 16 GB), CPU per server (ranging from 400 MHz to 51.2 GHz), SSD storage (ranging from 10 GB to 500 GB), and public IP address. Additionally, the website shows several preconfigured plan examples.
The Hidora home page invites you to start a free trial (for 14 days) or request a demo (so that the staff can spend 30 minutes showing you how easy it is to create an environment, deploy applications, and use Docker containers).
Once you become a customer, you can either pre-pay for hourly usage or post-pay for your resource consumption. All payments must be made in Swiss francs via credit/debit card, PayPal, or Postpay invoicing.
Hidora's 24/7 support can be accessed via live chat, tickets, or email, but sadly not by phone. When I tested the live chat, I got almost instant and comprehensive answers to my questions: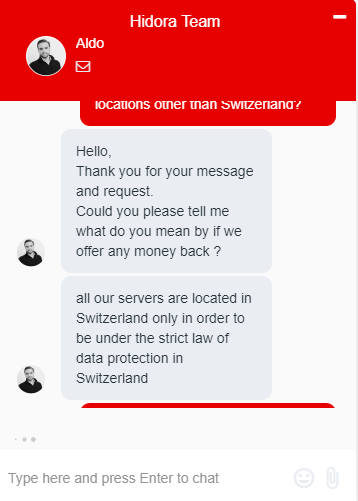 Although there is no knowledge base, there is a very well organized FAQ page.
How much does Hidora cost?
Hidora offers multiple plans priced highest to lowest. The price depends on which type of hosting plan you choose. You can see the updated pricing table (updated weekly) below.

Which Hidora plan should I get?
My recommendation is to start with a cheaper plan. You can always upgrade later on. Hidora can help you with the migration to a more expensive plan. The increase in visitors many times takes longer than expected and you shouldn't pay a lot of money until the need arises. Of course, your needs may vary, and you can consult with a hosting expert from Hidora here.

How good is Hidora's customer support?
Hidora is not ranked as one of our top web hosts. But that can also be a result of Hidora being a small, under the radar, hosting provider. There are advantages to a small hosting company – as a customer, you are more important to them. You can also check out our comparison of the most popular web hosting services here.