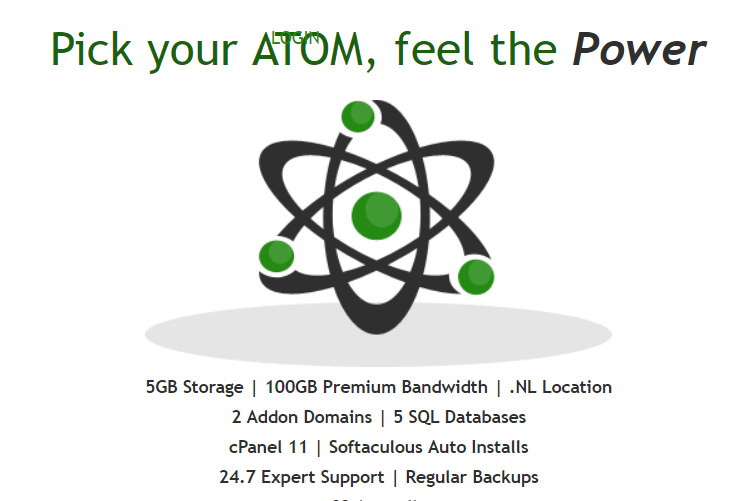 Whether you're a blog owner, a single site owner, or a reseller looking for competitively priced hosting plans, GreenAtom can be the service provider for you. With its robust infrastructure in place, the company can be a one-stop-solution for your web hosting needs. Though the company's website is operational to a good extent, many of its links return a "404 Not Found" error. This triggers concerns whether GreenAtom is still offering its services or not. The company's website is in English.
Features and Ease of Use
GreenAtom offers two types of hosting plans, namely ATOM and RESELLER ATOM, that vary in terms of storage (5GB – 75GB), premium bandwidth (100GB – 1000GB), and the number of SQL databases (five – unlimited). Both these plans come with common features like:
Softaculous one-click installer
Regular backups
A unique feature of GreenAtom is its supercharged tier-1 network with the latest E5 CPUs to provide its customers with high-quality performance. The company also offers premium I/O with RAID10 storage. This means you're using multiple disks for improved redundancy and reliability, and enjoy improved disk I/O speed. I/O or input/output operation refers to the speed with which the data transfer takes place between the RAM and the hard disk.
GreenAtom's security measures in such as automated spam scanning and virus protection along with optional DDoS protection (where several compromised computer systems attack a target like a server) are another of its unique features.
Despite offering regular backups, GreenAtom's "Terms of Service" page makes it clear that the company's backups aren't to be relied upon as a front line of defense. The company says it's ultimately the clients' responsibility to make backups of their account data. The company doesn't offer any uptime guarantee.
Though the company's website doesn't provide any clear idea about its server locations, it is likely that they are located somewhere in the Netherlands as both the plans come with a mention of a .NL location.
Pricing and Support
GreenAtom's hosting plans can be easily considered cost-effective. These plans come with a fifteen-day money-back guarantee. Though the company's website doesn't offer any information about the payment terms, there was a promotional code on the website's home page (as of the writing of this review), which would bring users a hefty discount. Plans are payable in GBP, however, there's no information about the payment modes the company accepts.
When I clicked on the "Contact Us" tab on GreenAtom's site, it showed an error message. The same issue occurred when I tried accessing the "Knowledgebase" and "FAQ" sections. Unfortunately, there is no live chat or phone number available to contact their customer support desk.
Though the company prominently displays the availability of 24/7 customer support on all of its service-related pages, I couldn't find any method in which to reach out to them. Thinking that this support is perhaps only for GreenAtom's customers, I tried to access the client area by clicking the login tab but a "File not found" error was displayed. This doesn't reflect very well on the company's commitment to its customers.