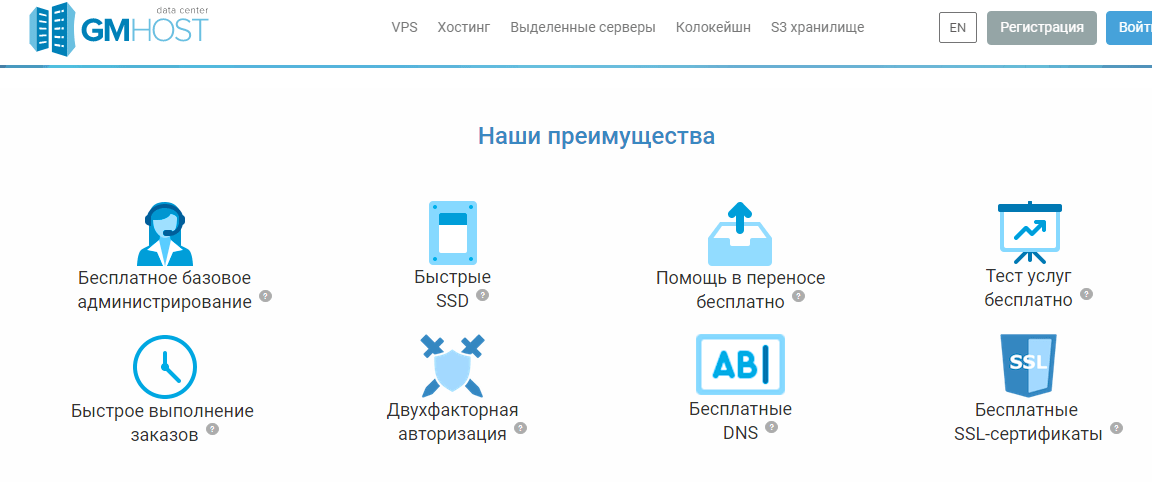 GMhost is a web hosting company based in Ukraine but with a significant presence in Estonia and Russia. The vendor has been in the hosting business since 2013. Its solutions include VPS hosting, shared web hosting, dedicated servers, colocation, and backup services. The hosting firm is a Microsoft SPLA reseller and a member of RIPE NCC. It is in the list of the top 20 web hosting companies in Ukraine by market share. Its website is available in both Russian and English.
Features and Ease of Use
GMhost has designed its hosting solutions to offer high reliability, unmatched bandwidth, and excellent maintenance. Other standard features you will find included in its hosting packages include:
Free website transfer

Free basic administration

Windows license

One-click installer

Two-factor authentication

VM snapshots

Free DNS

Free SSL certificates

Refunds for downtime
GMhost has two data centers; one in Ukraine and the other in Estonia. These data centers are made up of 100% SSD servers that ensure that the websites it hosts load fast. The data center in Ukraine has a capacity of 30 racks while the one in Estonia has a capacity of 512 racks.
This vendor utilizes clusters of blade servers in both its shared and VPS servers, equipped with ECC DDR3 memory and 6-core Intel Xeon processors. All servers in their data centers are connected to 1Gbps or 10Gbps network links.
GMhost hosting solutions include full website migration and account configuration. Users can choose to host their website on either Linux or Windows OS platforms. The vendor offers backup services as standalone solutions that users have to pay for separately. The backup solutions have a three-day money-back guarantee.
Pricing and Support
From the outset, GMhost informs potential customers that it might not be the cheapest hosting provider in Ukraine, Estonia, or Russia, but argues that its price to features ratio makes it worth considering.
Indeed, the vendor offers many free and unlimited premium features that many other vendors charge substantial amounts for. Its prices are listed in U.S. dollars. GMhost offers flexible monthly billing cycles, but users who opt for longer contracts get special discounts.
All of these vendor's hosting solutions include a three-day money-back guarantee, a far cry from the 30 days most other vendors in Ukraine and Estonia offer. The plans also include a 99.9% uptime guarantee with a compensation plan in the event the uptime falls below this.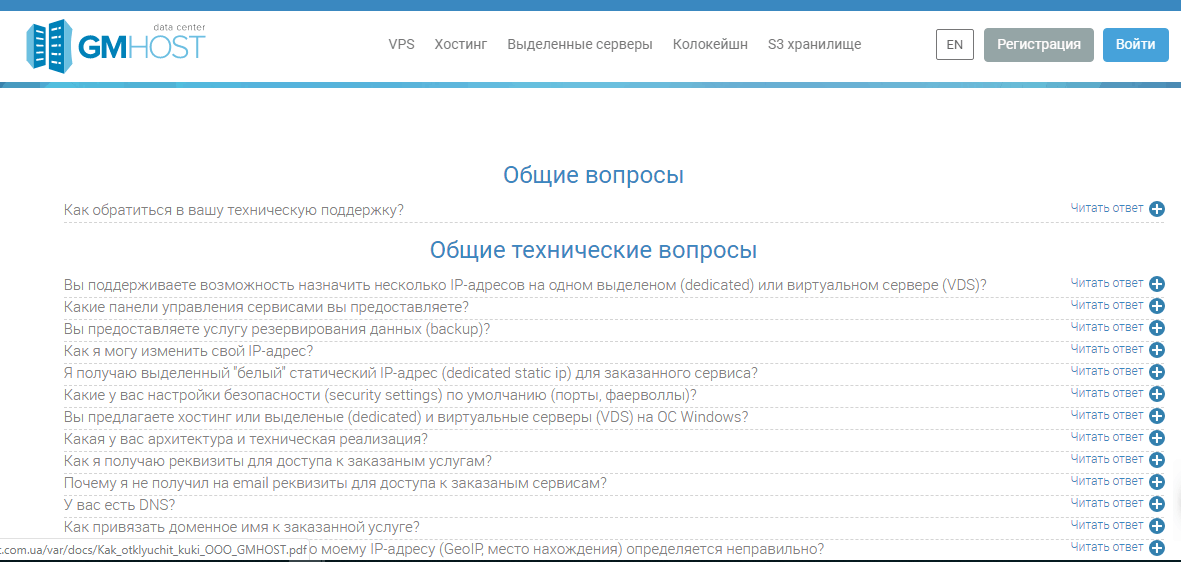 You can contact this vendor's support team through its various phone numbers based on your location, its live chat, support email address, by writing them a letter, reaching out via Twitter, opening a ticket, or visiting them at their offices in Khmelnytskyi, Ukraine.
The vendor claims to have a 20-minute response time. I had a fruitful conversation with the vendor's support team via their live chat. They are fast to respond to queries, though the responses felt flat and impersonal. But I think the problem may have been a language barrier as the support rep didn't seem very fluent in English.
Unfortunately, GMhost does not appear to have a knowledge base section on its website.