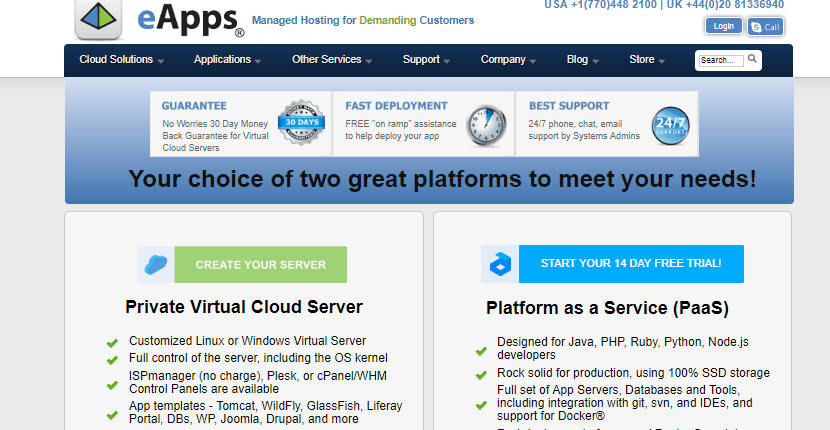 eApps Hosting offers virtual private servers (VPS) and a cloud environment with advanced configuration capabilities all built and managed by its experienced IT staff. Running on enterprise-grade servers, its VPS and cloud solutions are designed for speed, performance, and reliability.
Features and Ease of Use
eApps runs and maintains OnApp cloud infrastructure and Xen virtualization with a robust R1Soft backup system. What I like about this company is that it provides reliable and scalable servers with a range of configurations and IPs under cloud hosting and VPS. It uses high-grade equipment from top vendors, such as Intel, Cisco, and Supermicro.
Windows and Linux servers run on the True Cloud Platform, a secure cloud hosting environment with advanced capabilities for self-service. With its plans, you also get free setup and deployment, DDoS (distributed denial of service) protection, Site Accelerator courtesy of StackPath, as well as uptime and resource monitoring. Its support team will also take care of minor software updates and fix server issues at no extra cost. SSL certificates aren't free, but eApps will install them for you if you buy the SSLs through the site.
Cloud hosting services provided by eApps use advanced cloud technology and is available at a reasonable fee. With its plans, you get customizable resources such as RAM, bandwidth, and storage. Its plans are suitable for customers who are looking for servers with plenty of configurations.  You can scale resources horizontally or vertically to meet your workloads or demand. Included in your package is a suite of popular apps and MySQL, so you can create a database-driven site using the templates that come with your preferred CMS (content management system).
If you're more concerned about performance or speed, the eApps Platform as a Service (PaaS) with Xeon CPUs, ultra-fast network devices, and 100% SSD disk storage might be just what you need. You will enjoy stability and high levels of performance with its platform. The initial 10 GB of SSD disk space is free.  You can autoscale CPUs and RAM instantly. With a set of app servers, IDEs, and tools such as git, its hosting accounts let you develop and deploy PHP Java, Ruby on Rails, and Node.js apps fast.
eApps provides a 100% uptime guarantee for its network, servers, and customer support, which is a pretty bold statement, in my opinion. This means your website will stay online at all times and if the company fails to meet its SLA (service-level agreement), you will be credited for each quarter hour of network outage time.
Starting with its risk-free private virtual cloud servers, you get a good number of configurations with either Linux or Windows OS.  Its Create-A-Cloud tool lets you choose your zone, OS template, RAM, number of CPUs, disk resources, and billing cycle.  You have the freedom to scale your computing resources immediately depending on your needs. Load balancing, backups, and security services are included in every package.
Six plans are available under its virtual cloud. If you're building a small CMS site on WordPress or Drupal, the Basic plan with one core, 1 GB RAM, and 15 GB storage will suffice. In my opinion, the best package for Java sites, apps, or a medium-size CMS with a couple mailboxes is the Advanced plan, which comes with two cores, 2 GB RAM, and 25 GB storage.
Next is the Premium plan with four cores, 4 GB RAM, and 75 GB disk storage. This plan is a good choice for anyone who wants to host large CMS or Java websites, or resource-intensive apps including mail services for a medium-size office. The final package available is the Enterprise plan, designed for websites with high traffic and offices that require multiple email boxes. This plan offers eight cores, 8 GB RAM, and 150 GB of storage.
eApps gives you a user-friendly space to construct and optimize your hosting resources. It has a range of popular hosting control panels that are intuitive and secure. You can choose cPanel/WHM, Plesk, or the low resource usage ISP.  Each control panel lets you administer your websites, apps, and web-based mail services and perform system administrative tasks. You will also get access to app templates for Joomla, Drupal, WordPress, DBs, Tomcat, and WildFly, among others.
Pricing and Support
eApps has customizable hosting plans with flexible and predictable billing based on resource allocation.  With its PaaS pricing model, you will only pay for the disk space, RAM, and backups you request, not for buffer resources. With each deployment, you get traffic and disk space allowance at no extra cost.
Resources are scaled up automatically to meet your growing needs. So at every billing cycle, you can expect to pay only for the resources you use. Take advantage of the 14-day free trial to test the service. eApps also offers enterprise-level add-ons from trusted vendors. You can purchase premium Zimbra email, R1Soft backups that ensure you never lose your files, and a CDN (content delivery network) to speed up your website.
Unlike some hosting services I have used, eApps provides outstanding personalized services, including priority support to demanding customers. Its support team has friendly, competent, and responsive technicians who really care about resolving customers' issues. They can help you install and configure software, modules, and plugins.  Don't hesitate to contact them if you need help to deploy an enterprise app or fix a troublesome server.  You can reach them by phone (UK and US), Skype (available worldwide), chat, email, or ticket 24/7.
If you're a hands-on person, you can access its Support Center to learn how to manage your web space effectively. eApps has a knowledge base with user guides, videos, and FAQs that cover website migration, setup, database management, emails, and security.
How much does eApps cost?
eApps Hosting offers multiple plans. The price depends on which type of hosting plan you choose. You can see the updated pricing table (updated weekly) below.

Which eApps plan should I get?
My recommendation is to start with a cheaper plan. You can always upgrade later. eApps can help you with the migration to a more expensive plan. An increase in visitors might take longer than expected, and you shouldn't pay a lot of money until the need arises. Of course, your needs may vary, and you can consult with a hosting expert from eApps.

How good is eApps' customer support?
eApps is not ranked as one of our top web hosts. But that can also be a result of eApps being a small, under-the-radar hosting provider. There are advantages to a small hosting company – as a customer, you are more important to them. You can also check out our comparison of the most popular web hosting services here.