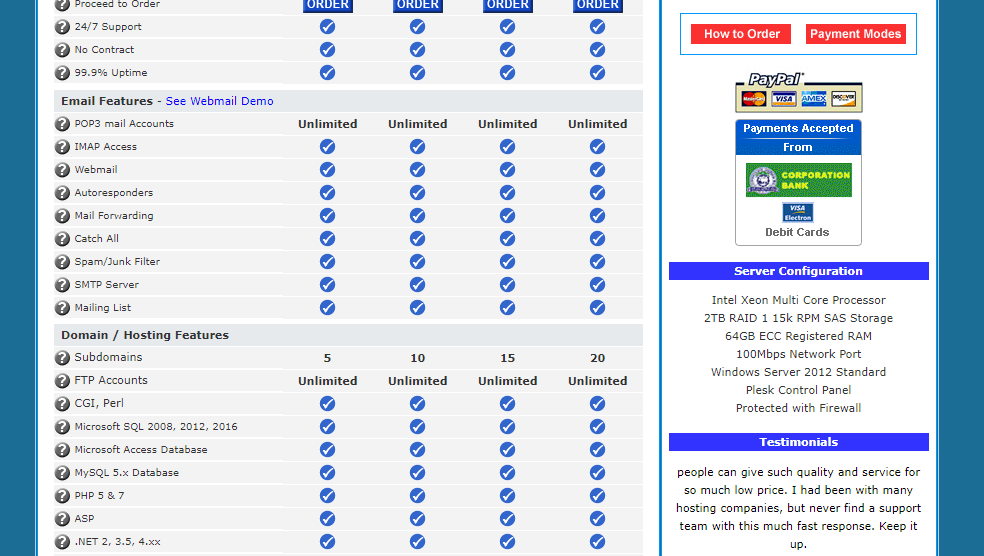 Cyberhost is an India-based web hosting company that was established over five years ago. Today, it has expanded its customer base serving business enterprises in several countries such as the United States, Australia, the United Kingdom, and Germany. It offers an array of hosting products, including shared web hosting, VPS servers, email hosting, dedicated servers, and domain name registration services.
Features and Ease of Use
Cyberhost web hosting packages are equipped with a range of hosting features that include the following:
IPv4 address included

Windows or Linux Server OS

cPanel or Plesk panel available

phpMyAdmin access

PHP support version 5.2.8

Free  RV Site Builder

Softaculous one-click installer with 200+ pre-installed apps

Instant backups

MySQL/MSSQL databases

Cron jobs for scheduled tasks
Cyberhost web hosting solutions are powered by server nodes distributed in several locations: the United States, Germany, Malaysia, and India.
The hosting company uses Nehalem 8-core Xeon processor-based servers, and each server includes two 8-core processors (16 total CPUs), up to 16GB RAM, and multiple HDD drives in RAID-10 configuration. This way, it can offer reliable and secure hosting services even though it has yet to upgrade to the latest SSD-storage drives.
In addition, its VPS servers are equipped with advanced virtualization technology that not only increases the utilization of server resources, but also greatly improves the performance of the virtual machines.
Cyberhost boasts of designing some of the best dedicated server hardware in the industry. This includes offering both managed and unmanaged dedicated servers as well as robust solutions running on both Linux and Windows OS platforms.
By default, all Cyberhost web hosting services include backup and restore services to help protect their clients' website data and files in case disaster strikes.
Pricing and Support
Cyberhost offers relatively cheap web hosting packages, although my analysis led me to believe that this is pretty misleading; most of its plans require customers to purchase add-on features (such as SSL certificates, domain names, IP addresses) for them to receive a fully packed hosting package.
While some plans come with monthly billing cycles, others are offered with inflexible billing cycles starting from annual subscriptions. Prices are listed in both Indian rupees and U.S. dollars.
Cyberhost allows users to cancel and terminate their accounts at any given. All the same, the hosting firm does not provide a refund policy. Their hosting systems, however, support up to a 99.9% uptime guarantee.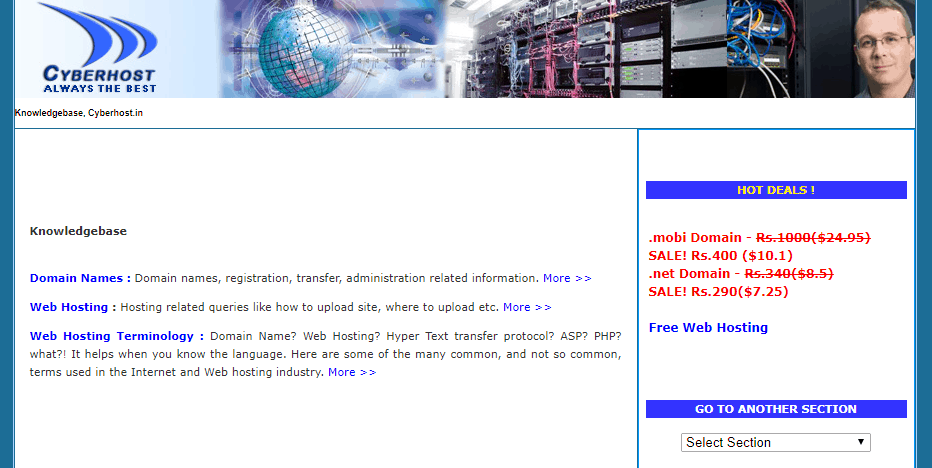 Customers can reach out to Cyberhost support via telephone, contact form, and email. You can also find them on Skype, Messenger, and G-Talk. While the vendor seems to offer live chat support, the link to the live chat is invalid. Also, the hosting provider has no ticketing system.
The Cyberhost website has no knowledge base, either.
How much does Cyberhost cost?
Cyberhost offers plans from $1 to $4. The price depends on which type of hosting plan you choose. You can see the updated pricing table (updated weekly) below.

Which Cyberhost plan should I get?
My recommendation is to start with a cheaper plan. You can always upgrade later on. Cyberhost can help you with the migration to a more expensive plan. The increase in visitors many times takes longer than expected and you shouldn't pay a lot of money until the need arises. Of course, your needs may vary, and you can consult with a hosting expert from Cyberhost here.

How good is Cyberhost's customer support?
Cyberhost is not ranked as one of our top web hosts. But that can also be a result of Cyberhost being a small, under the radar, hosting provider. There are advantages to a small hosting company – as a customer, you are more important to them. You can also check out our comparison of the most popular web hosting services here.