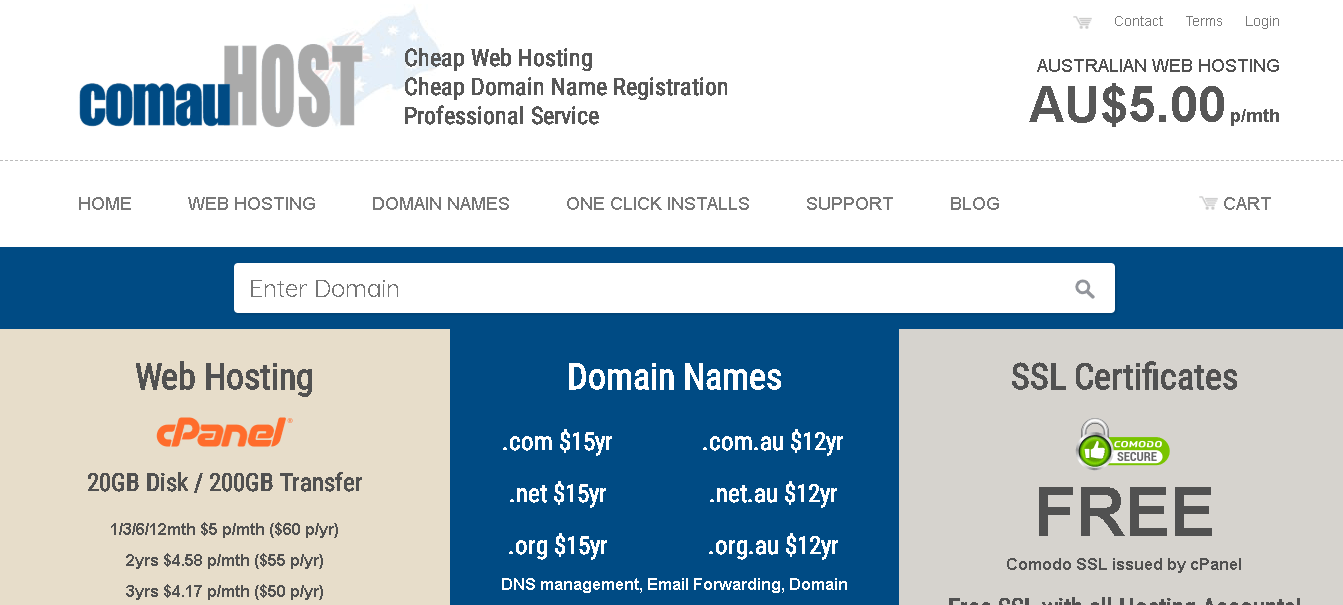 comauHOST is a 100% Australian hosting provider. Their main goal is to deliver hosting that's affordable yet high-quality. All of their servers are housed in Australian data centers. Although they don't provide much information on themselves, their superb feature set and prices have plenty to say.
Features and Ease of Use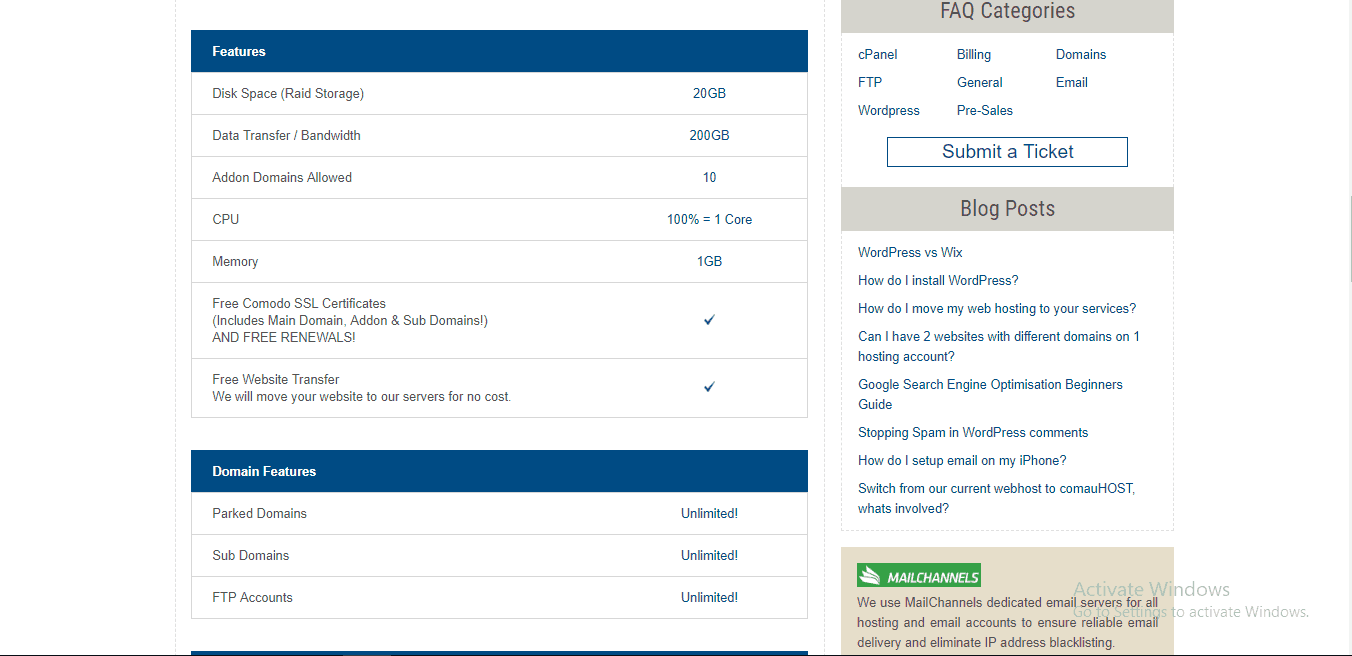 comauHOST only has a single shared hosting package available, but this provides almost everything you need to host your WordPress website with little effort:
99.99% uptime guarantee

Ten add-on domains

Free Comodo SSL certificates issued by cPanel

200 GB of data transfer

20 GB of disk space

1 GB memory
Everything about comauHOST's hosting package seems perfectly set up for a smooth WordPress hosting experience. For starters, WordPress is pre-installed for you via Softaculous, so you can jump into creating your website immediately. If you prefer something else, not to worry: you'll have access to over 400 other web applications.
On top of that, even though it's not enterprise-grade, they have a "no overselling" policy on their shared servers and offer each of their customers a dedicated 1GB memory that will come in handy if you're working on a larger WordPress website with plenty of features. If you outgrow these resources, you can upgrade your package at any time to double your CPU, memory, transfer, and disk space.
The only thing you'll need to set up by yourself are your backups, which may be an inconvenience particularly for WordPress websites. Other than this, comauHOST has pretty much everything covered for simple WordPress hosting (or any other popular CMS, for that matter). That makes them a great option for those who don't have much hosting experience and want an all-in-one product.
Pricing and Support
As previously mentioned, comauHOST only has a single shared hosting plan. However, they've tried to make it as all-inclusive as it could possibly be. It's actually surprising what you get included for free and offers users great value for money.
First of all, they provide a wide range of billing options with monthly, quarterly, semi-annual, annual, biennial, and triennial billing terms available. Of these, only the biennial and triennial options are discounted (up to 16%).
You get generous storage and bandwidth limits for the price, and it's worth keeping in mind that you get a dedicated CPU core and 1GB of RAM. They also provide website transfer services for free and unlimited free Comodo SSL certificates. On top of that, DNS management is free for the first year. The only thing that's missing is that you'll need to purchase your own domain name.
The features included with your hosting are pretty extensive as you can see above. All of this is backed by their 30-day money back guarantee.
comauHOST provides 24/7 network monitoring and technical support. This is another great perk for those who want stress-free hosting. The only downside is that they only offer support through email and a ticketing system; there's no live chat or phone support. However, they have a pretty decent knowledge base and tutorials, along with a great blog containing guides and other helpful articles. The support staff themselves are always superb, and I frequently receive replies within an hour or two. They also remain courteous and helpful while resolving your issues.