CobitHOST is a small web hosting company based in Slovenia. With DellPowerEdge systems housed in a data center located in Ljubljana, Slovenia, it offers shared web hosting, server solutions, and domain name registration services targeting SMEs not only in Slovenia but also in Italy. The CobitHOST is available in both Slovenian and Italian. The link on this vendor's website to, what at first seems like an English version of this website, redirects to another website.
Features and Ease of Use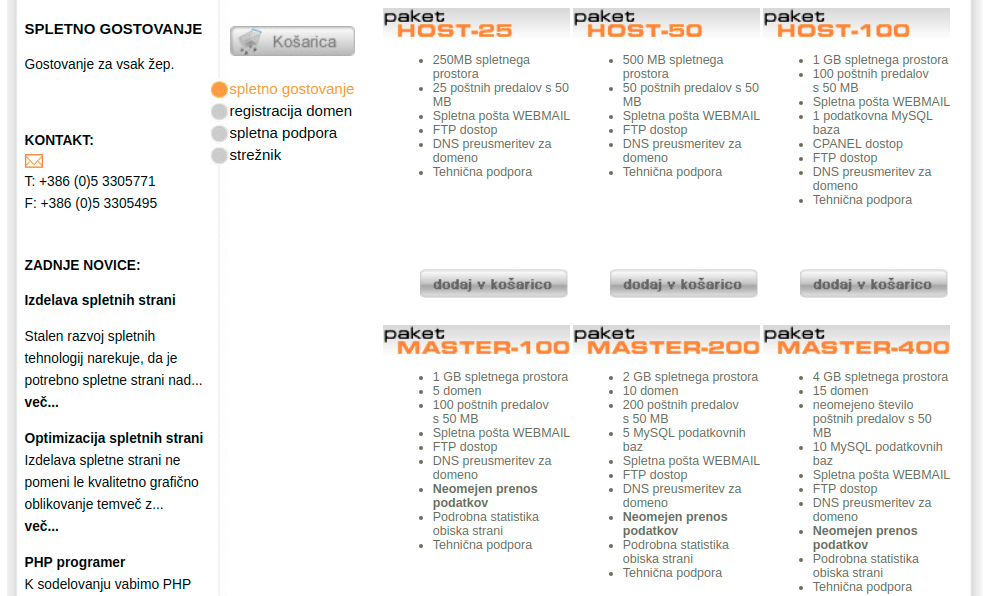 CobitHOST web hosting solutions include the following standard features:
cPanel control panel
MySQL databases
FTP access
Unlimited bandwidth
Detailed statistics of web page visits
PHP 4.xx and PHP 5.xx
Apache 2.xx support
Linux CentOS operating system
CobitHOST data centers are equipped with uninterrupted power supply UPS, sufficient to operate for up to four hours when electrical power fails or drops to an unacceptable voltage level. This makes sure that running processes continue to function smoothly. It uses Dell PowerEdge systems with fast and reliable RAID configuration ensuring safe data storage.
This vendor's hosting packages are powered by CentOS operating system. The plans are hosted on cPanel 11.25 control panel to help clients manage their entire website accounts. Moreover, the hosting packages are compatible with versions of PHP 4.xx and PHP 5.xx, Perl 5.xx, and MySQL 5.xx.
However, the vendor has not made any efforts to update these features and offer the latest advanced versions, despite the rapid advancement of technology. Many of the features appear outdated, including cPanel, PHP, Perl, and MySQL.
It is important to note that CobitHOST web hosting packages lack some significant hosting features. For instance, the plans do not include SSL certificates, and they also don't come with backup services. Customers would have to outsource these services to another vendor.
Pricing and Support

CobitHOST hosting packages are standard when comparing them with what other vendors are offering. The hosting plans come with monthly and annual billing cycles. Prices are listed in euros.
CobitHOST does not seem to offer an uptime guarantee and I highly doubt how reliable its hosting solutions are given the use of outdated hosting features. The hosting solutions also don't include a refund policy.
Customers can contact the vendor's customer support team via telephone or email. I did not find a ticketing system or live chat support. The CobitHOST technical staff is available 24/7 yet when I sent them an email, I did not get a response.
CobitHOST does not have a knowledge base either.