Since 2000, catalyst2 has been offering web hosting services to the U.K. and clients around the world. They've won multiple awards for their services and are known in the industry for their stable and reliable shared web hosting, VPS, and dedicated server products.
For shared hosting, catalyst2 offers both Windows and Linux hosting on redundant cloud servers, with features appropriate for many personal and small business websites.
Features and Ease of Use
catalyst2 gives you the choice of hosting on your website on Linux or Windows-based servers located in the United Kingdom. Most plans come with the following set of basic features:
Hosting on fully redundant VMware cloud
One-click installer available
MySQL and MSSQL supported
Basic spam and virus scanning
Weekly backups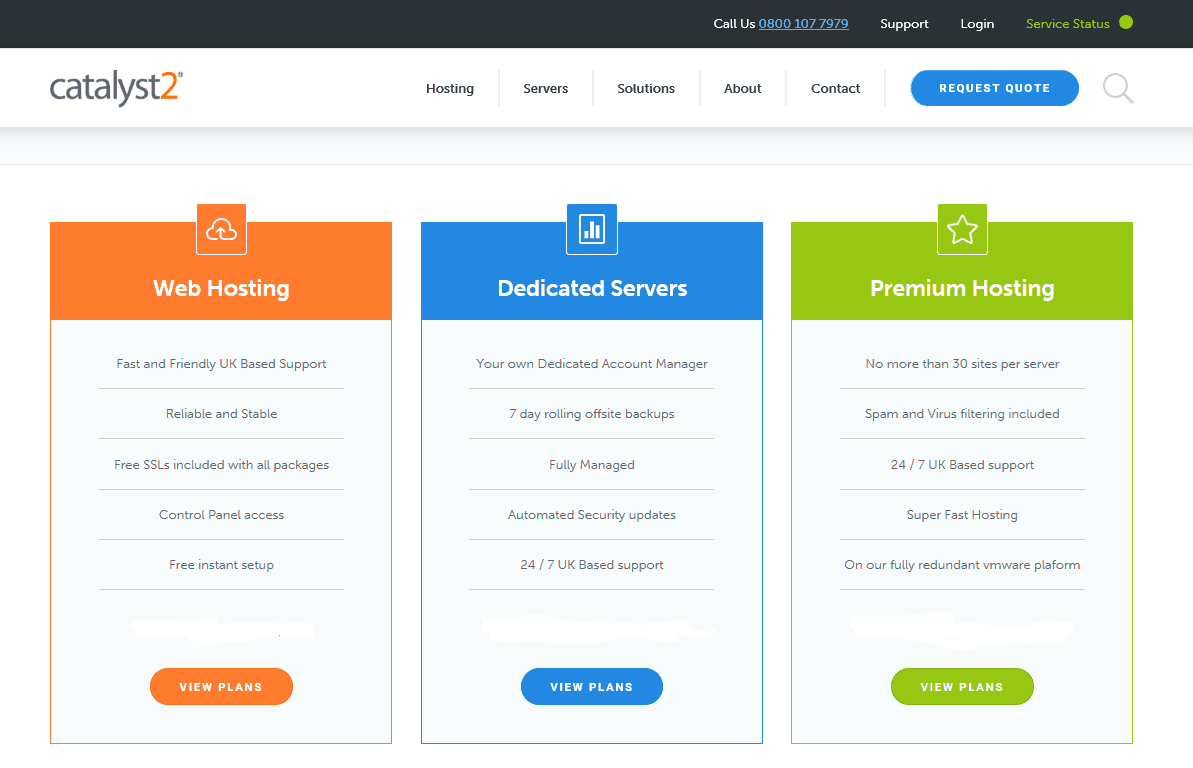 catalyst2 only offers one-click installers on Linux plans for both blog-style platforms like WordPress and e-commerce software such as osCommerce.  They provide a nice array of value-added features as outlined below:
Supports PHP, ASP, Perl, CGI, SSI
Free website migrations
Free Let's Encrypt SSL Certificates
Cron jobs supported
Note that while they support PHP, CGI, and some other scripting languages, they don't appear to support Python or Ruby on Rails, which is a bit unfortunate.
If you're a rank beginner, there'll be a bit of a learning curve with this platform as they don't offer a website builder. The one-click installer is helpful, but you'll need to learn how to manage the platform you choose. For those with experience, you can use cPanel for Linux or Plesk for Windows hosting to manage your website.
Pricing and Support
catalyst2 offers both Linux and Windows hosting with both offering five service plans. Below are the basics of each plan:
| | | | | | |
| --- | --- | --- | --- | --- | --- |
| | Mega Deal | Mega Plus | Power | PowerPlus | PowerXtra |
| Domains | 1 | 1 | 2 | 5 | 10 |
| Storage | 500MB | 1GB | 2GB | 4GB | 8GB |
| Bandwidth | 5GB | 20GB | 40GB | 80GB | 160GB |
| Email Addresses | 1 | 10 | 50 | 100 | 150 |
These features are the same regardless of whether you get Windows or Linux hosting. I'm not a fan of the storage on these plans, but the bandwidth is more than ample.
Pricing is relatively average on these plans, but note that the Mega Deal plan only offers annual billing. For all other plans, you can pay monthly or annually with a slight discount for annual plans. All plans come with a 30-day money back guarantee.
If you plan to run a WordPress website, you do also have an option to purchase WordPress hosting with plans ranging from 10GB to 30GB of SSD storage. However, the plans are costly compared to standard hosting. Here's the deal, my friend: I suggest going down that path only if you're a complete beginner and require assistance with managing WordPress. They've got your back with unlimited support for WordPress, but just so you know, the account doesn't come with WordPress pre-installed. You'll still need to use Fantastico for a quick one-click installation of WordPress.
catalyst2's customer support is slightly above average with toll-free phone support and ticket support. They also offer a robust knowledge base along with a service status update page that reports on known outages.
How much does Catalyst2 cost?
Catalyst2 offers plans from $2 to $116. The price depends on which type of hosting plan you choose. You can see the updated pricing table (updated weekly) below.

Which Catalyst2 plan should I get?
My recommendation is to start with a cheaper plan. You can always upgrade later on. Catalyst2 can help you with the migration to a more expensive plan. The increase in visitors many times takes longer than expected and you shouldn't pay a lot of money until the need arises. Of course, your needs may vary, and you can consult with a hosting expert from Catalyst2 here.

How good is Catalyst2's customer support?
Catalyst2 is not ranked as one of our top web hosts. But that can also be a result of Catalyst2 being a small, under the radar, hosting provider. There are advantages to a small hosting company – as a customer, you are more important to them. You can also check out our comparison of the most popular web hosting services here.