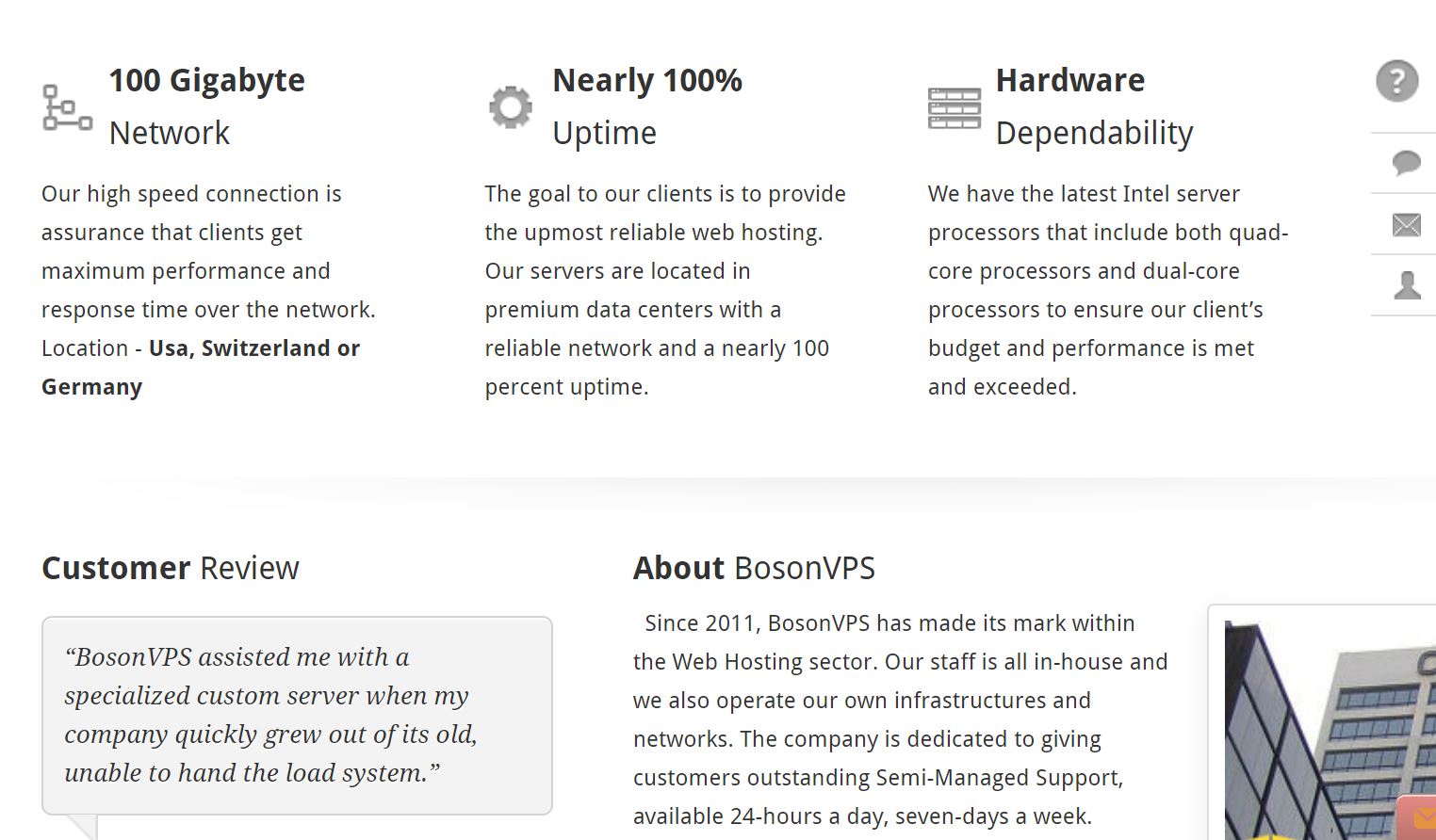 BosonVPS is based in Frankston, Australia. It has been in the web hosting market since 2011, and it specializes in selling Linux and Windows VPS hosting solutions. It has three state-of-the-art data centers (in the U.S.A., Germany, and Switzerland), and its 
neat, easy-to-navigate website is in English.
Features and Ease of Use
BosonVPS can equip your VPS with a wide range of Linux and Windows operating systems, including CentOS, Debian, Fedora, FreeBSD, Gentoo, Linux Mint, Slackware, Ubuntu, Windows 2008, and Windows 2003.
The VPS plans are categorized as Virtual Servers (SSD/HDD Hosting) and Windows Servers (Windows or Forex Hosting). Each category is further subdivided, for example, by server location, and every lowest level category presents you with four plans. Some of the standard features are:
From 99.9% to 100% guaranteed uptime

Weekly backups

SSD storage

PPTP and OpenVPN

Reboot and reinstall

RDP Remote Desktop

Instant activation

cPanel or ISPManager (sold separately)

PHP5, MySQL, PHPMyAdmin
Disk space ranges from 10 GB to 80 GB while RAM varies from 512 MB to 8 GB.
Personally, I dig the bunch of plans that let you pinpoint precisely what you need, like a VPS with lightning-fast SSD storage. But I get it; some folks might find it a bit overwhelming. Don't sweat the technical stuff, though, 'cause the team of experts will take care of installing apps and modules for you.
I'm disappointed that you have to pay extra for the cPanel control panel, but BosonVPS does give you plenty of other freebies such as Lockdown, eAccelerator, Ioncube, PHP, MySQL, SSH, and more.
Pricing and Support
BosonVPS provides several VPS subscriptions (to say the least) with solid uptime and a satisfactory feature set, all at very reasonable Australian dollar prices. You can choose to be billed monthly, quarterly, semi-annually, or annually, with no setup fees. If you're unsure about signing up for a server, the 14-day money-back guarantee should give you the reassurance of being able to get out if anything goes wrong.
You can contact customer support via live chat, email, or ticket. Unfortunately, live chat was offline when I wanted to try it, and my ticket submission went unanswered. To make matters worse, the knowledge base wasn't enough to answer my questions: