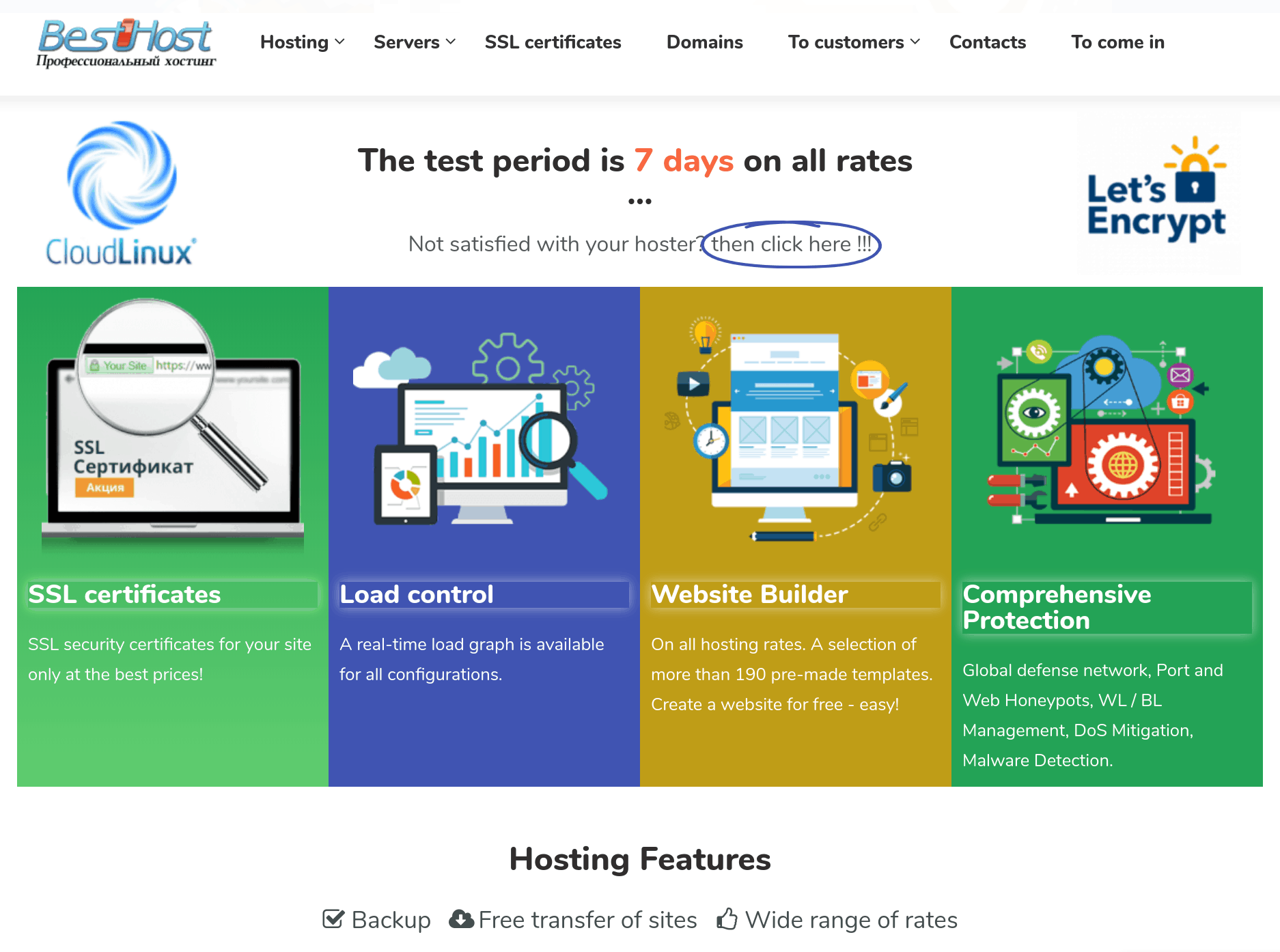 Belarusian business BestHost has been in the hosting industry for ten years. It is an official partner of JBMC Software, the Canadian software company best known for the DirectAdmin control panel, and is also an official partner of software development company CJSC ISPsystem, which designs and develops software for automating hosting services.
BestHost offers shared hosting, 1C-Bitrix hosting, and developer hosting, plus with OpenVZ servers and KVM servers. It also offers domain registration and SSL certificates.
BestHost's website is in Russian.
Features and Ease of Use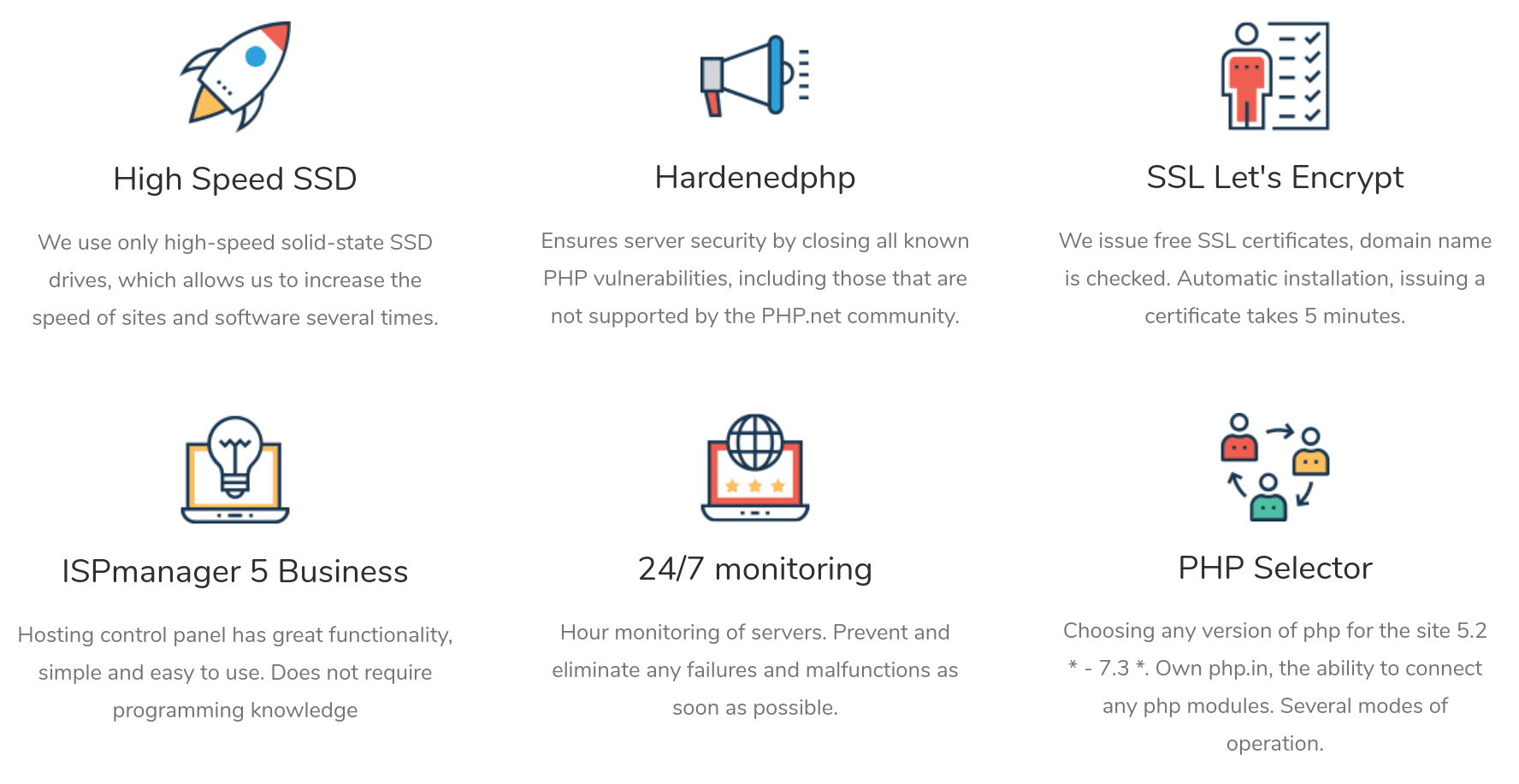 BestHost offers seven virtual shared hosting plans, four 1C-Bitrix plans, five developer hosting plans, six OpenVZ VDS/VPS servers, and six KVM servers. With its shared hosting plans, you'll get:
CloudLinux OS
5 GB to 25 GB SSD disk space
386 MB to 1768 MB RAM
736 MHz to 3536 MHz CPU
0 to 50 MySQL databases
Support for PHP 5.2 to 7.3
All plans allow you to take your pick from a range of SSL certificates from global providers, and all plans provide an industry-standard 99.9% uptime SLA.
The website builder provides more than 190 pre-made templates to help you create a professional website for free without any special programming knowledge. Alternatively, the developer hosting plans come with the ability to auto-install 460 popular programs and over 1,100 libraries and classes with a few mouse clicks. BestHost's multiplatform solution lets you run applications in Java, PHP, Ruby on Rails, and more in a single working environment. VPS/VDS and KVM servers support full root access for complete control of your hosting environment.
If security is your biggest concern, you'll be pleased to learn about the comprehensive protection provided by BestHost's global defense network that uses malware detection, DDoS mitigation, and web honeypots to ensure your hosting environment stays secure. This provider also uses HardenedPHP to secure old and unsupported versions of PHP.
Although you can still choose the cheaper traditional HDD storage, BestHost's SSD storage provides better performance and reliability. And when it comes to reliability, the 24/7 server monitoring should address any failures and malfunctions at the earliest opportunity.
Pricing and Support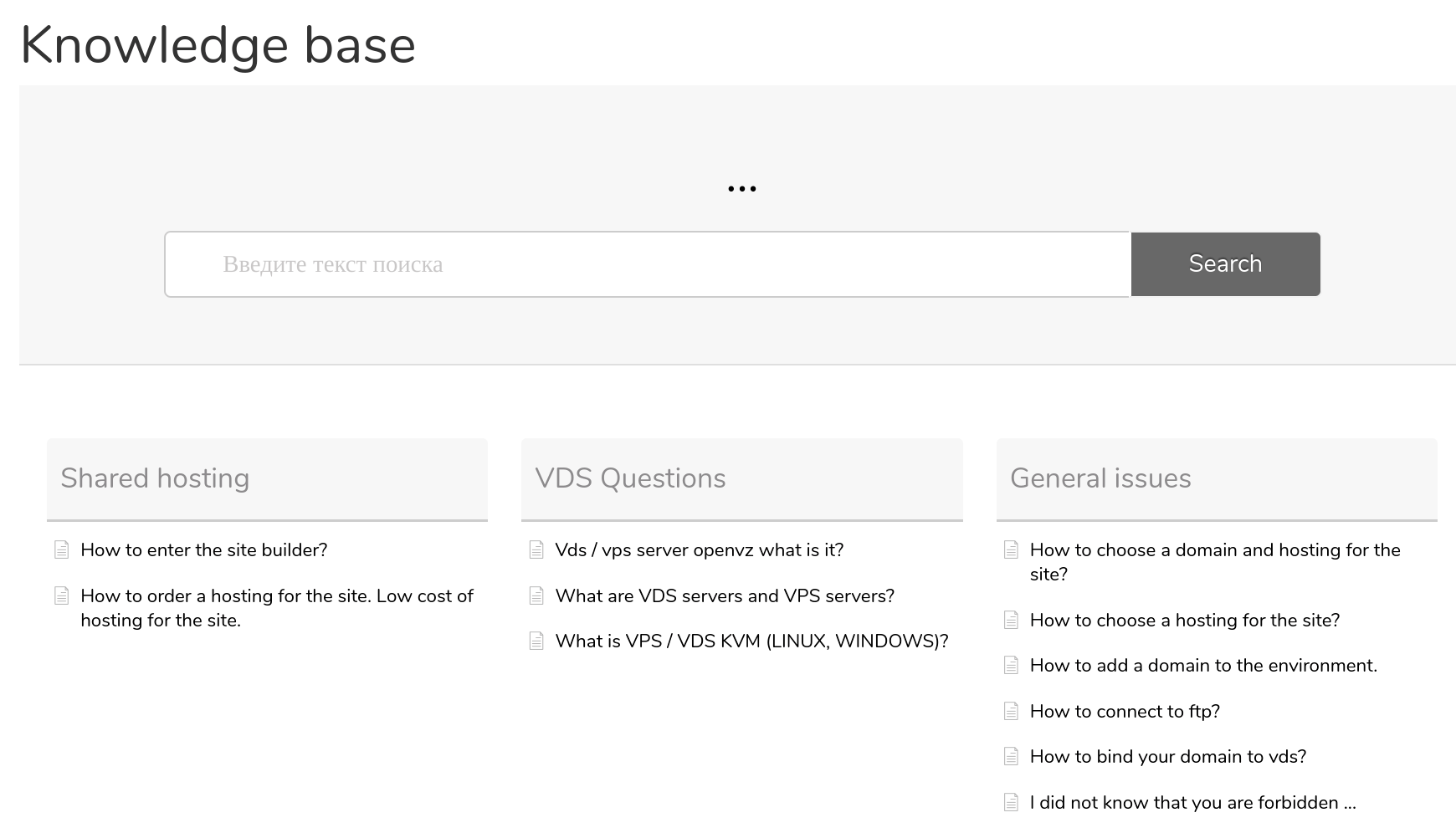 BestHost's shared hosting plans are dirt cheap. You can pay for them via various methods on billing cycles from monthly to biennial, with discounts of up to 20% depending on the commitment you make.
You can try out the VDS/VPS plans for a period of seven days, which gives you a limited time to test the services. Additionally, BestHost offers a loyalty program where you receive a discount on VDS hosting based on the duration of your association with them.
You can contact BestHost's 24/7 customer support team by telephone, ticket system, email, online form, or live chat. Unfortunately, I found the live chat to be unavailable, and my exploratory email went unanswered. For self-support, BestHost's documentation page details its SLA, public contract, and other legal things whereas its knowledge base provides just a few interesting articles.