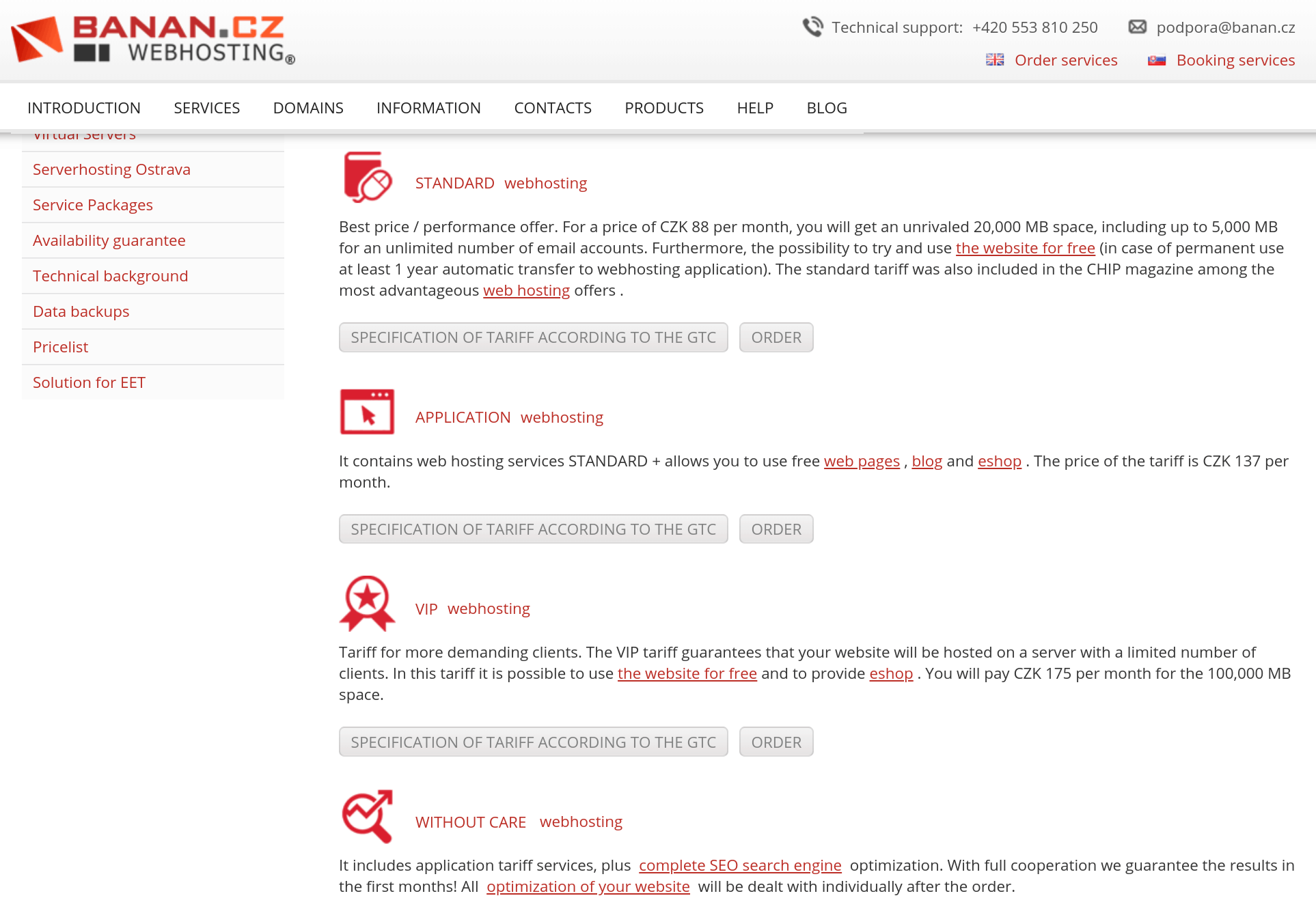 To compare the best web hosts, we hosted the same WordPress website on each one and tested performance, customer service, and value for money.
Check out the results here.
BANAN.CZ is a website hosting brand of Czech company e-BAAN Net sro. It has been offering primarily web design and web hosting services (but also domain registration and management services) since 2004.
The company claims to provide hosting at the lowest possible Czech prices to over 11,000 paying clients, as well as providing free hosting to thousands more.
BANAN's website supports the Czech language, but its ordering pages also support Slovak and English.
Features and Ease of Use
This provider offers four shared hosting plans, three managed/unmanaged virtual servers, and two dedicated server plans (hosted in Ostrava). The shared hosting plans provide you with:
99.8% guaranteed availability
Apache 2.2/2.4 web server
Support for PHP 7.1, and PHP5
IonCube Loader and Zend Optimizer (on selected servers)
20 GB to 100 GB data limit
Unlimited data transfer
5 GB email data limit
Email services
Regular backups retained for up to 3 months
These plans also come with MySQL 5, Firebird, PostgreSQL and SQLite databases. You can even get remote database access, albeit at extra cost.
E-store programmers can quickly create an online store using a fully functional free script that doesn't require any additional files for use. There are also 140+ installation scripts for CMS systems such as WordPress, Drupal, and Joomla.
For security, you can password-protect your web folders. Other security measures include ClamAV antivirus and SpamAssassin for e-mail spam filtering.
BANAN.CZ operates almost 50 servers in three different locations (Prague, Brno, and Bratislava) that incorporate hardware from leading global manufacturers like Intel, Supermicro, and HP. So, your data is in safe hands, especially since you also get daily backups.
As part of the "Green Company" project, BANAN.CZ encourages its employees to dispose of their old electrical appliances responsibly by providing them with a collection box, ensuring they don't end up in landfills.
Pricing and Support
BANAN.CZ's prices are dirt cheap. You can pay in Czech koruna via various methods or in euros by bank transfer only. Very unusually, there is a 360-day refund window during which you can cancel your account and get back the unused portion of your downpayment. The only catch is the two caveats: the server operator must have performed demonstrably poorly, or its servers must have failed repeatedly.
You can get a free website for a year, but it's not really free since you have to pay for hosting services. You can also purchase paid addons for high-quality photos, graphics, etc.
Technical support is provided from 8 am to 9 pm on weekdays, and from 9 am to 9 pm at weekends. Although you can contact the company via telephone, email, or live chat, no one was available on live chat when I wanted to try it.
BANAN.CZ's blog mostly showcases the websites it has created, so it's no use for self-support purposes. However, the extensive help section contains FAQs, troubleshooting guides, and video tutorials: