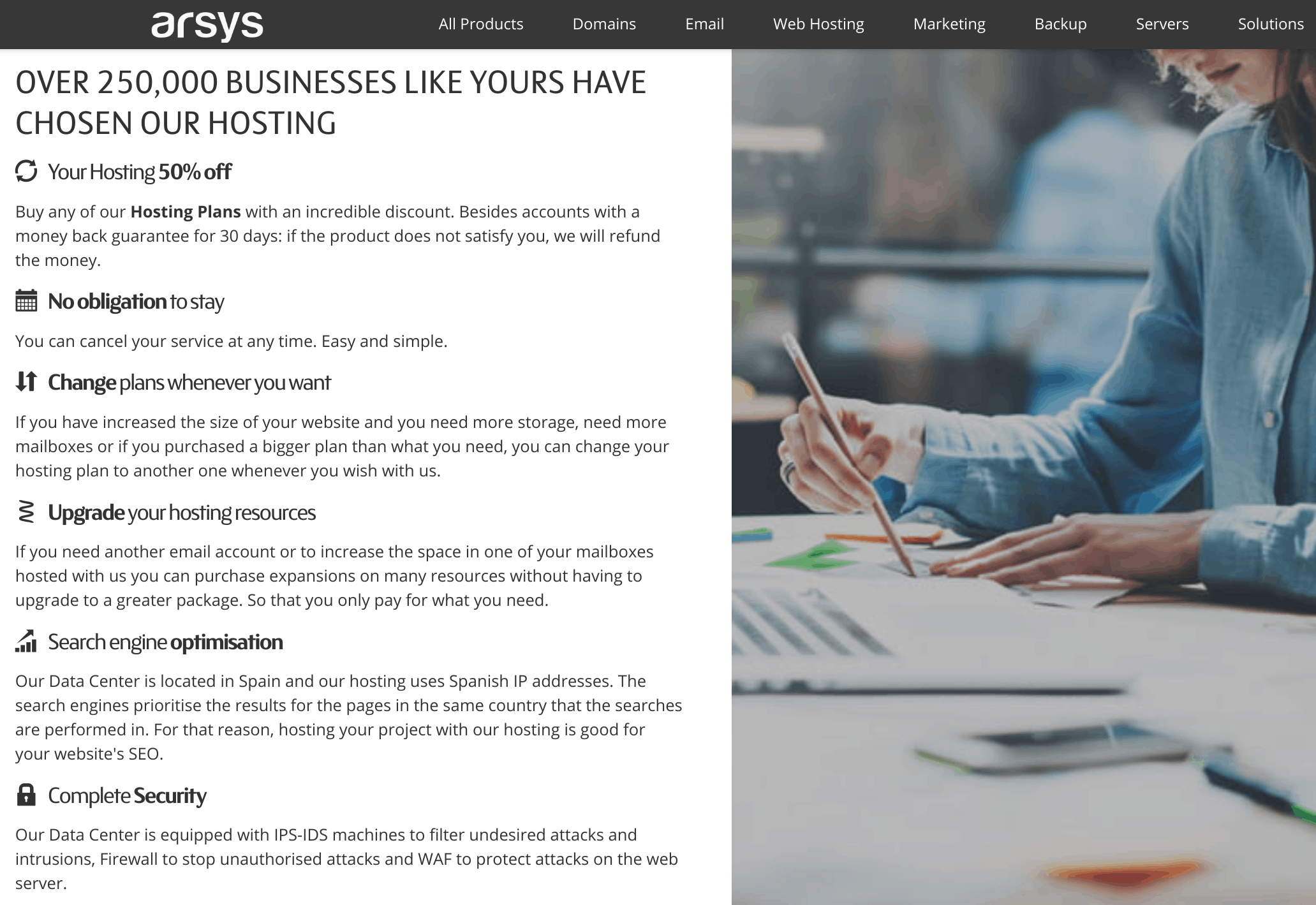 Founded in 1996, award-winning Spanish hosting provider Arsys has more than 260,000 customers, 300+ employees, and 1.5 million active services. Since 2013, Arsys has operated as a subsidiary of United Internet AG.
The array of hosting services offered by Arsys includes shared hosting, WordPress hosting, cloud hosting, VPS, and dedicated services, plus associated services such as domain registration, SSL, email, marketing, and backup services.
This host's sleek website contains detailed information about the provider's products and services. It is available in English, Spanish, and Portuguese, and all prices are displayed in euros.
Features and Ease of Use
Arsys sells three shared hosting plans, the top two of which are available for Windows as well as Linux. Some of the shared hosting key features are:
Custom control panel

PHP, Perl, Python, and Ruby on Rails

Free domain name

DNS management

Free SSL certificate (with the top two plans)

Unlimited bandwidth

SSD storage

Email filter

MySQL and MS SQL support

MIME types

ASP and ASP.NET support
The lowest "Professional" plan provides 10 GB disk space, which is more than enough for a personal website, blog, or small business. For busier websites, the "Advanced" plan provides 60 GB disk space (which is enough to run multiple heavy-traffic websites), and the "Unlimited" package provides unlimited webspace. SSD storage offers faster read/write speeds and greater reliability than traditional drives.
Shared hosting plans include a free domain and free SSL (with the top two plans). However, I was disappointed not to find any evidence of a site builder or application installer.
If shared hosting isn't sufficient for your needs, you could choose a virtual server instead. Windows and Linux VPS packages provide 40 GB to 100 GB disk space, unlimited monthly traffic, up to four CPUs, and up to 8 GB RAM. You can choose your server location (Spain or the U.S.A.) and manage your Hypervisor VMWare server via the Plesk Onyx control panel.
Pricing and Support
Compared to Spanish hosting providers, and for the features provided, Arsys's prices range from affordable to pricey. But don't forget that you get a free domain and free SSL with most plans. You can pay by bank transfer or credit/debit card, and the 30-day money-back guarantee gives you a month to decide if this really is the right host for you. This may be no bad thing because I noticed some reports of negative user experiences.
You can reach out to the customer support team through email, telephone, or live chat. My experience with pre-sales support was a bit mixed; the live chat agent responded to some of my questions but ended the chat abruptly: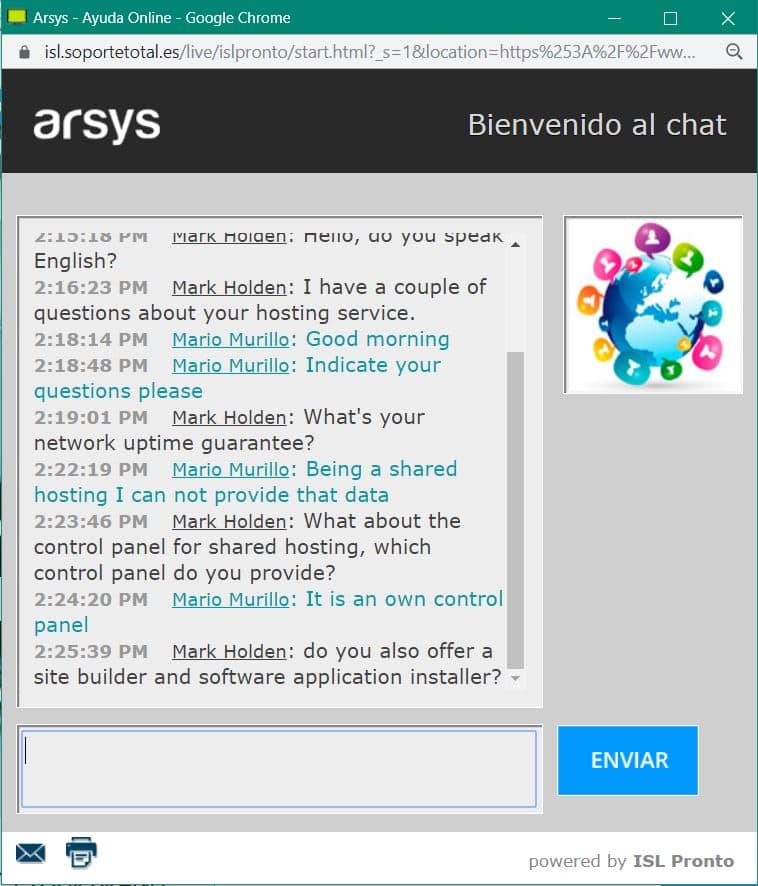 For self-support, you will find a comprehensive Help Center containing lots of tutorials.
How much does Arsys cost?
Arsys offers plans from $3 to $6. The price depends on which type of hosting plan you choose. You can see the updated pricing table (updated weekly) below.

Which Arsys plan should I get?
My recommendation is to start with a cheaper plan. You can always upgrade later on. Arsys can help you with the migration to a more expensive plan. The increase in visitors many times takes longer than expected and you shouldn't pay a lot of money until the need arises. Of course, your needs may vary, and you can consult with a hosting expert from Arsys here.

How good is Arsys's customer support?
Arsys is not ranked as one of our top web hosts. But that can also be a result of Arsys being a small, under the radar, hosting provider. There are advantages to a small hosting company – as a customer, you are more important to them. You can also check out our comparison of the most popular web hosting services here.