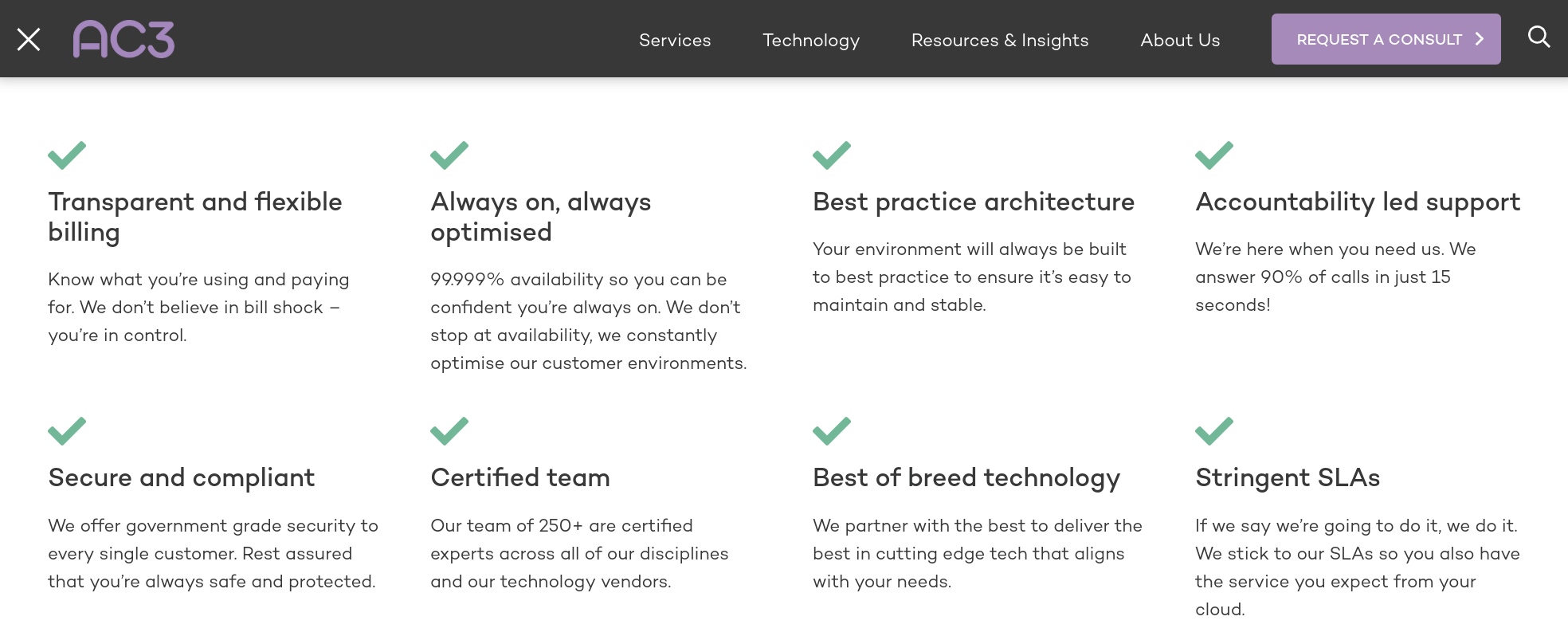 To compare the best web hosts, we hosted the same WordPress website on each one and tested performance, customer service, and value for money.
Check out the results here.
AC3 was bought from the Australian NSW State Government in 1999 by Klikon Solutions. It transitioned into a managed services provider, and more recently, the rebranded AC3 acquired leading cloud services provider BulletProof.
Although it has a polished website in English, as a managed services provider, AC3 doesn't display pricing information and some other details. And it doesn't do shared web hosting.
Features and Ease of Use
AC3 is not a shared web hosting provider, so it doesn't do fixed packages with a fixed set of features. Everything is customizable according to your needs, and subject to a custom quote.
The cloud infrastructure category features four services: Private Cloud, Government Cloud, Amazon Web Services, Microsoft Azure, and Hybrid Cloud.
Private cloud is suitable for smaller businesses that want a secure and flexible server infrastructure provided at a budgeted cost. Everything from networking to cloud security is adequately addressed.
Government cloud meets the requirements of government agencies that need a closed network of servers on a wide area scale. AC3 handles the physical infrastructure, the full-scale security, and the complete secrecy of the information. It has been managing the NSW State Government's data centers for over twenty years.
Amazon Web Services (AWS) is more related to e-commerce and online marketing websites, with AC3 assuring your website's high availability internationally.
Microsoft Azur is provided thanks to the partnership between AC3 and Microsoft.
In addition to its cloud and infrastructure products, AC3 provides the supporting software and tools you need to manage your servers.
Pricing and Support
I'm disappointed that AC3's website doesn't provide any definitive plans or prices, but it's not uncommon for a provider of customizable managed cloud services. So, you'll need to reach out to the company and discuss your requirements to get a custom quote.
You can interact with AC3 via telephone, support ticket, or live chat. I received no response to my exploratory email, and (strangely) I discovered that it's impossible to submit this company's contact form using a Gmail email address: