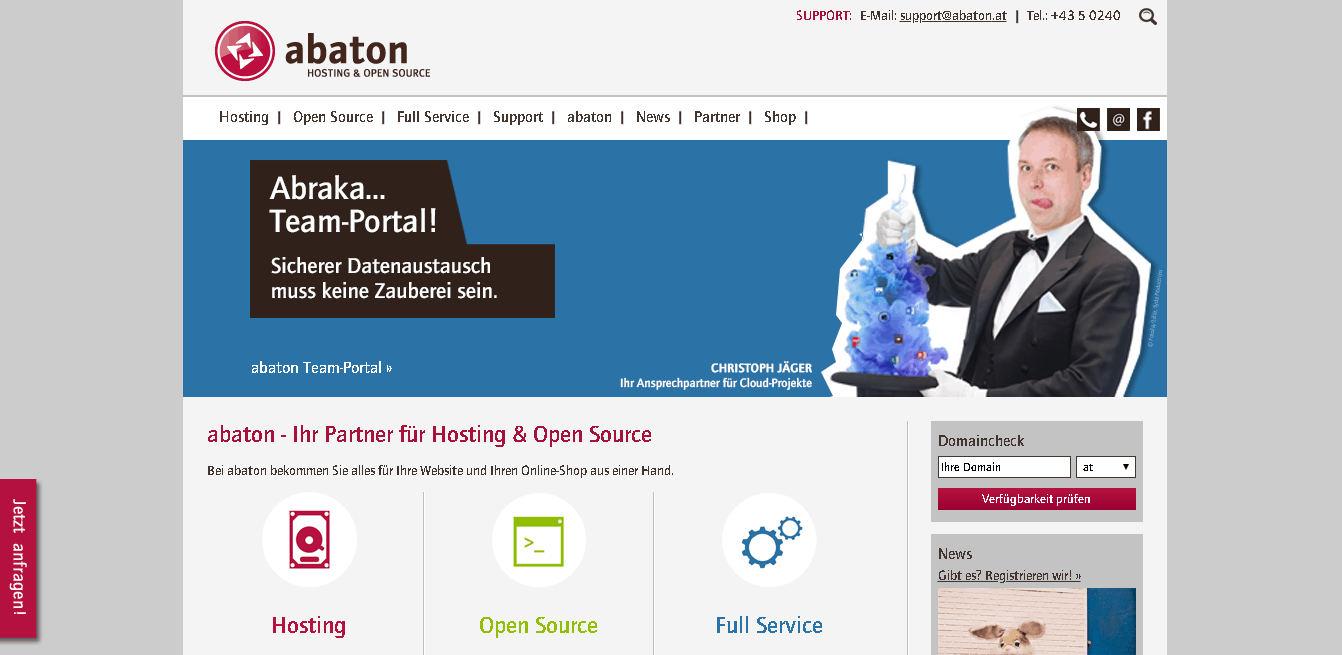 Austrian IT services company Abaton was founded in the year 2000. It provides CMS hosting, VPS, dedicated servers, managed hosting, and domain services.
Abaton's data center is in Vienna, Austria, and its website is in German.
Features and Ease of Use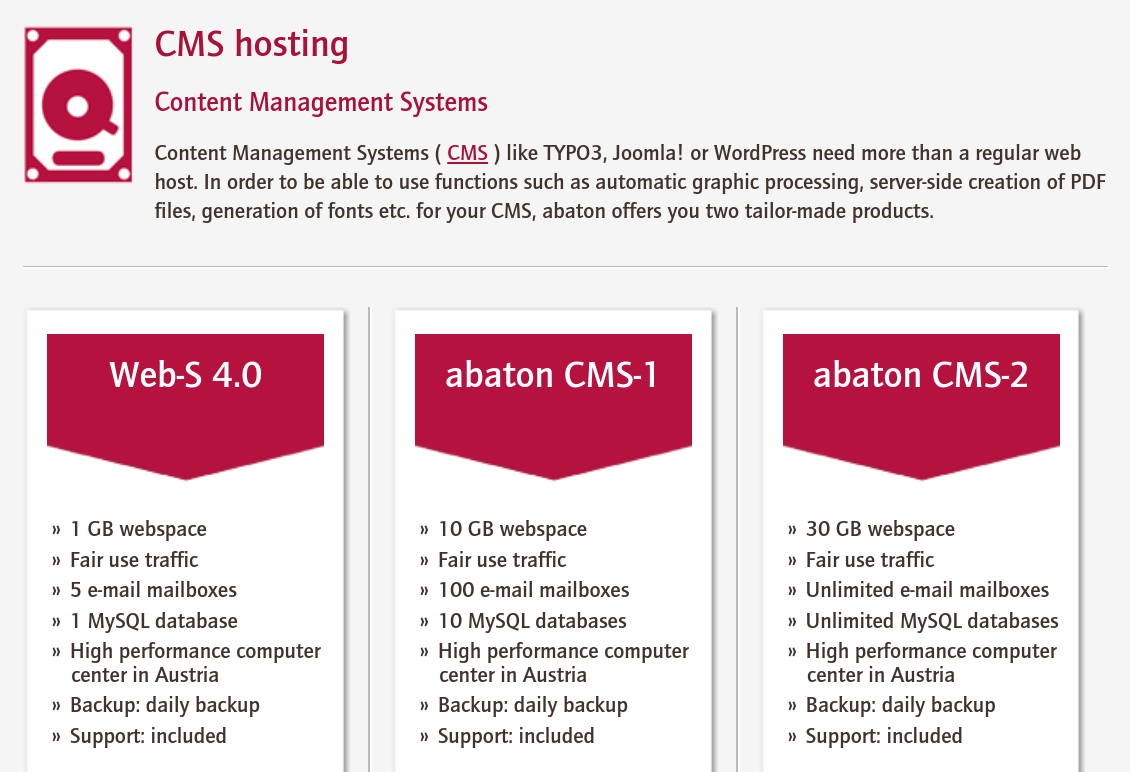 Abaton's hosting services include CMS hosting, VPS, and dedicated server hosting as well as full-service managed hosting.
Customers looking for a basic CMS hosting package can choose from the Web-S 4.0, CMS-1, and CMS-2 plans. The entry-level Web-S 4.0 plan includes 1 GB of web space, five email mailboxes, and one MySQL database. The intermediate CMS-1 package comes with 10 GB of web space, 100 email mailboxes, and 10 MySQL databases. The highest CMS-2 plan comes with 30 GB of web space, unlimited MySQL databases, and unlimited email mailboxes.
All CMS plans include monthly traffic subject to Abaton's fair use agreement (which stipulates that you can't exceed 500% of the average bandwidth used at that hosting level). The standard features of the CMS hosting are:
Daily website backups
WordPress or another CMS
Plesk control panel
30-day hosting free trial
Webmail
For more secure hosting, you can choose Abaton's SECURE host plan that is a hybrid of regular shared hosting and virtual private hosting. This plan comes with 25 GB of web space, unlimited MySQL databases, and a "fair use" amount of traffic. With this hosting, you get:
Root access
A static IP address
DNS management via a web interface
Failsafe hardware
Individual configuration options
There is no free SSL, but you can buy an SSL certificate at extra cost. You can choose from various types of certificates, such as domain validation (DV), organization validation (OV), Wildcard SSL, and EV SSL. The EV SSL even displays a green indication of your site's security on the browser address bar.
Pricing and Support

Abaton's CMS hosting prices are slightly higher than the industry average. The entry-level plan that has sufficient data for a simple CMS website is around 50% higher than similar plans from international providers. The mid-tier CMS plan is priced on par with other Austrian providers but is 25% to 50% more expensive than international competitors.
Plans can only be bought on an annual basis. There is no free domain unless you count the fact that you can get an @yourwebsite.abaton.at domain for free.
Support can be accessed by telephone, email, contact form, or fax (remember those?). The 24-hour telephone hotline is charged by the minute, so I tried the contact form instead (and received no response). For self-support, there is no knowledge base as far as I can see.