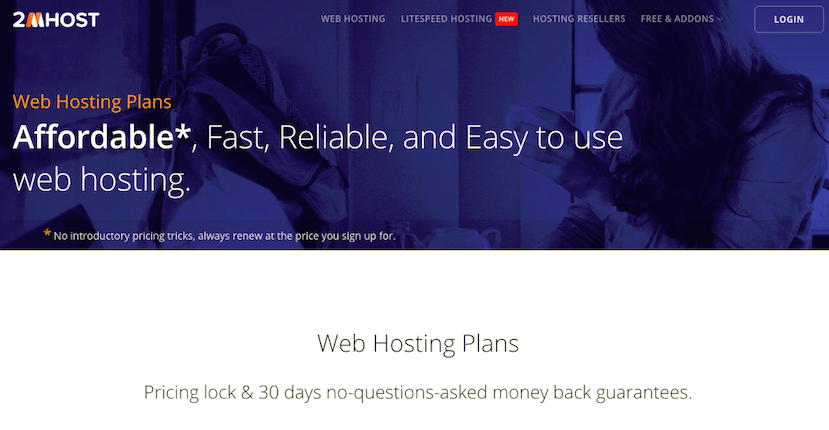 To compare the best web hosts, we hosted the same WordPress website on each one and tested performance, customer service, and value for money.
Check out the results here.
Founded in 2001 by a group of website developers, this is an American-based website hosting provider. Serving over 10,000 customers around the world, they primarily focus on providing a great service to individuals and small businesses. Their website and support are available in English, and they have servers located in data centers in the U.S., Canada, Australia, and the Netherlands.
Features and Ease of Use
2MHost offer a selection of website hosting services, for example, shared hosting, reseller hosting, SSL certificates, and domain registration. They offer an "all-in-one solution" and bundle many added extras for free into the website hosting pages.
Their standard all-in-one packages include the following features:
99.9% or 100% uptime guaranteed, depending on the package
Full backups twice a week
Domain registration, free in all but the base package
Free SSL certificates in all plans
Unlimited bandwidth
2MHost have a refreshing way of working. Instead of complex packages with numerous add-ons, they offer an all-in-one solution. What this means is that all of the items you require are included in the base website hosting packages, including an SSL certificate or wildcard SSL certificate, private WHOIS, domain transfer, domain registration (except for base package), and website builder.
The website builder offered is a particularly great tool for beginners. It has a very nice user interface and comes with over 190 ready-made template which are mobile and SEO optimised. What's really nice for new website owners is the option to trial the website builder before purchasing. You can demo the website builder without registering or paying for hosting.
Pricing and Support
The prices are affordable, however, not quite as cheap as some of the very big U.S. players in the market. Though, when you consider the extra add-ons which are included, they are still quite competitive.
What I really like, is that unlike the big U.S. companies who offer a very low introductory rate which increases dramatically on renewal, the price remains the same for life. They even have a price lock guarantee. Once you've signed up, they promise to never increase your rate.
You can choose from a three-month, six-month, or twelve-month term, and the monthly rate reduces as the term increases. They offer a 30-day money back guarantee and you can upgrade or downgrade at anytime.
To be honest, considering everything else on offer, I was a little disappointed with their customer service options. For pre-sales, the only option available is email. However, once you are a customer you can live chat with support 24/7 or submit a support ticket. They also have an informative knowledge base, which includes around 100 help documents.
How much does 2MHost cost?
2MHost offers plans from $3 to $15. The price depends on which type of hosting plan you choose. You can see the updated pricing table (updated weekly) below.

Which 2MHost plan should I get?
My recommendation is to start with a cheaper plan. You can always upgrade later on. 2MHost can help you with the migration to a more expensive plan. The increase in visitors many times takes longer than expected and you shouldn't pay a lot of money until the need arises. Of course, your needs may vary, and you can consult with a hosting expert from 2MHost here.

How good is 2MHost's customer support?
2MHost is not ranked as one of our top web hosts. But that can also be a result of 2MHost being a small, under the radar, hosting provider. There are advantages to a small hosting company – as a customer, you are more important to them. You can also check out our comparison of the most popular web hosting services here.