Zyro
is the Swiss Army knife of website builders that allows complete beginners to build websites in as little as one hour. By providing a variety of branding and marketing tools they hope to become a one-stop shop for all of your small business needs, as
Zyro CEO Giedrius Zakaitis
explains.
What is Zyro all about?
Zyro is a website builder but it's also much more than that. We like to think of Zyro as an all-around online success builder. We're creating a product that makes professional websites and online stores available to anyone with an idea, with the lowest possible barrier of entry. Right now, that means being able to harness the power of artificial intelligence to make web design a completely code-free activity. We're constantly on the lookout for new possibilities for our users. We're trying to build a platform that is as easy as possible to use, that inspires first-timers to take their first steps in web development. It's an opportunity for small business owners to grow and scale their businesses. Zyro offers tools to help you lay out your brand identity and find your niche. These things are crucial to the success of any business, and we offer them at some of the most affordable prices on the market. How would you describe Zyro's evolution so far? When I look back to our inception three years ago, our evolution has been absolutely unbelievable thanks to the amount of hard work that has gone into making it happen. Back then, we were still trying to define exactly what Zyro should be and figuring out how we could build the technical architecture to support those goals. If you spend even five minutes using Zyro, you should be able to intuitively understand the options we made available. Since day one, we always wanted to create a website builder that offers the very best in terms of quality while never sacrificing the ease of use. To make that happen, we leaned on user testing and feedback. It has been an essential tool for us to keep our finger on the pulse of what people really want in a website builder and identify pain points in the user experience. I think that we're at a great place with our product in terms of meeting the goals that guide us, and the next step for us is to open up our onboarding process to do the same. We have recently switched to make Zyro free to try for all users. I think it's an important step in demonstrating exactly what we're all about. We're proud to invite everyone to use our website builder and that feels really good to say so early in our progress as a company.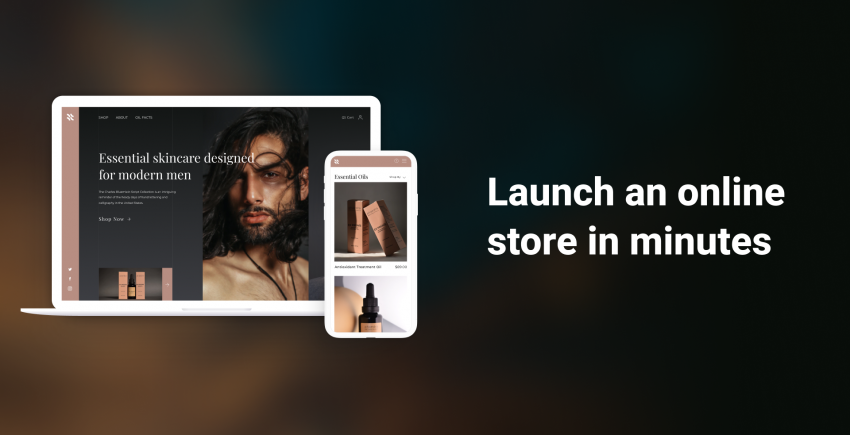 What are the biggest advantages of Zyro?
Zyro is easy. No matter how busy you are, how tech-savvy you are, and how much you can afford to spend, you can still make a great website with Zyro. In fact, over 90% of Zyro users are able to publish their first website in under one hour, and that's a metric that we're really proud of. We have been able to get to that stage because we let the needs of our customers guide us in everything we do. We're always developing new features, and anyone can check them out in our
product roadmap
and even suggest ideas for features that they would like to see in the future. We've also been investing in helping our users to take advantage of the power of AI. We're proud of the tools that we created and the way that anyone can use them to save time and money while they're growing their business from the ground up. It's part of the reason that we make them totally free to use. You don't have to be a Zyro user to take advantage of our AI writer, which can instantly generate SEO-optimized content to help you grow your website traffic, or our Logo Maker, which makes branding your business that much easier and more affordable. They go above and beyond to help Zyro users 24/7. It's all live and the speed and quality of the responses is something that comes up again and again in our users' feedback. I'm very happy to say that customer satisfaction is always on the rise at Zyro. As long as that is the case, I know we are improving and moving in the right direction.
How has the Covid pandemic impacted your business?
The pandemic has been an interesting time for Zyro. Lockdown correlated with a relative boom in the rise of small, online businesses, as many people found themselves with a lot more time on their hands. It was a rare time in the lives of a large number of people to try something new, and Zyro was designed with exactly that purpose in mind – to help people get started online and finally achieve those dreams that they have been putting off. We had to expand our team quite rapidly in a time when nobody could actually meet in person, which was obviously challenging. Personally, I'm really proud of how we managed it and I think we have been successful in creating a flexible work environment that we can even take forward into the future. Part of that success has been focusing on the principles that guide us as a company. We have a set of core values that everyone at Zyro can use to understand the way we work as a whole, even at a time when everyone who works with us is on a slightly different schedule with slightly different needs. Recently, we have finally been able to come together at our Summer Hub. There are people that have been working with us for over a year and have never met one another, so bringing the team together for the first time has been a special experience and one that can power us all, moving forward.
How do you envision the future of web development?
First of all, I want to say that while market changes can present difficult times for any company, we should recognize that change is a good thing. At Zyro, we never stop trying to evolve our product, and change is an opportunity to refresh your commitment to your core values across the board. For us, that means addressing the changing needs of our customers and making sure that our product that makes sense rather than just churning out endless new features that sometimes feel obsolete before they are even finished. I see a bit of a trend in some places towards a focus on that same kind of vertical business growth, and I think it stands in Zyro's favor to set our eyes on a more horizontal approach. We are well on the way to transitioning away from website building alone and moving towards becoming an all-in-one platform for business growth. We're totally focused on delivering what our users need to build success. When you look at the trends, it's pretty clear that just having a website won't cut it anymore. That's why we've invested so much time into creating great marketing options for our users and developing tools to help people brand their businesses and stand out from the crowd. Of course, the challenge for us is to continue to develop all of this additional functionality while maintaining our commitment to accessibility and ease of use. Then again, it has never stopped us in the past, and by now it's a challenge that we have come to relish.
Where would you like to see Zyro in three years' time?
When I think about Zyro in the future, I have to start by returning to the basics of what we're all about – great quality, ease of use, and accessibility. So the question is really about what a platform built around those core values might look like with another three years of experience under our belts. Looking back on the first three years, the change has been phenomenal, so it's not really a stretch to think that the same might happen in the next three. With so many people looking for a website, we have to ask ourselves how we can cater to that demand in the easiest way possible. Is it enough to offer an intuitive website builder that lets you get online in under one hour? Maybe, maybe not, but we won't let it limit our thinking in terms of possibilities. We have created an AI website generator. Right now, most people agree that AI will be the driving force for all technology in the future, so why not website building? When you think about the website creation process, probably 80% of the steps that are involved could be totally automated. I'm fully prepared for the fact that what we think of as a website builder right now might be unrecognizable in three years' time. It's a very exciting moment for us and I know that as long as we stick to our core principles then we're going to be at the forefront of web development.