Connected appliances and devices are no longer just for tech startups or massive corporations, small and medium-sized manufacturers are starting to join the consumer IoT game. 
Tsiki Naftaly, CEO of Zemingo
, discusses the changes and trends in the industry and how Zemingo is working to bring IoT to device-makers around the world.
Tell us about Zemingo, how it was founded
Zemingo was founded in 2008 as a service provider for companies building their mobile apps.  We rode the wave into the height of mobile apps where every company wanted or needed to develop their own app. We were more interested in developing apps that interface with hardware since those were more of a challenge than standalone apps.  That led to our focus on the Apps of Things – as a service provider building apps that are connected to physical devices which includes anything from smart scooters to helmets to kitchen appliances.
Can you discuss the types of businesses that Zemingo works with?
We work primarily with small-medium businesses.  Large companies can afford to spend millions on developing their technology stack in-house, but for many appliance manufacturers, who might have just a few dozen employees, that kind of expense doesn't make sense.  Think of a coffee machine manufacturer that has been building machines for 10 or 20 years.  They are great at making good machines, but now, for the first time, they are exploring having a connected version.  And that allows them to be in direct contact with their customers who are asking for further services and providing data to the manufacturer to help make smarter business decisions.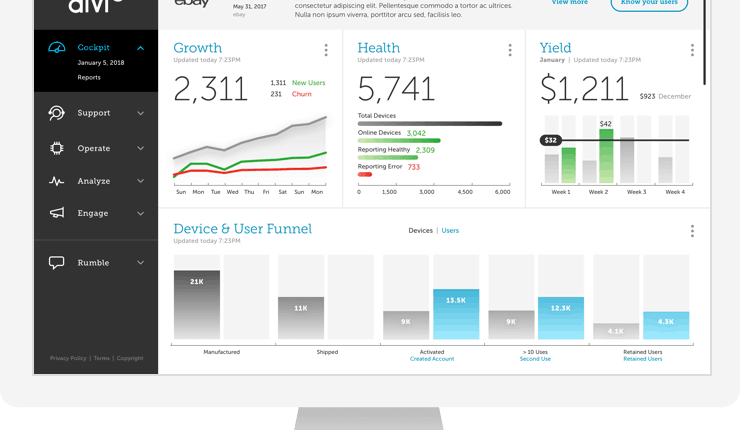 How is Zemingo able to provide that service to their clients at a reasonable rate?
We built our own product – Copilot which is the world's first consumer IoT platform.  It is designed for small to midsized companies and makes communication between devices easy – almost plug-and-play. The coffee machine manufacturer wants to sell capsules and know what customers like, their rate of use, etc. By taking into account shipping times, how many capsules are consumed per day and other data points, a message can be sent at the right time remind customers to order more capsules – or even order them automatically. We obviously help the manufacturer customize the app, but since we are industry agnostic, we are well-prepared for that.
How did you get involved in Consumer IoT technology?
Good strategies are designed in hindsight. I didn't plan to get in this industry.  I've been an engineer my whole life, first as a programmer and later, moving up the food chain. But in 2008, my wife Maya, who is also an engineer started playing with the iPhone and started programming apps. She became quite successful and was asked to develop for another company their app. Things snowballed from there, and shortly thereafter, I joined her. We didn't have any big plans, but today we have around 100 employees with amazing clients from all over the world – competing for some of the most luxurious contracts in the industry. It came about because we have a passion for what we are doing, enjoy the day-to-day work and hire the right people to work with us.
What are some key trends you see in the IoT industry?
Within consumer IoT, the most interesting conferences are actually non-IoT conferences but rather appliance ones. Today, everyone you talk to is already looking at building a smart product. A few years ago – they would say "yeah, we need an app because everyone has an app."  But today they are more sophisticated about online consumer communication. They are talking about data, understanding behavioral insights, users in different geographies and the like.  If ten years ago you would sell a toaster or microwave and your primary interest was selling as many units as possible, today, companies are more focused on the lifetime value of a customer. The online industry has known about and understood the value of consumer data for a long time, but for something like an outdoor appliance manufacturer, until recently, they had no idea about data and user engagement. When you would speak to one of those companies and tell them that the first time they turn on their appliance, the user will get an e-mail automatically – for them that is magical. We are excited to be part of bringing that connected trend to midsized manufacturers in North America and bridging the gap between old-school consumer manufacturing and the new age of online communication-oriented businesses.
How do you approach security in Consumer IoT?
Well, there are really two parts – security and privacy. For both, there is a threat and a promise.  The security threat is you might be hacked, and you need to have proper security in place. We work with excellent companies that provide security both on the app and in the cloud.  We take ownership and handle cybersecurity liability. For that, we work with third parties that are experts to keep devices we work with safe. The privacy threat is also out there but is being addressed by measures such as GDPR etc.  It is something all parties involved need to improve. However, promise also exists. The IoT technology offers the manufacturer an opportunity to boost revenue through the utilization of data and other means. Additionally, customers benefit from the devices' interoperability, which enables enhanced automation, efficiency, and utilization. 20 years ago, when you bought a car, from the moment you bought it, the car started to age.  It got worse and worse until you sold it or junked it.  Now when you buy a Tesla, you expect the software to improve over time (even if parts of the mechanics do get worse). You actually can get features that are better over time as the new software is updated. Likewise, we have a customer that sent a firmware upgrade that to a skateboard to make it do better clocking of the physical motor to get a few more MPH from the same engine.  The promise of buying a device and it working better six months later – that is pretty amazing.