There are many templates available for designing web sites but can be difficult to find when developers need to create back-end dashboards and admin panels.
Sunil Joshi, Co-Founder of WrapPixel
, tells us how they have taken over twelve years of experience as back-end designers to create drag and drop templates for various industries in four different frameworks. With an eye on up and coming frameworks and now offering free snippets and front-end templates, he tells us how WrapPixel aims to become a complete solution provider.
This interview was originally published on November 8, 2020.
What is WrapPixel?
WrapPixel is an online store that offers admin dashboard templates for designers, developers, and agencies. There are many WordPress themes and other templates readily available for front end and website use, but not that many resources available for back-end/admin panel use. We created well-designed, ready-to-use, highly customizable, and flexible templates to help save developers struggling with well-designed admin panel, time, and money. Now, any developer can easily create and customize an admin panel or dashboard interface based on their requirements without needing a designer. We first produced our templates in Bootstrap, a responsive framework. As the React, Angular, and Vuejs frameworks were released and gained popularity, we started making dashboard templates in those as well.
What are the advantages of buying an admin template?
Most designers are experienced with front-end (website) work, but that is not always helpful when designing a great user experience for an admin interface.  We are a team of dedicated designers and developers who have been working since 2008 with the industry expertise needed to create great-looking interfaces. Based on our extensive research over the years, we design our templates with the appropriate amount of options or variations for developers working in every industry or niche. For example, when building a dashboard for a hospital, you can pick and create related charts, visually presenting number components, admitted patient data tables, appointment type forms, and much more with ease from our multipurpose dashboard template. The output will be a stunning dashboard interface for your hospital management, and you can also create other required pages. We provide multi-purpose admin templates so developers can choose a particular section or component and grab it to create their own admin panel for their projects. This also saves agencies who choose to hire a designer and a developer a lot of time and money because making modifications to preexisting templates is always less expensive and less time consuming than creating something from scratch. Our dashboard templates are static and created within the front-end frameworks Bootstrap, Angular, React, and Vuejs. Back-end developer(s) will be needed to make it functional, with programming and the database connection.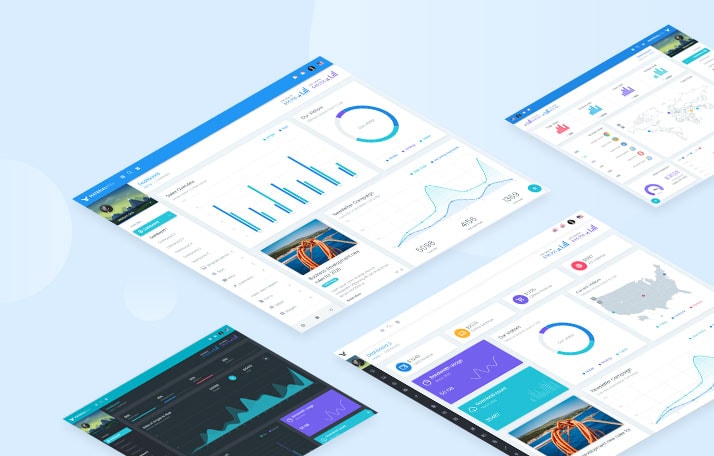 How are dashboards built using your templates?
Once a template is downloaded, users receive detailed documentation, including video tutorials, to help them to understand how that template works. Going through the many options included in our templates, they can decide how many, or how few, of those options to use in their project. Some developers will open and start editing the template, customizing it as per their requirements. They can change the colors, drag and drop what they want on the dashboard or admin panel and remove what they don't want. Then they will create the database connection to make the dashboard functional. Then there are those developers who have already completed their project and are only looking to add specific components. Let's say they want to include a header, a sidebar, or some visualization, like a bar chart. They can drag and drop just that component from our template into their project and make it functional.
Are there any third-party apps or plugins that work with your templates?
There are many plugins like data tables, which are open-source that are compatible with our templates. Therefore, when we integrate plugins, we provide them within our templates to make them more widely useful.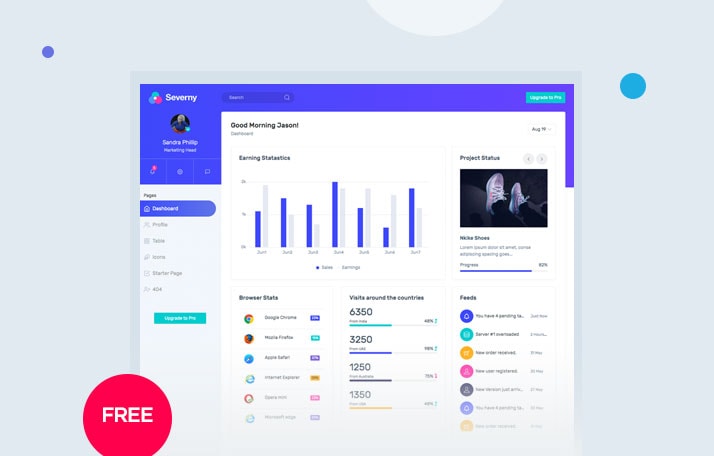 What is included with your UI kits?
Previously, we only offered templates to help developers create admin panels or dashboard interfaces. We are now helping front-end developers create the front-end look of a website project by using our UI kits. Our UI kits include 500+ designed elements and components for creating any website, including options for headers, navigation, hero banners, Contact Us section, About Us page, etc. You can choose and customize any of the elements and complete your website with just drag and drop.
Are your UI kits compatible with any front-end CRMs like WordPress?
Sites created with our UI Kits will be in a static HTML bootstrap-based code, so if you are building a static website, it can be uploaded directly to your website host. If you want to make it dynamic, use PHP, or convert it to WordPress, some coding will be required.
What are your Bootstrap Snippets?
We have been using many online resources, some open source, and some purchased for a long time. We were looking to help people on tight budgets, so we created a separate section where we provide free code for various uses. Let's say you are building a website and would like to integrate a contact us section with a form. We have pre-designed those kinds of sections, which you can directly integrate for free. You only need to copy the code you want and paste it into your project.
How is your template pricing structured?
Our template model is
free
mium, which is free plus premium. For each template, we design a free version that offers a limited number of features for someone who wants to create something basic. These will always be free and can be used for any type of project, personal or commercial, under MIT license. Then there is the premium version that starts at a very affordable $39.00 and comes with many additional features and options. The pricing range is from $39 to $499, depending on the purpose of use. The price of $299.00 would be, for example, if you will build a SAS application, an application that users pay you to use, or multiple applications that will require multiple extended use licenses. For agencies that require several templates for multiple projects, we offer bundles. If an agency wants to buy all our templates (25+ templates), rather than charge them $896.00, we will bundle them together and sell it at an 80 to 95% discount of $129.00. There are other bundles available as well like Bootstrap Bundle, Angular Bundle, and React Bundle.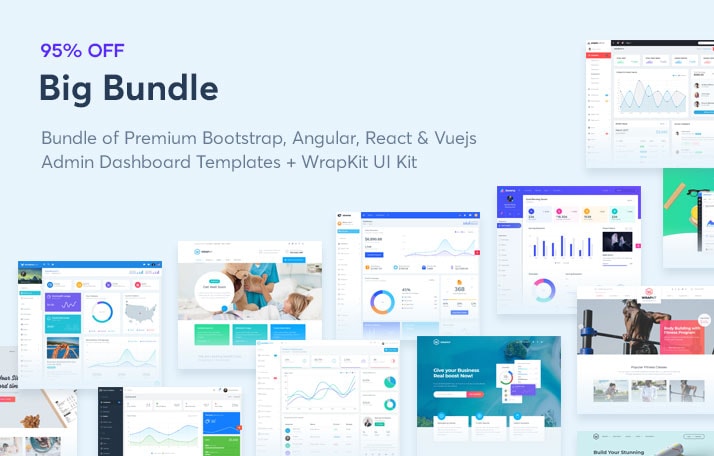 What are your plans for WrapPixel?
In terms of the future, we are monitoring the new frameworks which are going to be released. Just as we create templates in the current four popular frameworks of Angular, React, Vuejs, and Bootstrap 4, we would like to try to make our templates in those new ones as well, so they can be useful for the community. We also plan to introduce a website builder and lot more website templates for every industry and become a complete solution provider for front-end and back-end needs.