What does WP Engine do? 
WP Engine
is what's known as a premium managed WordPress host, meaning we host WordPress sites for companies and manage them on top of that. We help them keep WordPress, PHP, and plugins up to date along with developer tools that make it easier to build, host, manage and scale WordPress sites.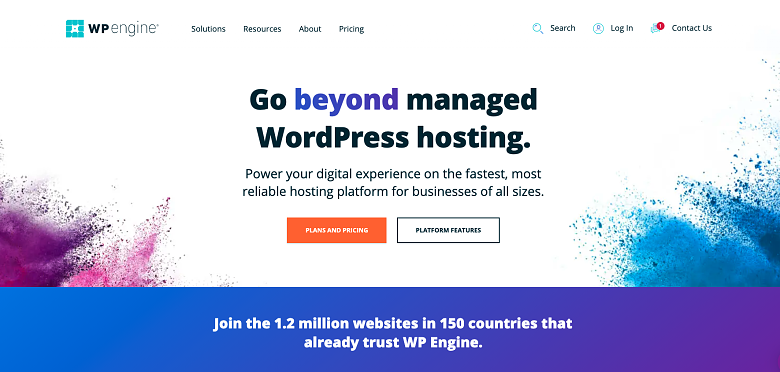 What is the competition like in the industry and what makes you stand out?
In the traditional hosting landscape we have what are known as generic hosts. You have probably seen their advertisements for very cheap hosting offerings, but they are quite basic and can host any kind of site. There are also managed hosts, particularly those that specialize in a specific content management system (CMS) like WordPress, Drupal, or Magento, and only host those kinds of sites. What ultimately helps WP Engine stand out, as our CEO Heather Brunner often says, "where there is focus, there is progress." Everything we do is focused on WordPress from the way we configure our servers to the way we do our caching layer, to security, and all the way to our support. Every single one of those touchpoints that our customers experience is only optimized for WordPress and WordPress site owners. In that focus, we can deliver value in a way that hosts who manage any kind of site don't have the opportunity to do. There are other hosts also specializing in WordPress and a lot of them do fantastic jobs. WP Engine, however, is the largest host that specializes in WordPress. We have the most scale in terms of our teams, our focus, and our ability to deliver value for customers. That's a big part of what helps us stand out even in a field with the other hosts focusing on WordPress. At this point, we have over a 97% customer satisfaction rate. Hosting support is traditionally very low in terms of customer satisfaction, so we're very proud of what our support organization does for our customers.
What does the support structure look like for a client who is signing up with you?
There are multiple levels here. WP Engine serves businesses of all sizes — all the way from single entrepreneurs, to large enterprise companies. So we have a wide range of services. On our starter levels, within our shared hosting plans, we offer 24/7 chat support. Every single support person you speak with only does WordPress support. That is a huge distinction if you are used to general hosting support where you may or may not get someone with material WordPress knowledge. We support a wide variety of things for our customers when you first sign up. We have a migration plugin that makes it incredibly easy to migrate your site, along with assistance for setting up your site. If anything does go wrong (having been in hosting for over 25 years, it's just a matter of time before something goes wrong with your site), it is a major advantage to have someone there that's going to have your back. That is fundamentally the role that our support plays for our starter customers. For enterprise and larger customers, we have advanced offerings like white-glove onboarding and specialized support teams.
I presume that you are quite familiar with using WordPress yourself. What are some top tips that you would give to someone who is looking to use WordPress?
Absolutely. I love building with WordPress. I have built with WordPress since 2016 and ran a WordPress agency for five years. For people thinking of using WordPress who've never built a site before, I highly recommend the virtual course offered by
WP 101
if you're trying to get a nice tour and get fairly deep in learning. Shawn Hesketh runs the course, which goes deep into the workings of WordPress and is DIY-friendly. Another area as you ramp up your skills is to work with others. An important thing to note is that WordPress is a team sport, especially if you want to get good at building it. Luckily WordPress is the number one type of website on earth, over 42% of the internet right now. So a major benefit is that a lot of people know how to build with it. As a matter of fact, in most major cities and larger towns, there will be a WordPress meetup and a yearly WordCamp where you can meet people local to you. Additionally, you'll find forums and Slack communities to connect with people. There are a tremendous amount of places for you to connect with people, and the WordPress community is incredibly friendly. For larger brands thinking about adopting WordPress as a content management system, I would suggest that you think of WordPress in the context of the Spider-Man quote: "With great power comes great responsibility." WordPress provides an incredible ecosystem of tools to make it easy for non-technical users to help improve the digital experience and gives paths for developers. So there's an incredible amount of power there, but with that comes the responsibility of keeping WordPress, PHP, and plugins up to date. That's another area where a managed host can help with those things.
Can you describe some common misconceptions that people have about WordPress
The first misconception is that WordPress is only for DIY. You will find a lot of folks who have been deep into the engineering world for a long time who will look down on WordPress developers, thinking it's only for non-technical users to make a website. The reality is that WordPress is incredibly powerful. Not only can you leverage the plugin ecosystem, but developers can create custom software (plugins), experiences, features and integrations — that's why WordPress is so valuable and so popular. You can leverage themes and plugins to quickly launch a site, and you can create incredibly complex and integrated experiences. The second is that WordPress is insecure. You may come across headlines declaring that millions of sites have been exposed after a vulnerability was discovered, generally with a plugin. As the number one type of website in the world, yes, millions of sites are affected; however, if you look more closely, updates are made available in a timely way
before
it was publicly known, exactly in line with software security best practices. There are no known and unpatched security vulnerabilities in WordPress core.
Your core values are: do the right thing, customer-inspired, design matters, committed to give back, and built for growth. How do these values play out practically for your customers?
Do the right thing: If it is the right thing to do for customers, sometimes we may make a decision that is bad for the company. For example, if we need to make a decision about how our platform works or change something that would affect the customer, we use the filter of "do the right thing" to make the decision. Sometimes the decision might have a negative short-term effect on the company, but the long-term positive effect is that customers are more loyal, more likely to refer, and more likely to upgrade. Doing the right thing is an investment in the future of our relationship with our customers. Design matters: We adopted and modified this value following our acquisition of Flywheel, where it was a key value. Now that Flywheel is part of the WP Engine family, we've incorporated it into our core values. It encompasses everything customer-facing to internal documentation and how we communicate with each other — not just designs, but experiences and everything we touch. Committed to give back: This is one of the core values that makes me proud to work here. We have a variety of employee-led and company-led initiatives over the year, including company, matched fundraising for nonprofits, volunteer drives, as well as a number of Employee Resource Groups, focused around diversity, equity, and inclusion and a variety of other topics that will give back to the communities in which we serve. We also give back to the WordPress community itself. Built for growth: This is about quality as well as scale. In everything we build, and as our customers experience it at an increasing scale, we're continuing to deliver that quality that we have been able to deliver previously. This expresses itself in things like engineering practices, how we think about the scalability of our products, and maintenance of our products, but it also transcends into our internal systems and the way we think about our people. I think about this "built for growth" concept not just in the context of software and systems, but also in the context of us as individuals and the people we serve as leaders.
How did you manage to stick to these values during times of crisis such as Covid-19?
Sticking to core values in how you operate is difficult, especially in a moment or extended moment of crisis. While the distractions of a crisis can draw you away from core values, core values can also define your path for driving through that crisis. The key is to be purposeful about it. For example, our core value of "do the right thing" during this time manifests in how we serve our people around mental health and taking creative approaches to how we interact with each other, such as virtual reality team meetings and events, virtual happy hours and magician shows, and in locations where it's safe, holding limited and socially-distanced in-person gatherings.
What has the impact of Covid-19 been like on your business?
The pandemic has affected some of our customers, certainly those with brick and mortar stores and some of our agencies that relied on in-person networking. Other businesses saw a boom such as membership sites, where you might be teaching people things virtually — those communities have exploded in popularity. However, overall the majority actually saw an increase in business because as brands adjusted to the digital-first posture, there were a lot of projects that were on the back burner that got put on the front burner really, really quickly. As a whole, WP Engine is doing very well. We are hard at work, fighting every day to support our customers, both those dealing with the rush of business and also those who are adjusting their businesses to accommodate some of these new realities.
What can we expect from WP Engine going forward?
We recently released an
e-commerce offering
 that's specifically designed around the world's number one e-commerce platform by volume, WooCommerce, and we're continuing to invest heavily in that offering over 2022.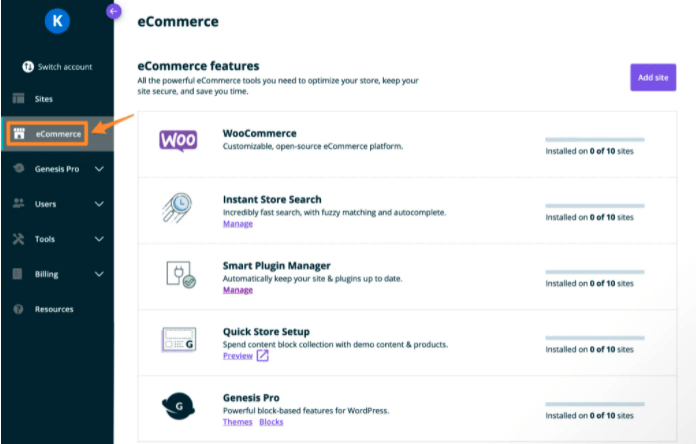 Another recent release is our Growth Suite product, which is a platform for WordPress agencies and freelancers to manage their clients.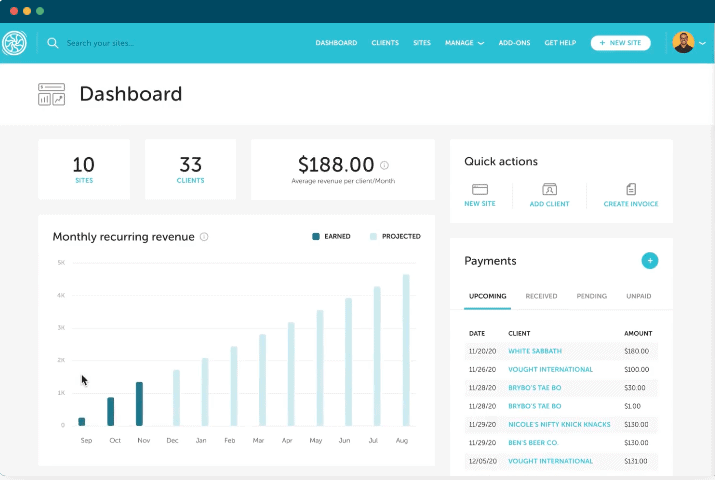 The other really big thing on our plate is preparing our customers for Cyber Weekend. With the pandemic, we've seen a massive shift to digital spending, and as the share of e-commerce increases year-over-year, we expect that this will be one of the largest Cyber Weekends ever by a large margin.