Anybiz
is a cold email tool that lets you find relevant contact and email them your business offer, while
Warmy
makes sure your emails reach their inbox. I spoke to founder
Daniel Shnaider
to discuss his entrepreneurial journey and his efforts to solve a major marketing challenge for businesses worldwide.
Please describe your background prior to founding your companies.
My brother and I are both engineers. I'm a former military officer with a captain rank from one of the technological units in the Israeli Defense Force. My brother was in a special air force unit and a former product manager in one of the biggest startups in Israel. Each one of us has three academic degrees. Together, we started two companies: AnyBiz and Warmy.
What sparked your interest in email marketing?
Everything started around seven years ago when we made special high-end planners for business executives. We made thousands of copies in China and sold them on Amazon US. Everything was going well until some competitors started to come in and it became a tough battle. We had a huge stock of planners in the US, and we were looking for ways to get them into physical stores across the US. We started to Google office stores and gift shops in the US and made a huge table of websites and emails of potential stores that might buy from us. We started sending emails one by one, telling them about our planner and offering to ship them a sample. Not all of them answered, but we managed to sell to tens of stores across the US and Australia. One day we realized that we were doing all the work manually. We started to look for a tool that would let us find all the office stores in the US and email them in an automated way, but we couldn't find a single software that lets you do that. We identified an opportunity and started to develop a tool that would collect data and send emails to specific industry segments, based on the user criteria. This is how we started AnyBiz, which generates new customers for your business and charges only for results.
What can you tell us about your entrepreneurial journey?
We started by mapping out all the businesses into categories and offering our service to customers. It was going well until we figured out that some of the emails were landing in the spam folder. We started to look for a solution for the spam problem but again, we couldn't find a proper solution that can integrate with AnyBiz, so we developed it by ourselves and added it to the product. After a while, we realized that some of the people who started using AnyBiz needed only a specific part of it, because either they just needed to send emails or just take care of the spam problem. So, we decided to split them into two products: AnyBiz, which helps to approach businesses, and Warmy, which helps business emails not land in the spam folder. We're marketing them as two different products, but for those who need it, they can integrate perfectly with one another. Here's a quick preview of Warmy's dashboard: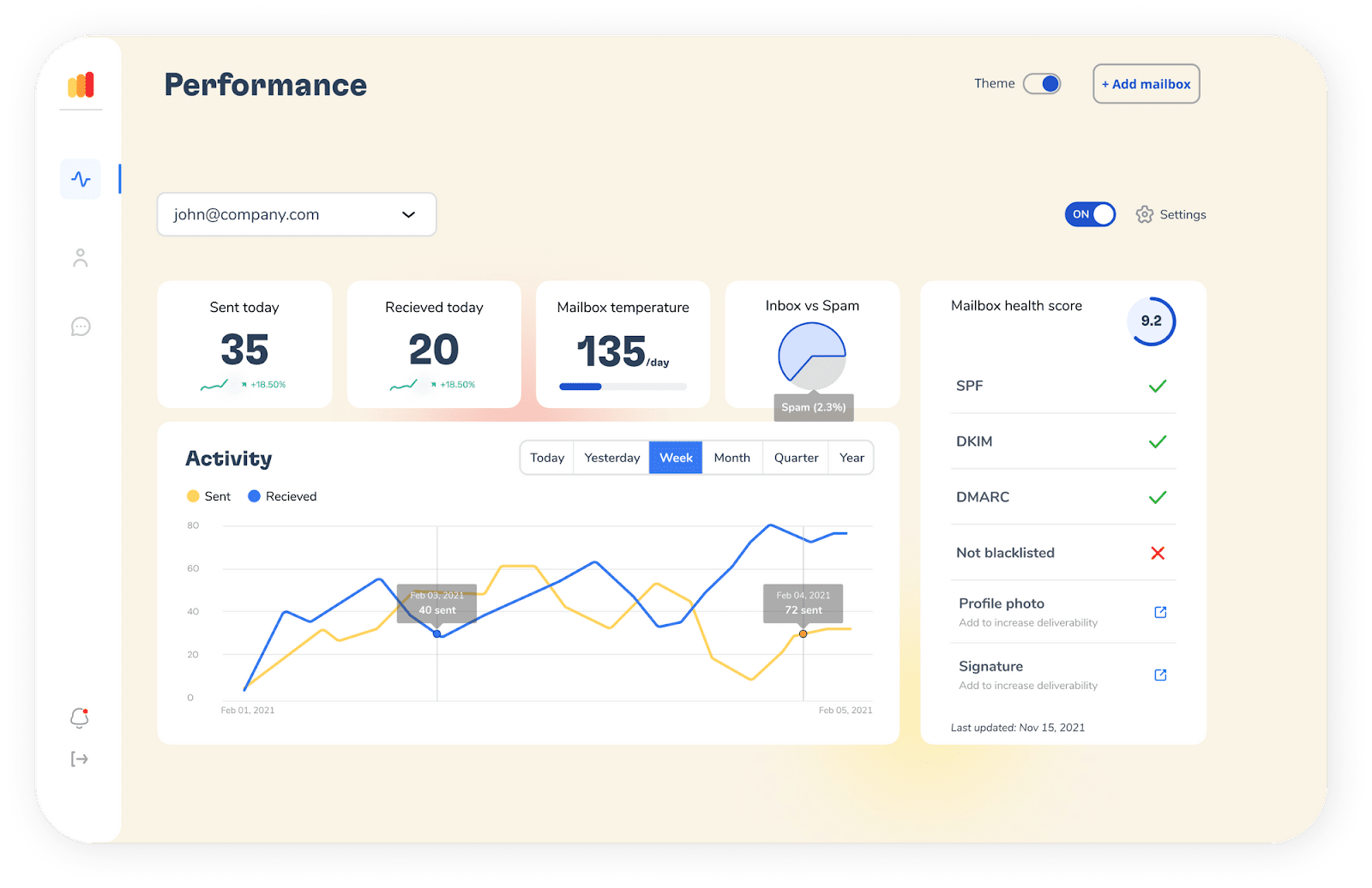 When we first started out, we hired a Ukrainian engineer online. He started working on it remotely, but then we needed another engineer, so we asked for his recommendation. We ended up building our entire team of 11 people to date, all working remotely in Ukraine. At some point, we realized we needed an office, so we opened one in Ukraine for our team to work in. But having the entire team there and the two of us in Israel didn't make sense, so my brother and I moved to Ukraine. Even though we built our startup in Ukraine, it had a strong Tel Aviv vibe. In the year we were there, we managed to raise some preseed money and were doing pretty well. Then, unfortunately, the war started.
How has the war in Ukraine impacted your business?
We ran away from Ukraine on the first day of the war. It was a very tough day. We woke up at 5 am after hearing the bombings and realized we had to leave Ukraine. Most of our employees are Ukrainian men, and they couldn't cross the border because they were needed by the military. So we took their wives and children through the border and had a long journey through Moldavia and Romania until we were able to put them in a safe place. Then, we returned to Israel and for two weeks, we couldn't get our heads around what to do next. Eventually, we went back to work with some of the team coming to the office and others working remotely. Fortunately, everyone is safe and business-wise, things are working out nicely. We're growing. We have customers all around the world, mostly in the United States.
What are your future plans for Warmy and AnyBiz?
In addition to working with very large companies as our customers and getting their emails to reach the inbox and not spam, we plan to integrate Wormy into all major email service providers and become an integral part of any email service. Regarding AnyBiz, we plan to reach as many SMBs around the world as possible and become the leading email outreach company in the world.